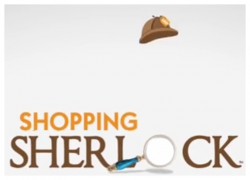 If you guess that I have once again been approached by a chat box so, you guessing right. I do not know if I just met the wrong line or if I just have too many Facebook friends.

But I have here been presented for Apps that can help me find online.
Shopping Sherlock Review
Name: Shopping Sherlock
Website: www.shoppingsherlock.com
Price: The app is free, but you must work itself, so it costs $ 250 once; otherwise it's $ 35 a month to be a member
Owners: Michael Wiedder
Overall Google Rank: 2 out of 10
Shopping Sherlock Product Overview
I've looked a little on what this Apps can. It's just another browser that has taken the local tender related websites.
Here in Denmark, we have, for example, a page called PriceRunner, which helps to find the best deals on electronics.
The app seems more like a bookmark, rather than being an actual browser such as the real promise it is.
To download it you need an invitation code from one of the paid members of the system.
Let me ask you what you're thinking now that you know that have to get invited before you can look at the app?
Yes, you are right it is a network marketing business.
Yes, you are on the first step to sign up with an MLM business model.
My first alarm bell began to ring when I found out that I have to pay to get your affiliate link. If I think of working with this model.
I had figured it out when the young lady wrote to me on messenger.
I must admit that she was articulate enough. So some of the instruction had she or it was not the first time that she approached a person in social media. I have looked at some promote similar products in the private network and traffic Exchange.
Here you have a significantly greater chance of getting your link seen. The question is how long they are when everyone else is doing the same with their affiliate link
The Good & the Bad
The Good:
the app is free and holds some relatively good links to the various price comparison
websites.
A few members have made a video about the business itself.
I've got one more product that I can describe and figure out very quickly
The Bad:
It is an MLM business.

You can not download affiliate link without having to pay to be part of the pyramid.

You can not just get the app.
Who is Shopping Sherlock For?
the app I have downloaded is a standard tool to find a shortcut to the right offers in comparison pages.
But you must have a sponsor seeks to pyramid schemes. But there is no secret to it as soon as you see the videos in the sales side.
As with other similar products start the card to share the app, and then move on a more or less unmanageable compensation plan.
When I think a little more about the way that I have met the business on so give it of course also a real sense that this is what recruiting is the primary purpose of showing app for your fellow man.
The fact that you have to pay $ 249 to start up and then to have to pay about $ 35 a month shows me clearly that it is not appropriate to let your clients save money.
That this clearly indicate is that there should be money to pyramid can run around.
When you start with this kind of online business, then you should know that you are more or less have to catch your network to be even able to make money on this project.
You simply have to be one of those who have a team that will follow you into this business.
Otherwise, I'm afraid you will very quickly find out how difficult it is to generate a sale online without the proper training or base online.
You can learn how to create an online business and drive traffic to your affiliate link, but it requires a whole different setup.
So it requires you are persistent. For things just do not happen by itself
Shopping Sherlock Tools & Training
According to my information, the system has no training platform.
You are very dependent on your sponsor and her competence to teach you first to give the app on and then get your new client to buy into the matrix.
I hope by now that most people online have become smarter, so they do not pay so much money to start out in a business that has such a confusing compensation plan.
I send to a Skype call that would tell me more about what the business was.
I am pretty sure that this is the tactic most paying members using.
My problem here is just that I was gradually a little bit tired of these Skype calls, so I installed Skype and now uses only the messenger and hangouts.
Unfortunately, you can ban people both messenger and hangout so if you want to promote a pyramid that then you go a little more cautious.
Shopping Sherlock Support
I have not met other support or R & Q then you can get from your sponsor.
So here you can be very unlucky to hit a team that does not have much knowledge about how to promote a product beyond that you can give the Free Apps away and chasing friends and family.
As I said earlier, it is spam to write directly to people in social media.
It is also a bit on the border posting your link in groups.
Some groups permit, but they are also full of spam already.
Shopping Sherlock Price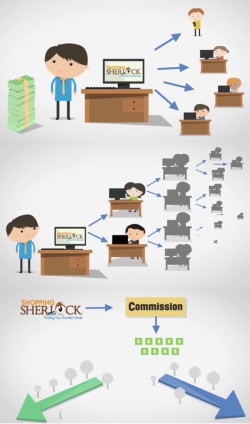 I can not say the app is too expensive because it is free. Admittedly, I have already made me a system that addresses some of the web sites that to in the app.
But I have to pay nearly $ 250 to promote it too much.
Remember there comes as the $ 35 a month.
To put it bluntly, you can promote anything you want for free.
An affiliate link can for free from almost any network.
In some places, they will see well enough that you have a website or any other channel that you can use to promote.
Here I think that you have a rather strong with a website.
So the only reason as I see it is that the app is more or less useless. But it needs some capital to keep the pyramid.
I do not know if I am wrong, but immediately it seems as if the affiliate commission is approximately 50% and it is quite nicely.
How much you can earn  itself is a little more doubtful
My Final Opinion of Shopping Sherlock
I am under no circumstance doubt that we are talking about a business model with a clear pyramid structure. Good enough with a free Apps as the focal point.
I must admit that I am always very suspicious when I get a direct approach to a business.
Especially when we're talking about an online business.
When writing directly to people on a business so I say that you exceed the limit of what is good style and what is bad style.
I have, as I said tested the app and it works quite well but on the other hand, I might as well just use Google to get the same information at least easily.
When I look at the business itself, then I must say that it is quite meaningless here, only $ 249 and $ 35 a month that makes sense.
As I see it, your bonuses paid when another new member pays $ 249 your recurring income is in the $ 35 a month.
Here it is the compensation plan may turn out to be a little complicated.
For what proportion of the money you can earn back.
Now I know even how hard it can be to generate sales online even when you have a super good product to sell.
You simply need to create initially something unique about the product and then share in the traffic as the keywords that belong to the product can create.
Not a single product closer to a pyramid that you must recruit. I have seen that some articles say positive things about this business.
But it shows me just that some members have understood how to generate traffic from organic search.
That makes it just is not a business that I can recommend that you start.
Now you ask enough so what?
Firstly an affiliate link is always free to download.
You must create something to benefit from an affiliate link.
Such a link always lead to a sales page, and you need to create your frames around.
So my advice is you create a unique website, get some traffic before you decide which product you want to work on selling.
If you want to learn more so, you can read here about how and where I get my teaching.
It is possible as long as you work hard and focused and treated it as a serious business. Yes, you can test it for free.
You can bargain a website that is yours, and you can build bigger.
Shopping Sherlock at a Glance …
Overall Scam Rank: 88 out of 100
VERDICT: LEGIT / NOT LEGIT
I have over the past few written about more of this kind of business. I also participated in some of them. I bargain also tried to get some paying members at these stores.
Yes, I do have a little too good at one that was closed by authorities a few years ago.
Many of these pyramids have the same money men behind in themselves. They use good enough different people first figure.

But that makes them the certainly no more legitimate if you ask me.
As you can read on me, so I'm a significantly greater believer that you need to create you a proper and decent business that has a good and real product behind. Here I think that you should learn to be in touch with your readers before you start selling to them.
An online business requires just like any other business that you develop with your company, and you learn to create value.
It's a big misconception that many especially MLM companies are trying to convince you that you have a business as soon as you have paid for your link.
As I say hard to create online sales if it is $ 1 or $ 1,000, so it's just hard.
With this kind of business, you are caught in your link, and it is somewhat limited in what you actually can create this model.
You can, of course, create some videos or do some blog post where you describe the product in positive terms. But you can still do with a topic that interest you. Also without having to give anything else away then enough information. In this world with the Internet, we all have enough information. You can in creating. You just learn how and be persistent, and then you will also get the success you deserve.
Online marketing has a lot.
To learn more read here where I learned how to get traffic to my website.
Remember to share and like