Real Specific is the latest plugin. We talk about creating automatic context.
I have reviewed this new software, but I do not entirely agree with the wave that the provider tries to shine through.
If you look at most of the new software that will make us believe we can create a good traffic source and save time.
Yes, a fresh context in three minutes.
Real Specific Review
Name: Real Specific
Website: https://realspecific.com/
Price: 37 $ once but there are two additional options for spending money extra money
Owners: Justin Anderson
Overall Google Rank: 0 out of 10
Real Specific, What does it contain?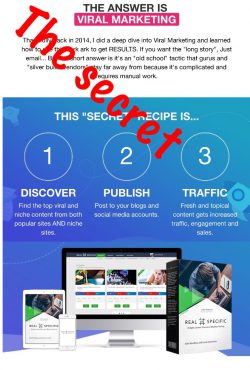 Yes, think we've got a plugin that can bring context to your blog, from many different resources.
Yes, you're right they're getting lost at the moment.
Is not the only thing I've had in the spotlight.
But ok you have a niche website.
You enter a keyword.
The plugin finds relevant context already created by authority. Then you can split it up to fit your theme.
Also includes an RSS feed that tracks when news comes from the websites that you have chosen to make relevant to the niche you have chosen to work.
So, of course, the local article is spinning which is also part of the tool itself in the member area. Here is nothing new.
It writes the articles you find.
So it makes them appear unique.
What I like is that you get a tracking tool so you can track your traffic and analyze yourself what works and what does not work.
Is what the tool itself contains.
There is, as usual, an additional package of five bonuses.
Here are some additional Pro themes.
A further developed context machine.
Very important, there is also some extra workout for the mind. Something that gives you a significantly better mindset.
They claim that the total package bonus has a value of about 1500 $.
But why do you give away products that are so high?
Yes, old tricks that visual artists also use. Put a higher price then it's right. People feel that they get much more for the money.
What Real Specific does not contain.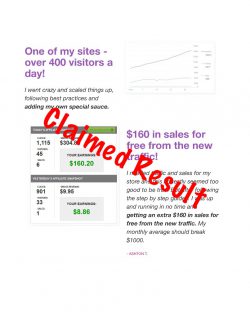 It is not a hosting platform, even though there are additional themes in one of your bonuses. It's also not a complete training platform if you want to engage in online marketing.
You may also be shown some money on the sales page.
However, the numbers are unfortunately very misleading to what you can create results. What you learn is not the basics of affiliate marketing.
Nor do you know how much work it takes to succeed and make money online.
No, you learn nothing but a copy.
Ok, Steen, what?
The internet is huge.
Over half of the world's population is online one or more times a day.
There are far more than a million products online that you can download freely for promotion.
There will be a minimum of five hundred million different words and phrases every day.
The same amount of money is spent on internet communication every year as it does on the total global transport of goods. Can you see the potential?
But it's not software like this.
No, it's you and your desire to build an online business.
Just like all other things in life, hard work is going on.
The sooner you get that mindset, the sooner you will also be ready to create online success.
The next important thing is to learn how to do.
What I want to show you is an online university, which primarily teaches in affiliate marketing.
But you can also use this teaching for other forms of online visualization.
Ok, let's sum up.
You are dedicated.
You will obey hard.
You are missing a guideline.
You're missing the right toolbox.
What I show you here is no shortcut.
No, that's the way forward if you want to create an online business.
It all starts with a website.
A website that you will create and build on a subject that interests you. What you get when you create it the right way is the right organic traffic.
Yes, you learn to build a durable page that is being searched for by your relevant target audience. With so many different people online, you can not reach them all by no means.
But believe me, those who share your interest are also more than ample.
So a small group of people who consider you to be the one who has the answer is the core of what I want to show you here.
We are talking about building your own success story online.
Forget the money and find some you can help with the topic that has your full interest.
Build a website about it.
Create traffic to the page.
And make money.
Simply not.
You are allowed the test to test it.
Just without having to get your credit card.
You get a couple of websites to work.
Yes, they can generate organic traffic if you work with them.
You will also get ten lessons on how to get started.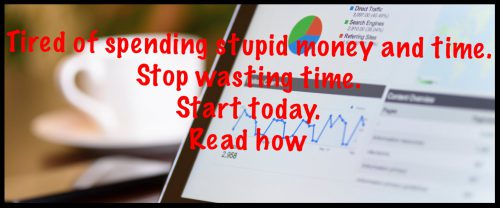 Yes, I want to show you something that you can pay for elsewhere. Yes, leave your cute cards in your pocket.
Unlike many other online products, you are allowed to test before. Noone asks for your credit card information.
When no you will not be asked you choose yourself.
The Good & the Bad
The Good:
It's a good dream of fast money.
You can create a large website very quickly.
There is instruction on the sales page itself.
The Bad:
You steal context.
You will not generate organic traffic.
If it were so easy to make money online, we would all do it.
You never really become a part of the context. Although it's a favorite article, you've downloaded.
If you think you can spin the context so it will be yours. So, unfortunately, you're wrong. This technique was seen by Google many years ago.
Who can take advantage of Real Specific?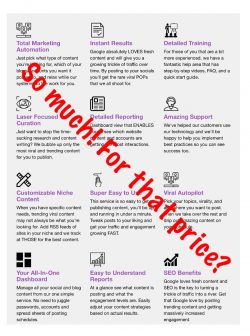 I can write this article as a promotion for the product itself.
I can thus earn a good percentage.
I think it's a terrible idea to use context from other authorities.
Then I will not write well about it.
I could add the link in case you are interested anyway.
My problem is that I can not recommend you to use these tools to build your blog.
Behold I've done it myself.
Have also had a little social success in doing that.
The problem just became that I could not argue for my work. But ok, you're brand new online, so you can use it to get some posts.
But do not forget to add the page to Google Analysis Tools.
They will very soon see that you have downloaded your content from somewhere else.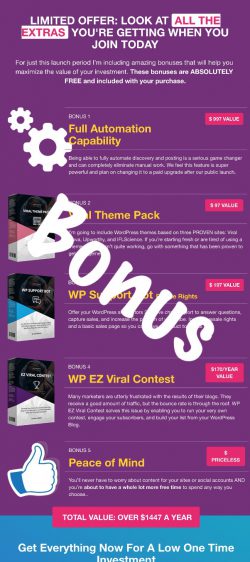 It does not matter if you download it from a page without authority.
It is in advance.
You do not want a chance in the organic search. As soon as you publish your post or page, you have the copyright.
The same goes for other publishers. You can not write or use their context for anything other than quotes.
But ok if you want to make some news newspaper. With mixed context.
Then, of course, it is also possible to use this tool.
But you can only use it on social platforms.
Real Specific Tools & Training
As already mentioned, there is already a small instruction on how to use the software on the sales page.
As it is part of the vast WordPress community, you will also meet some training videos inside their member area.
Concerning the actual use of the tool.
But also how to find keywords.
Yes, they have created a beautiful training center for everything the tool can do for you.
The provider here has made it much more specific.
If not that's because some of the information you get is not entirely in the spirit that Google has.
So I would say that it's a pretty ok place to start if you are curious about how to build a website.
Real Specific Help
In fact, there is an excellent help to pick up.
Here is an F & Q to the most common questions. But there is also a relatively live forum on the member side.
They have a facebook group that has about 25 members.
In addition to this, there is a support that you can write to if you have problems with the tool.
Real Specific Price
The 37 $ one-time has not moved.
We have exceeded the trial period. But you can sign up for a membership fee of $ 37 a month.
And then there is the massive package that costs $ 197; it's such a lump sum. Mersalget gives you access to more training, and you also have the opportunity to associate it with more than ten pages that the license provides you.
My Final Opinion of Real Specific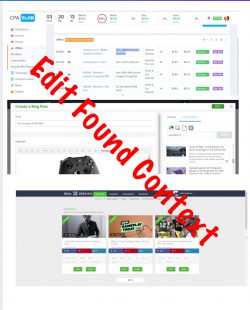 We are looking at another in a lot of dreams of fast money online.
Here they are talking about the fact that social traffic can give you organic traffic.
If you do not know better, then the two things are unfortunately not connected.
Your social behavior can give you authority, no doubt about it.
But when you build as fast as you really can with this kind of software you lose yourself on the go.
Yes, you will be able to build a website in record time.
But it's not your own, and you forget to give credit to the original author, so you're breaking the copyright.
It is punishing Google for you.
There is a reason why search engines spend time indexing the texts. Part of the process is to look for people who copy.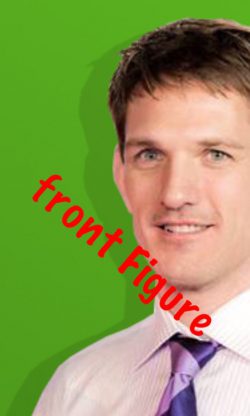 It is to protect the original author.
And no, it does not help you to spin your context.
It has been many years since it experienced. But frankly, if you believe you will create online success.
Then it's a learning curve that you're going.
You must think like a real business owner.
Yes, stop searching for shortcuts and start writing your texts.
The better you become, the more significant social value you get.
You can eventually get so much traffic to your pages that you can create the authority that makes your followers believe your recommendations as well.
It also allows Google to pave your pages in search.
Like clicks and sales.
It takes time and requires a lot of you.
But when the snowball rolls, it just gets bigger and bigger.
However, if you use this kind of tools for what they are best, you may get a big page very quickly.
But it will not create the leads and sales that you hope.
Maybe a little social value, but that's all.
Quick shortcuts may be necessary occasionally. Just not when you want to build a long-term project like creating an income rewarding website.
Real Specific How Highly Rank It?
Overall Scam Rank: 80 out of 100
VERDICT: LEGIT / NOT LEGIT
Is JVzoo a bit of it? Both and if you ask me.
Because if they do not fit, they lose some of the credibility they have built up.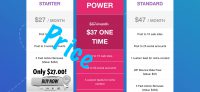 I know some affiliate bloggers take the latest every day. They recommend it in praise to create some sales.
Subtle enough, that's what they are living.
However, I would instead use my energy to help get the right people to make healthy choices.
A healthy choice in my optics is not a plugin that can automatically download relevant posts.
The relevance is something you should create.
Affiliate marketing is massive and a real opportunity for all of us to create a business online.
You can build a real business for a fraction of what it costs to create a traditional company.
Even though it's free to promote a partner program, there's a lot of work left behind before you see a result that can generate an income you can live off.
Real Specific is unfortunately just a simple piece of toys that have a shallow value. Ok, you can use it socially.
But please do not share the original article.
Is really what the social media are. Yes, share what you find valuable.
Something that you have an attitude.
Immediately it appears that social media is an excellent traffic source, but after all, you can only use it by giving your time to others.
If you are not interested in them, then do not reward your behavior.
So it's up to you what behavior you want in social media.
What I think is that if you can stand for what you post there, then it's just fine.
If you also have an attitude towards it, it's even better.
But if you're just a link, you'll be indifferent; nobody will take particular note of what you're writing.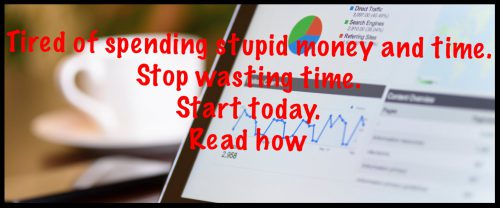 This post on what I think.
It would be good to know what you think.
Throw your attitude in the comments box below.
Just remember to press the button for your favorite social media while you're here