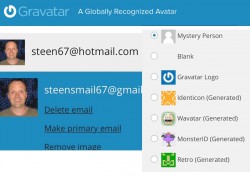 In this video, I will show you around in your WordPress office. We must have created our headline and profile
It might look a little bit confusing and overwhelming at first, but once you're up and running, you will soon see how easy it is to navigate.
We should have built up a profile, and we must have made you a picture so you can show that it is you who are the driving force behind your website.
The first image of many so we take the banalest so you can get started on making it, so it gets a dimension that fits your theme.
While we're at it, we also need just to see how your new site looks on mobile devices.
I have previously written an article in which I describe the new search engines have come up with, and that's about your theme is suitable for mobile devices.
You can read more about how you can ensure it.
Build Confidence From Your Readers
Below we can also create a Gravatar with the email as you begin to build your WordPress profile.
Gravatar is still just a part of WordPress society setup.
It is something that helps to build you and your website up, and you also have to build you up in social media later.
It shows a picture of you when you log into your new page.
It is also the picture displayed when you comment on others' articles.
With the mail that you've created your Gravatar.
Essentially, this is where we begin to build you a personal brand around your new website
You have created a title for your page now we have a subtitle to the side.
Remember this is something you can always edit down the road.
But if you ask, I thought that this is a crucial part of the setup even in the long term will also help develop you as an authority in your particular niche.
You must show that it is you are the authority on the page.
What is more obvious to your readers also get a face to the author.
It Is Time To Create A Subheading
Before proceeding to the next step then we just have corrected your tack line.
We must also have enabled the first plugin that you need.
We must have secured your comment field against spam comments.
It saves you that you have to spend your precious time deleting comments that have little relevance to your context
Many forget it, but I think it's important to get done before we go further.
It is quite simple to make. Like everything else in WordPress.
We must have activated the plugin which in time will help your new page to communicate with search engines.
We should have protected your new page from spam comments.
The first step of many in the development of your website.
The next step which we might as well do here also is to get your new present and prepared to talk with the search engines.
Certainly there are many more steps you have to do. With them, we need to speak about when the time comes.
We must also have your new page ready to talk with the search engines.
It is the last plugin we need to discuss in this round.
You get along well enough later to connect this plugin with Google's tools.
But let us wait a little bit for it until you've got a bit more text and pictures to your new pages.
Remember to get your website if you have not taken it yet.
Also, remember there is a one week trial with one of the most vibrant online community.
You need not pay anything your new website and the first ten lessons within are yours free forever.
If you choose to would drive your website professionally and have everything in one place, you can, of course, upgrade to premium. Here you get access to thousands of members who are there to answer all your questions.
You can read more here what it mean.
If you have questions about today's lesson, write me downstairs.
Please Remember to share and like