Tools and and exercises that will make your life easier online.

If you are interested in being an entrepreneur online.
Then you need a website.
Almost 60% of the websites you meet online is built with WordPress as the operating system.
WordPress is a free system.
Where you can of course buy some improvements.
But most of the tools are actually free.
What I will try with this series of videos and articles is to show you how easy it is to get started with your website.
Who should be your base for your business.
Now a website is often one of the last traditional entrepreneurial thinking.
But a local business also need a website which can be found in search engines.
You think probably what his ulterior motive, there is nothing which is free.
You've absolutely right.
But instead of buying an expensive course or get another part to put it up for up for you.
Then make sure you get enough information to get started.
My reason is that I have spent too much money to bring me a online base.
I have previously bought too expensive courses which are not really even contained what I will show you in this toolbox.
I also paid a lot of money for this stuff when I drive my road haulage business.
Was actually here peasant caught with some overly expensive actions online.
The cost to you is that you need to work with it.
Not just once but almost daily so you can keep building it bigger.
Believe me it is not difficult.
It requires you to work to build it the same way you would build a big house.
First foundation then a room at a time.
Let's go a little deeper into the work.
Remember that you are always welcome to ask me questions below in the comment box.
I have chosen to do that so we can gather the most common answers together.
But otherwise, get in touch with my Google+ profile where we can chat together.
You can if you choose to take the website as I show you also write to me privately inside WAU the first week where you also have the opportunity to act as a host of others who really know how to be built website.
Let me describe a little bit about what the video series is about to start.
Boot Camp How do I get started
First and foremost, you must have built your website.
Here you can read how I build my and there is a place in the article where you can start working.
Sure he was a Formula where you have to give your email information from you.
Do not buy anything or sign up as premium member before you are ready.
I will, as I said be here to guide you through the first steps.
Select niche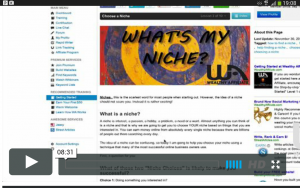 If you already have a business so then, you know what your website will be about.
If you are new to the online world then you have chosen a topic your website to be about.
Here you have endless opportunities to choose just what you are interested in.
Remember it is considerably more fun to work with a subject that interest you. As the building sites is long so you have fun when you work with it.
Choose Theme
Decide whether to have a blog roll or static front.
It's something you can work on over time.
If I could do it if I had probably chosen to be a little more careful in the choice of my theme.
1 plugin The most basic things your website should be.
If you use the solution as I show you here on my website there's training included.
Here I show you how to protect your website from spam comments.
It is important that the comment you are using is appropriate for your text.
Therefore, it is important to you as one of the first to install Akismet and spam-prevention so you can save time by not having to deal with a lot of spam that always hits a comment field.
Then there is the All in One SEO which can also be set up so that your website is made ready to be indexed in search engines.
Later we shall also discuss analytic and how to track your traffic.
But only later in the video series.
Creating pages and menu build your foundation.
I want with this video show you how in a very easy way, the foundation built up around the niche you have chosen.
It make a menu and and create pages that belong to a menu is something you will never finish.
So I show you in this video are the basics around it to create a menu.
But basically the first page of your menu, of course, about yourself and why you have built your website.
You must of course also have other sides hanging on the menu.
Another important aspect which is probably the only thing you need to charge again and edit to suit your purpose is your private setting and the rules that you act according to your website.
It should preferably be just to find and not necessarily in your main menu.
You must of course also have a Getting Started, or any similar page like this.
Overall, I would advise you to keep on continuously expand your menu while you work with your context.
Some of view, I also want to spend some energy on your context, which is probably the most important to get your website indexed.
I will go along creating both articles but certainly also make several videos on the subject.
The first video covers how and where I get my ideas to write.
How easily you can assemble your ideas so you can build your article up from there.
I will also show you how to split it so you do not have to create it all in a jerk.
Here it is that I will show you how to create your own unique touch to your website.
We also touch upon my ideas for how you can create your product review which is one of the easiest way to create authority and get real traffic to your texts.
Make time in your comment field
Then there are the comments box and a little about how you can use it.
It is very important to use so you can eventually learn to act together with your readers. It is both to keep your ranking.
By showing the search engines that there is always something happens renewal of your page.
I read even the comments on the articles I read.
It shows me how seriously the author takes his context.
Photo editing
This is not something I decidedly thought into the actual my intro to the building sites.
But it is certainly an important and something that together we will develop ourselves.
Here I use only the free tools that you can either download or that you already have.
I will also test and describe more of the tools I meet
Video tools and youtube
There are many ways to create video.
I will try to share some small simple tricks.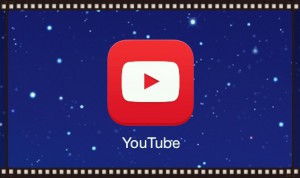 As you can use as a start.
Many of the tools to use, require little exercise and you spend time to learn the research functions to know the tools you choose.
Youtube has a good editing center that good enough is online so it really very slow to work with.
But it is well and truly useful
WordPress tips
Since it is wordpress as we work with, so I will make a few videos of some of the techniques that I use myself.
The here will in many cases be linked with my start up series.
One last word so far's this all about showing how I create my website.
There are many things that you would want to do a little different.
So remember to give me your thoughts in the comment field below.
So we are the way to network and help each other to build our sites big and strong, remember the Internet is large enoth that we can all be here.