Like click advertising to get your own view. I've looked at Triple The3at. Yes you are correct, I have found it on facebook
My Triple The3at Review
Name: Triple The3at
Website: https:/triplethr3at.net
Price: $ 10 a month, plus additional sales
Owners: Raymond Scott
Overall Google Rank: 0 of 10
Triple The3at, Product Overview
We have here with one more click advertising site where the idea is that you sign up as an affiliate and pay minimum $ 10 a month, and you earn the right to have your advertisement shown in the forum.
Here you also get the automatic tool to send articles and advertisements out of Facebook groups and fan pages.
I do not know if there are some groups where people read each other commercials, I did it myself a few years ago when social media was relatively new, but I read them just now with the aim of finding a new humbug system.
When but back to the business model here.
So first of all, you must have recruited two new members, so you're even with the system.
The next thing we need to start with are the giveaways.
Here is a selection of different packages you can buy and upgrade along the way.
You can invest from $ 3 up to $ 50 for a package.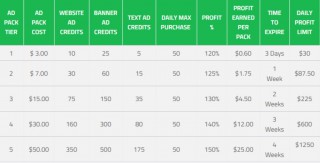 What I am talking about here is phase 2 where there is a lot of money as shapes around.
It is also here where I come very unsure what this platform contains the value.
In this one stage, you also see other advertisements.
Here you have to work with the business within the Member ago to earn a profit.
Here there's banner advertising and website advertising that you can work on.
What happens to your income if you do not surf commercials a few days?
If it works the same way as MAP as I have described earlier as you earn nothing on the days when you are not on the page, you have to remember that everyone here is very dependent on the active members.
Phase 3 is something you have to earn too, as I see it, you both brought new paying members and have been active on the page before can make you deserve to emit solo advertising.
A solo ad has briefly described an advertisement you are allowed to send out to the entire network via their email list.
Means that you also here sends it out to all those who have their mail registered in the system. Also, those who are not paying members.
I have previously written about alternative traffic methods.
Solo ads can be one of them as you can gather e-mail but about the people of this forum reads your mail is perhaps a little more doubtful.
It is often they just end up in your spam folder.
The Good & the Bad
The Good:
It is an affiliate program that gives 50% back when you have generated a sale.
It meets more and more connectivity.
Members were open to share video of the platform itself.
You must do something for this business every day
The Bad:
It is not the first time I have encountered this kind of business. I think the very idea
very similar to Zeek Revard, which was closed by authorities a few years ago.
The next two steps seem confusing
Who is Triple The3at For?
For me, it looks like a system that is designed to lure network marketer. You can start by building a team up relatively cheaply.
I would not exactly say that it looks like GDI, but I can draw some parallels to the way you will need to recruit on.
On the surface, it seems like a lot more reassuring program you should be able to recruit
your fellow into a shape of a pyramid, which on the surface does not look like a pyramid rather an advertising platform.
Do you have a team in advance as you can pull with around then I think that you can succeed with this model.
There are many who with some success was involved in several of this kind of programs.
Triple The3at Tools & Training
Here's a great F & Q is over the samples in most detail describe what the business.
Here is described almost all questions on everything from enrollment to spam policy here is also an explanation of the compensation plan. Not that I understand it thoroughly, but it is here, and it is very adequate.
When you are a member of the $ 10 a month you also get access to a library with a lot of written training, but if it is valuable or if it's just another rehash of a lot of books that will track your mindset, I can not answer.
I think that most books and movies there is anything you can find for free elsewhere on the web.
Triple The3at Support
I have not tried to write to the owner yet but he is visible, but he is dedicated to helping I do not know. I found a single closed group with over 4,000 members. Several have also made hangout and video that you can see if you're in the business itself. Of course, you can always contact the person who recruited you to the program and the way get some help if he can do so.
You can not contact Raymond directly, but you can get a support ticket. I see this as a big minus. The fact that the owner is not a part of society in daily.
If it's a legal business so, the owner will also be available to its members.
It is I used to be where I have my network.
Triple The3at Price
The $ 10 a month is not a fortune. Where I start to get a little difficult to understand the actual price plan.
Phases 2 and 3 are slightly more complicated here we go on talking about points instead of talking about real money.
Where I get a little suspicious and gets a bit hard to see the value. They promise 200% commission on some of step 3 futures. But you can not pay to double up without getting much more again.
Who can run a business when they have to pay more than they earn?
My Final Opinion of Triple The3at
I have written about a similar project in the past and had the really good discussion there.
There were some members were a little pissed that I was not very impressed with the value of being a member of a website where you have to look at other sites to earn your points.
Just a new one.

If you want to browse other people's affiliate websites to set your own, then it might be a whole different question you should ask yourself.
It is whether you contributes to the market with something that has value.
Let's say you have a particular niche page where you know there are others in the project who are interested in your niche.
Let's say you make a page for a different fad. It may be you get your clicks, but you also get real readers know that they find you here?
My conclusion is clearly no.
So we are back to making money niche where I believe that most websites are shiny objects that are only out to get you to pay for the object rather than to create a real business.
So another question is you trying to build a real, long-lasting business or would you rather spend your energy on a short-term approach where you have a chance of losing your earnings basis when the page closes?
I must admit that this one is designed for social media.
But if it's some money worth is perhaps too strong a word.
Why should I pay the minimum $ 10 a month to be part of a system that must be clicked advertisements when I can go out in the organic search and find the topic that I am.
It may well be that I find it here if I wait for it to show up in the flow of affiliate link.
My position is very clear; this is another one of those shiny buttons where you learn so much more than promoting the social media.
Creating an online business requires a little more of you.
It must be built up as you make any other kind of business venture. The difference is that online it does not require the big budget, but rather it requires a lot of work on your part of before you will be able to make profits.
You simply have to work a long time in advance and not spend time on this kind of projects.
I would like to spend some of my days to learn how, I do not want your credit card information, but in return, I want you to be willing to learn and willing to work far ahead. Your success story must eventually be yours.
But I would love to see you achieve your goals.
Read here how to get started.
Triple The3at at a Glance …
Overall Scam Rank: 88 out of 100
VERDICT: LEGIT / NOT LEGIT

There are many things about this program that makes my alarm bells ringing.
Firstly, I can not cope compensation plan beyond that you can benefit from 10 $
The second thing is that I've seen this before. Zeek Revard was closed down, and many of the members lost both the money they had receivables, but also significant parts of the team they had created.
I know that I risk getting some verbal beatings for this position.
But honestly, I know how hard it is to recruit in social media, so why to build a business model with software that can help you to spread spam on fan pages and groups.
If you think you will create a business from home, there are many other ways to do it. You need to build trust for you and your setup. It can in most cases only be done if you have a website.
It can to a certain limit need help to build; you need a network with others who are not only trying to sell you the latest shiny button.
So keep your money in your pocket and look at what I mean here.
Yes get you a website and learn how to get started, I do not want your credit card information. But what I do want is that you roll up your sleeves and begin to build you up, so you can find your market and then meet as an expert.
What I want to show you is a unique educational platform that does not exist elsewhere on the web, like when you go out and look at a TV or other item, so you are allowed to test the product before you buy it. Similarly, here you get to check the full package before you need to decide. Yes, you get off course allowed to keep your site forever.
That should generate a sale is not easy, even if you give something away for free. So if you think it adds value enough to get people to click advertising use just your energy on it.
If you would like to participate in the debate on this product so please give your opinion below.
Remember to share and like