I am once again hit directly in my messenger on Facebook is not even no, twice.
So I owe to write about my attitude to Exitus Elite.
But my alarm bells begin always to call when I get contacted directly at my messages, whether it's email or social media
My Exitus Elite Review
Name: Exitus Elite
Website: http://www.exituselite.com/
Price: $ 299 just to get into your office. Then there is the Genesis library which costs $ 1,300 to acquire
Owners: Paul Stevenson
Overall Google Rank: 0 Out of 10
Exitus Elite, Product Overview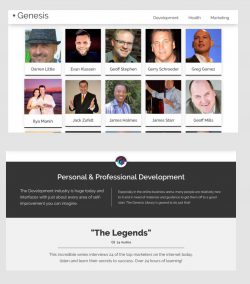 My first impression is that I have met another pyramid, where money is being highlighted rather than the real online training.
So I'm a little unsure about how much most people who spend their money here will be able just to generate a percentage of income about what they put into the business.
But in short, then you should at least pay the $ 299 just to come into your office.
It's more than I pay for a whole year to have a base and a real training environment online where there is a chat box which has members online around the clock. In fact, here 24/7 support because here are active members worldwide.
I have described here what and how you can test it without having to pay for it all.
Well, let me come back a little to this product, and what you get for all the money you have to pay to work with this business.
As I said, it costs almost $ 300 to open and create a profile here. No test or just a small glimpse of what I expect if I pay and get started with the business.
Ok, let me tell you about what I have met the website itself.

The actual earnings concerns, of course, Genesis Library, which costs $ 1300 to buy.
That is what the pyramid or sales matrix around.
As I see it, it is a huge pile of lessons where you can both learn about video social marketing email marketing, podcast and more.
In principle, it sounds the r sensible to own if you do well and mark work hard with the things you learn here.
But much of it is also built around that it's a secret that you gain insight into using so much money on this product.
Now, what I say here to stand on their account, but I'm sure you must own it to be allowed to sell it.
Ok, what do I get for my $ 300?
A website as everyone else has an office where you can track your work.
On this page do you buy your unique affiliate link?
That's what you use to promote the business and make your contacts to the business model.
I do not know if you place a cookie in the browser by the person who clicks on the link.
But it will, in this case, be reasonable.
You must then generate sales of $ 1,300 before you can start making money on it. Yes, your first sale goes to the person who sold it here for you.
So you are going to find No. 2 before you can make money and get some of your investment back.
The Good & the Bad
The Good:
We talk about so obvious overpriced to me even before I came to check the business out I was scared away.
I admit that the Exitus Elites website is quite full of information.
I get traffic to this page if you find me in the organic search.
The Bad:
First and foremost, it is a pyramid business that around the Genesis library.
I simply can not see why I have to pay to promote a product.
I can understand if their requirements for the website that I need to support. But I will never spend money to promote a business.
Who earns money and how I make my money here? I can not quite grasp it.
Who is Exitus Elite For?
Are you a new online then this kind of business one of the places that you end up in the first instance if you are a little bit unlucky.
I thought for example that it was a good idea with ACN. Here I should recruit in the old way.
Found it a bit heavy to run around, with a stupid phone that had video calls.
Especially when Skype was already part of the market. My point I paid for it. Stupidly not.
Yes, I went on to Empower Network which to me seems an awful lot about it I sitting here.
Mega animals increased sales for some tools and some mindset training that you can find free on the web.
Ok, you are completely devoid of conscience then this kind of business is for you.
You think probably what do you mean by that?
Ok, you are being ripped off to work with this business.
For that, you can make money on it have to do the same recruit and get others to do the same.
Exitus Elite Tools & Training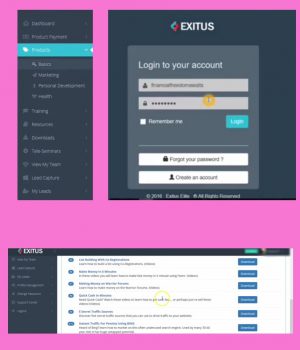 When I look at the page itself so is it up to you can get all the support and training you need.
But it's still a decent pot of money for Genesis Library.
Also, it is certainly the one who sold you the program which I see as the main culprits for you to find and get the education you need to succeed in this business.
But according to the website, it seems that you can search all the information you need to be able to build this business up
Exitus Elite Support
Of course there is help available, and of course, you get help if you can not pull the various videos and podcast down after you have spent $ 1,300.
But when I see the uncertainty that is with those who have shown me the program in my chat box.
I admit that I would be a little afraid that would just be left alone once I've bought myself to just the expensive package.
Yes here is also an F & Q but here you only get answers to the most common questions.
Exitus Elite Price
That it costs almost $ 300 just to get a link is completely exorbitant if you want my opinion.
If we're talking a real affiliate, then it is as I have said quite freely elsewhere.
That you into the bargain shell with $ 1,300 to get the actual training which means you can make money here is totally overpriced.
I would still argue that you can find an online plan much cheaper if you choose to build a real lasting business up online.
Ok if you are not interested in affiliate marketing then this might give you some inspiration for free.
My Final Opinion of Exitus Elite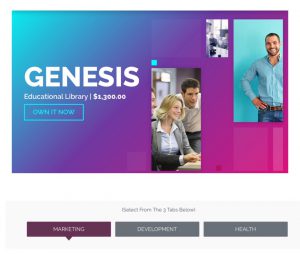 As you might have understood I, am very much opposed to the arrays and money pyramids.
My very clear position is that it is not a real business that provides an overview of livelihoods.
Good enough 100% profit on a sale tip $ 1,300. I know how hard it is to get people to buy from you online.
But the lesson here is an old trick where you write to people and chat a little, ask how things are going and what they're doing.
Get them to tell it and let them ask you what you're doing.
Then you write that you make profits online.
It was the same way that I  to Empower Network in its time.
I have met many unreasonable animal info products online.
Like all claim to have the secret recipe on how to create an income online. But the only secret that I know of is simply hard work.
Every time you fall for one of these tricks is you wasting precious time that you could have spent on something constructive instead.
My question to you is will you be a part of a business that does not create real value for your followers?
Just because you have been ripped off to buy it here, you will also bond catch others to do the same?
Yes here is mentioned many great names online, and yes the training package looks nice out.
But honestly, the most information and mindset ideas you can get from youtube if you're looking for it.
You need to build an online business then you can also get help from Google, which also has all the tools and information you need.
Ok, you are still missing a few key ingredients as a mastermind group and a place to put your website.
If you ask me, Exitus Elite is not the place where you get the right help.
You can not see even your unique URL which you can build your brand around.
This kind of business is not interested in that you have your brand. The money is the key here.
Your just money from your fellow man and you teach them to do the same. If they succeed with sales, so you get the full profit on it. Yes, I think as hell that they are desperate and trying to chat box.
They have an affiliate link which costs a minimum of $ 300 if they are to have free traffic then they need to go to the social media.
They have to be very direct to get recruited their followers.
My experience with MLM is that you very quickly run out of people you can contact in your private network.
Another reason that I will never just think about starting with this kind of pyramids is that I did not even check my business.
Are they mad at me for some reason then they can take it from me immediately? Yes I, am a little old-fashioned in that respect.
I do not understand the money completely, so I keep far away.
I know what it requires of me to build up a business. Yes, it takes time and hard work.
Why should I use it to build a business that is not my own and that can come down when it starts running out.
Yes, most pyramids and matrices tend to close when the last fool has signed up. Affiliate Marketing is not else, here we talk about building up a business by promoting various products.
Of course, info products that you can earn the most on, as most of us still do not buy the expensive items online yet.
But why not work with something that interests rather than trying to sell a program entirely devoted to recruiting.
I am a great supporter of affiliate marketing if it is about creating value for the buyer.
You can read more here about how and where I work with my online purposes.
Exitus Elite at a Glance …
Overall Scam Rank: 98 out of 100
VERDICT: LEGIT / NOT LEGIT

You've probably caught that I am certainly not for this business model. It for those who built it earns lots of money.
Those who begin to work with it later, in most cases, to throw their money down the drain.
If you need to recruit at random, via the social media, so it becomes like to sell as a telemarketer. The more you contact, the more sales.
But like with your friends you meet in your daily life, people become drained off you and the behavior that you have to have against them if you just want to make you a little bit hoping to get your investment back.
My question to you is.
What will you use your energy?
A business that moves in a gray area between legal and illegal.
Or will you build a business that is completely legal and that create value for those who follow you?
If you do not care about your followers so needed you not to read more from here.
Whereas you would like to build your Brandt, so people will have confidence in you.
So read on here I know certainly well what I choose.
If you have any information about this business that I have not been with so just add me below.
Do you have other questions then you are more than welcome to them here too
Remember to share and like