I have once again been around in social media. Yes, I also found this in a comment thread.
I have found a little more forward, which I will share with you here.
Hope it can help you to find out what Ultimate Cycler is.
My Ultimate Cycler Review
Name: Ultimate Cycler
Website: http://ultimatecycler.com/
Price: $ 25-800
Owners: Peter wolfing
Overall Google Rank: 2-10
Ultimate Cycler Product Overview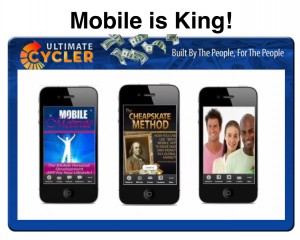 Let me say that the product itself has three different Apps which belongs to the membership.
All three covers motivational training and network training.
It is then boiled down to three worthless Apps.
Personally I see nothing here that can create a revolution in online marketing.
To me it is a product that is created as a pendant to a money pyramid.
The pyramid is based only on 2 levels after which it is supposed that you can create a new two-storey pyramid.
Let me describe a little about Peter wolfing as frontman here.
He is the creator of up to several similar matrices.
As an example he also have Infinity Downline and Turbo Cycler.
Humor has it, that he is good at a time. However when a matrix runs out so he builds a new one,
with a slightly different wording, but with exactly the same concept.
The Good & the Bad
The Good:
It is pretty much clearly that it is a pyramid, so if you want to work with that kind of network here is a possibility.
They say honestly that it is not recurring income.
The Bad:
It is a pyramid where the money is in focus.
long ago I lost my belief in this kind of business.
I have not been able to find any active members to get more details.
Who is the Ultimate Cycler For?
As you might have noticed so far I have not the warmest feelings towards money pyramids where there is a real product involved.
You must be a seasoned Networker with either a big list or a network that really trust you to use it.
If you think that you will be able to promote this via the social networks,
So you're wrong.
You simply need to create more value around your person before you get someone to believe enough in you. In that way you can get them to build on your matrix
Ultimate Cycler Tools & Training
I have found a single webinar. It last for approximately 40 minutes.
The rest is something you have to learn when they have sold you a place in the pyramid.
You are very dependent on getting training from your sponsor.
It is at this point where network marketing many times will get difficult.
Although the claim is that you just need to do the same as your sponsor has done to get you the idea.
So you must create value around it to build a team where everything is based only on money.
Ultimate Cycler Support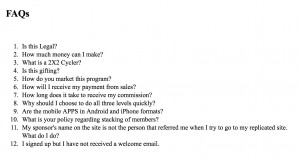 Here is a very simple F & Q page with the 10 most asked questions.
But otherwise it's pretty much more up to your sponsor to ensure that you get the help you need.
Ultimate Cycler Price
$ 25 one time is not really that much to start up a business.
But you need to build a team and earn at the start of the business.that is in my world a worthless investment.
According to the website and compensation plan.
If you pay only for the next step you have built your 2 x 2 matrix.
The next you'll build will cost $ 50 up to $ 800.
You must be a very excessive Marketer if you need to run it so far.
I am pretty sure that you very quickly, before you even have built your matrix, will be presented to an upgrade.
It is often the way that is being used to pull extra money out of people in this kind of pyramids.
My Final Opinion of Ultimate Cycler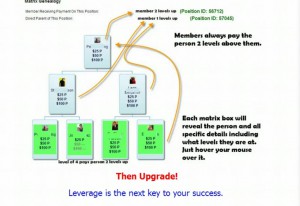 I know that the Internet is full of sites where people show that they really have found a gold mine.
In my world, it is often set up as an eye-catcher either with some actors who are hired to play the role of the newly rich who have huge success with a given program.
Or show website with a stream of people who are starting with a business.
Here it is not the money they show, but a stream of new members who have served on the product.
I must admit that I have never been successful in recruiting people into a pyramid.
If you read some of my previous articles then you can see what I have tried of MLM products.
As I said, I started my online travel with ACN for a number of years ago.
I have since tried me Empover network.
for me it is probably one of the biggest pyramid schemes you possibly can try.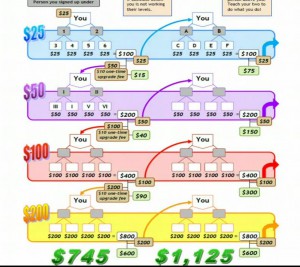 I thought Fortunately though I have learned from my trials and has thus found out how difficult it is to recruit online.
So I have gone completely off at all trying to get my neighbours to sign up in some more or less dubious business model.
Internet marketing works are simply not the way for me, maybe for you.
If you really want to make you an income online without trying to get people lured into some more or less dubious pyramid, then you have to see it as a real business.
Where you have to do at least just as much work in it as in any other business you meet in your daily life.
A real business is based on customers and trust to you from your customers.
My question to you are:
Do you care trust?
Do you believe that you are able to teach your team to recruit?
If yes then find a sponsor and start building your pyramid.
However, if you want to create a real online business that is based on something that interests you then it can be done without having to recruit other people to your business.
The 2 real business opportunities that I can recommend is to either go ahead with
dropshipping.
(It requires a small investment on your part).
Just be aware of a lot of pitfalls. But you can very quickly get profit here and it can actually be done without a website.
The other option is to start with Affiliate marketing.
(It takes a lot of patience on your part.)
It requires that you get an education, and that you build a website but it is, however, a completely risk free business where you either have to provide support or stand for a physical inventory.
There are also other quite legitimate ways you can build online and offline, without having to recruit People into a matrix that you need with ultimate Cycler.
But learning how to build trust in your market online requires that you have a solid base online.
A place that is your own on the web.
You simply have to get yourself a website. Without a website you have difficulty in creating a healthy contact with your customers. You can also do as I do communicating my message to those who are interested in knowing how to make money online.
Here i have a good and a less good news.
I have a website with 10 lessons telling how to set up an online business and make it ready to get the organic traffic.
The traffic that is most like most worthwhile.
People actually have searched information that you provide here.
It is absolutely free and you have my full support and backup.
Read here how to get started with building a real online business.
The less good news is that if you choose to build a business online then you must work for it and you have to work much before you will start to see real results.
Ultimate Cycler at a Glance …
Name: Ultimate Cycler
Overall Scam Rank: 85 out of 100
VERDICT: LEGIT / NOT LEGIT

My conclusion is as you can read here:
Stay away from this kind of pyramid schemes.
Especially if you are new online and do not feel you are good at selling online.
The only thing you get out of it is to loose respect from your surroundings and around your person. As you can understand, it is something I have tried in my quest for the ultimate online business.
You are going to chase people in your entourage and will very soon find out that you can not contribute something that can give you confidence from your followers.
If you want to know how to build a real business up online.
A building on a topic and with products that interest you.
So see here where I learn to create mine.
How you can learn to do the same.
Yes it's completely free to look at.
If you have experience with Ultimate Cycler or a similar product I would be happy to have
your opinion in the comments section below.
Please Remember to Share and Like