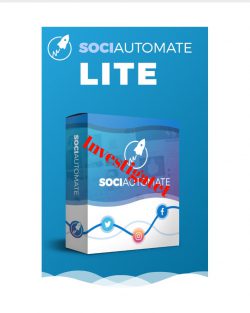 Glynn is an old fame.
He certainly likes to show how fast you can earn.
But with that, it seems that he has become a little more mature and does not struggle with how much you can earn in record time.
My SociAutomate Review
Name: SociAutomate
Website: http://sociautomate.com
Price: $ 28 or $ 38 for the Pro version
Owners: Glynn Kosky
Overall Google Rank: 0 out of 10
SociAutomate, Product Overview
We have a web-based tool that can help you find a proper context that gets lots of clicks and likes.
You can then place it in the tool's library.
You can then create a schedule for where and when you want to post the different entries.
You use facebook twitter and Instagram to retrieve the various posts and then place them in the tool directory.
Here you can follow as many fans and individuals as you like.
The tool shares it with you so you can sort them. And even schedule when you want to post
Once you have enough records, you can plan them and also post them mixed in the different media. Quickly take a message from twitter and post it on facebook.
Here it is about collecting as many as possible. What you do afterward is to plan where and when will set up.
For example, you can add the relevant affiliate link.
Or you can leave the post as it is.
What you just do is to share very automatically.
For example, if you do it on a fan page that you have created within a specific niche.
Do you want to appear as an expert effortlessly and thus you will get more like the page?
The same tactics can in your twitter and Instagram power.
What it can also is to sell further from a website or a video channel.
It is a product that through JV Zoo, which is one of the more reliable affiliate networks.  You ask me.
I also believe that Glynn has learned something more since I encountered him lately
The Good & the Bad
The Good:
It can give you a picture that you are very active in social media.
Although it's not your context that you post, many-like settings can give you some form of authority.
You get many more posts that allow you to interact with your social network
You can also use your context and form to put old articles.
Fortunately, you get an insight when you visit the sales page.
Can make it easy to remember to get shared other than your own.
The Bad:
It can very quickly, so you'll only look like a poster for the sake of the post.
Your followers can very quickly get the feeling that you post automatically.
If I feel it, I'm having a hard time taking the person seriously.
It is still not you who is behind the post; it's only you who share.
Who is SociAutomate For?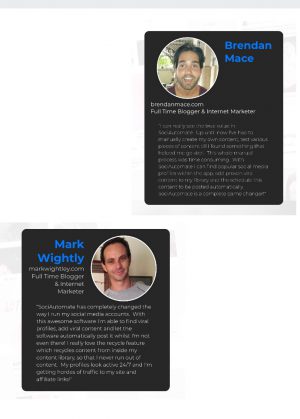 Is it you who feel you lack authority in the three social media. Then this is an easy way to create a follower.
But you still have to be aware of what you have posted.
Because it's worth nothing if you do not use it as a tool to start a dialogue.
You must also be prepared for your traffic source to be social media here. Fine, it is and the most prominent media you move in here.
However, it can not be used to create organic trust. Neither in the media nor the search.
You have to think that it's not something you've created.
So be very socially conscious.
Then you have a great tool to find and share automatically.
If it is a success, you might go to JVzoo and promote the tool.
Here you must find out what the agreement with the provider is.
But I like the network where this.
SociAutomate Tools & Training
Once you have purchased the package, you become part of a member area.
There is a bonus package with some webinar some pdf with some lead magnets as well as the secret ingredients.
You will get some training videos to familiarize yourself with the tool.
SociAutomate Support
Although it's an automation tool, owners have a Mail where you can send a message for help.
I have used other products from JV zoo, and they require to provide info products, and software has support.
So that part I'm not afraid of here.
I'm not afraid not to get my money back if I'm not happy.
SociAutomate Price
If they do not raise the price, then it's an excellent tool to have in their collection.
But it's probably not worth hundreds of dollars and not at all if they find out to sell it as a monthly subscription.
I am almost sure that the price.
But money has to be made over a couple of days, and the sale will.
There is a reason why he does not appear directly on the sales page.
My Final Opinion of SociAutomate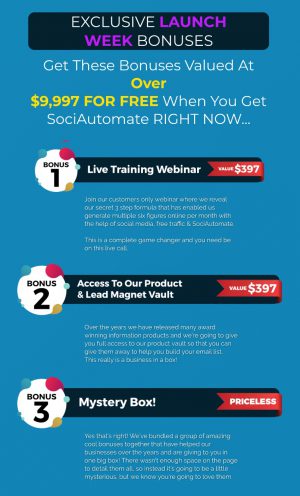 Glynn is an old acquaintance of me; I must honestly admit that I think he has got up a little here.
But I still have some reservations about some of his older products.
Yes, I ran into him a few months ago.
There I was not imported over his tools.
But he has tightened a little.
Just the fact that he has become a provider of JVzoo means that he has grown a little in my respect.
It's not the first social tool I've met.
It will probably not be the last.
Fortunately, it's a web-based one of the kind.
I don't like downloading material on my computer. But that's me.
What I could use was to become more social both through the things I would be able to get and share.
But believing you can get faithful followers by posting favorite posts is enough to shoot a little high. Yes, there is free traffic in the three media.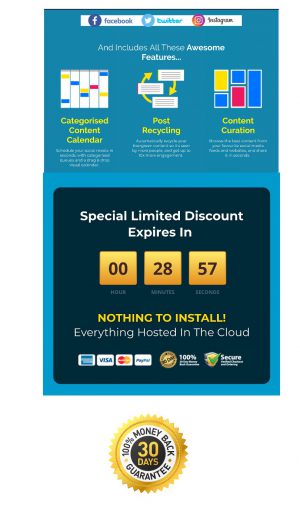 But you never know if the work you put in them can pay off.
As you can read here, I'm still in doubt that this can give you a higher authority just to post favorite listings.
Good enough they say that if you use the tool, you automatically become a people listening to and following.
But frankly, my question is whether you can build up in different niches on social media and maintain their success favorably?
Now that I have gained a little insight into the actual training, I have learned a bit more respect for it.
Because some kind videos indeed contain some valuable information.
Unfortunately, it is not unique information.
But still the ethics will be preserved, and you will that it can not serve as a blog context.
For what you get has only social value.
You edit in the posts.
You will not here, but you will not get any epoch-making news.
Some of the techniques are quite ok, but they are not going to bother untouched amounts of traffic from the media.
Yes, they are right that it may take a very long time before your articles can create authority. But in the online world, there is nothing free.
The sooner you learn that patience and hard work is needed before you can trust enough people to believe in you and then buy from your pages.
If you want to create a real online base, where you can generate authority in social media.
I do not know any online authorities that do not have a significant and robust website. If I now tell you that you may be allowed to build one, get instruction to get started. Without paying for it.
Yes, you get full access to the most significant and most protracted educational community that exists online. You can learn a little more here. I'm waiting for the other side
SociAutomate at a Glance …
Overall Scam Rank: 70 out of 100
VERDICT: LEGIT / NOT LEGIT
We do not have a product here based solely on emptying your pockets.
Good enough, you will meet little more sales.
As you said, you have to use other tools above this if you mean it sincerely. Make an income online.
As described, there are display items that I can use and implement in my daily life.
But in general, I do not think it's a good idea to create electronic records on social media only.
As long as the price is up to $ 40, I appreciate it.
To claim is more worth.
A wall for sale will not immediately hit you.
That's something I'm looking forward.
Remember, a social tool cannot build you automatically.
It's something you have to do.
The only way is still hard work.
You also do not learn how important your texts are. You can use that as well. But not alone.
If I can recommend it?
Yes, I can if you are aware that it is not the only thing you need.
Social media has been one of my places of standing for many years. I have previously used some tools especially twitter here has been my hunt.
Until now, I have not been successful with that tactic.
But what about you have you tried auto tools and have they worked as intended?
Give me your attitude down in the comments field.
Just click on one of the social buttons now where you are here.