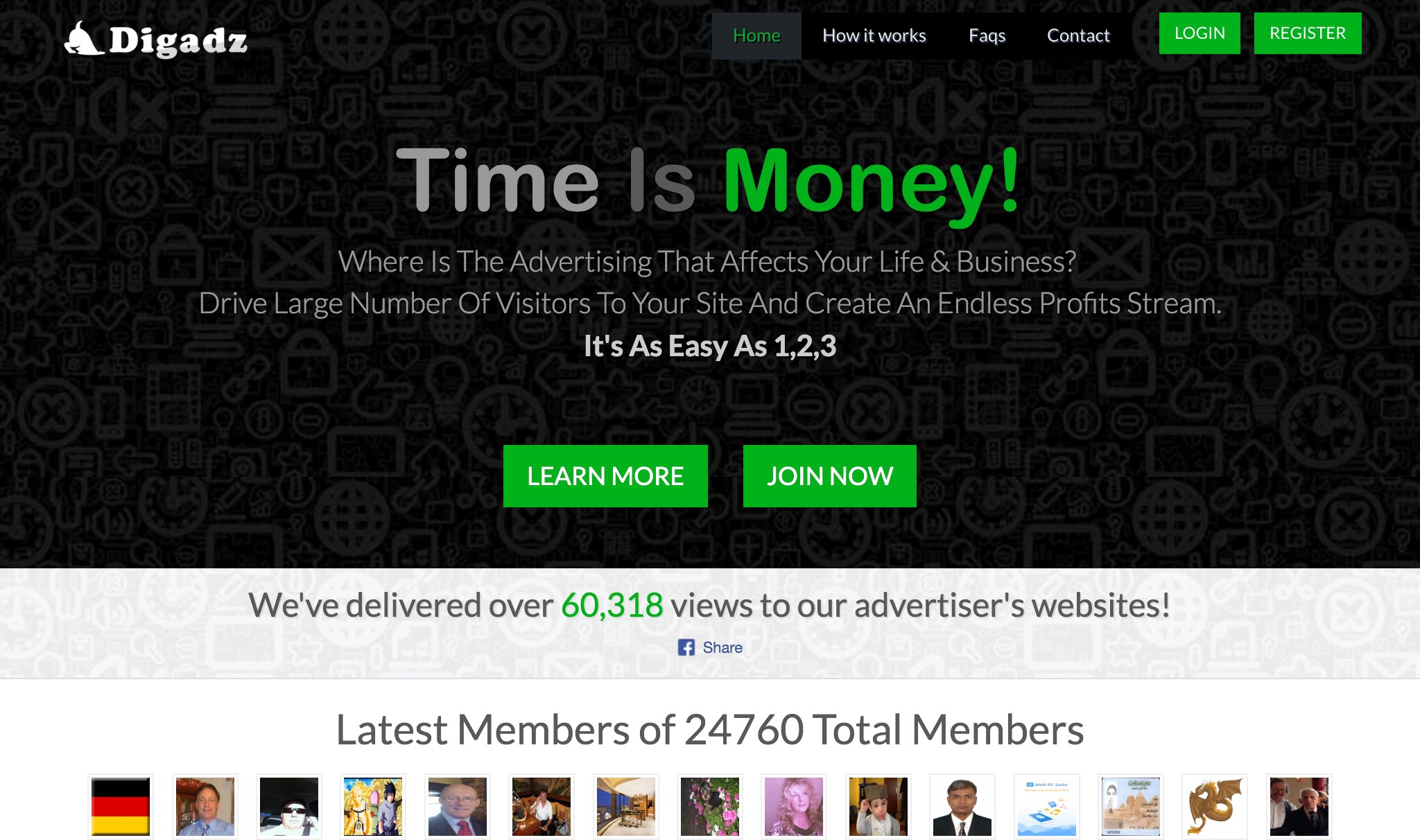 Once again, I got a brand new big business proposal directly in my chat box. I have taken up the thread and examined what this really is about.
digadz Review
Name: digadz
Website: http://digadz.com/
Price: $ 1 to $ 499
Owners: Beejay
Overall Google Rank: 0 out of 10
digadz, Product Overview
Do you remember Zeek Reward a Big online business, some years ago.
It was closed by the authorities.
This business is a bit like that.
You must click advertising every day to maintain your status.
So they are obviously Affiliate program where you get 10% every time you get someone to write up from your link.
As with all of this type of business, there is a lot of work behind if you need others to work under you.
The Good & the Bad
The Good:
It is not an MLM deal with one of these matrix.
It's a simple Affiliate program
You can check it out for free.
The Bad:
I do not think you can make many money here. It has worked very frivolous from the start.
To send advertising and click others gives me no particular sense.
That they learn to write an auto message directly to people's chat box. How might even sent a link is. To say it straight spam.
Who is digadz For?
I must admit that this program as I see it is for dreamers.
People who still believe that there is a shortcut to an income on the Internet.
I actually do not know if the owner comes to making good money from this.
What I have meet here, the last few days is both arbitrary and bad structured.
But it is an affiliate program so if you have a big list and is somewhat indifferent to your list.
You may want to write an email to them how you people to work with this.
It is reminiscent of MAPS as I have written about previously.
Here you must also click a certain number of advertisements to maintain your earnings.
So if you still believe in shortcuts online then this is for you.
Whereas you know that it takes hard work to build an online business.
Then I will be happy to show you how.
Just look how.
digadz Tools & Training
Yes I was send a link to a Facebook group to get answers to my questions. Unfortunately, I have enough in some way been a little too pushy in my questions for my so-called upline could not really help me.
So I came in contact with another which under no circumstance could answer my questions.
He referred actually to my upline.
I actually got a message that in the specific discussion was under no circumstance would answer my questions.
So they were deleted from the thread in the group.
Training can I ask what is it?
I could obviously not get information of anyone.
So I have to enter the site and see what I can find.
Yes a small and very inadequate instruction in how it works.
digadz Support
Sure you can submit a support ticket but with the culture that I have met so far, I have a hard time seeing how they as a whole may be able to provide good assistance to their members.
In my view, it is a bunch of insecure Internet Marketer who has made a page on its feet. Without needed to create value for their users.
digadz Price
Yes, as I said you can buy packages from $ 1 and up to $ 499.
But as I see it, it totally does not matter which package you buy.
The concept itself is completely useless.
So keep your visa card in your pocket.
My Final Opinion of digadz
As I said, this reeks of a bunch of amateurs.
As trying to assemble a great team they can get to prime some money for their project here.
As previously described, it reminds here a lot about MAPS as I have written about previously.
But this works unfortunately just much less thought full.
But one thing the two programs have in common is that they tell their members that it is perfectly acceptable to use social media to send their link out.
As with MAPS I received an affiliate link directly in my chat box.
I thought the behavior seems both desperate and very amateurish.
Actually I am a little tired of This behavior and the use of social media.
I seemed simply not to this kind of businesses, belong to neither in my mailbox or in my chat box.
It's also why I'm out with this product so soon after they are gone live with the project.
I really hope that you, the reader can see what it is for a bunch of people who are behind it.
If you test it yourself, I am sure that you come to the same conclusion that I have come here.
But however you serious about yourself and build a real online business so stop clicking advertisements for small money and butter up your sleeves.
Let me show you how to get started here.
digadz at a Glance …
Name: digadz
Overall Scam Rank: 90 out of 100
VERDICT: LEGIT / NOT LEGIT

Unfortunately I can not really find anything positive to say about it here.
No practice no support.
I have been directed directly from my chat box.
There are not really any dare answer me to my questions.
Yes unfortunately I can not recommend that you start clicking advertisements with this program.
I have a feeling that it is some old Network Marketer who are trying to create an affiliate program in the hope that they can get their business seem more legal.
But honestly most low money Affiliate products are also Scam.
Unfortunately There are very far in between really useful products.
But as long as human beings we are selfish, and We chasing the skins gold pieces that are strewn across the internet.
There is unfortunately a market for this kind of programs.
It may well be that they mean it well, but it appears, unfortunately, that some junk.
I can not understand that they launch an opening that people can subscribe to when it anyway after the statement is not a pyramid structure which it is composed.
But you are serious and want to check how I build my articles up so grab your free website and the 10 lessons that help you get started with building a real and genuine internet business up.
Yes you heard right it is quite free to look at
Well I do not want to spend more time on it here. But do you have a comment or have a different view on how it works.
So let's take the debate below