I remember when I start to look for a business online.
These studies was one of the offers I met on my way.
So I have spent a single day to find out what is click4survey?
There is one of the pages where they teach you how to do it and how to earn money by

participating in investigations
click4survey Review
Name: click4survey
Website: http://www.click4surveys.com
Price: $ 97 with coupon code $ 37 there will be additional sales inside the members area
Owners: Daniel Cooper
Overall Google Rank: 0 out of 10
click4survey, Product Overview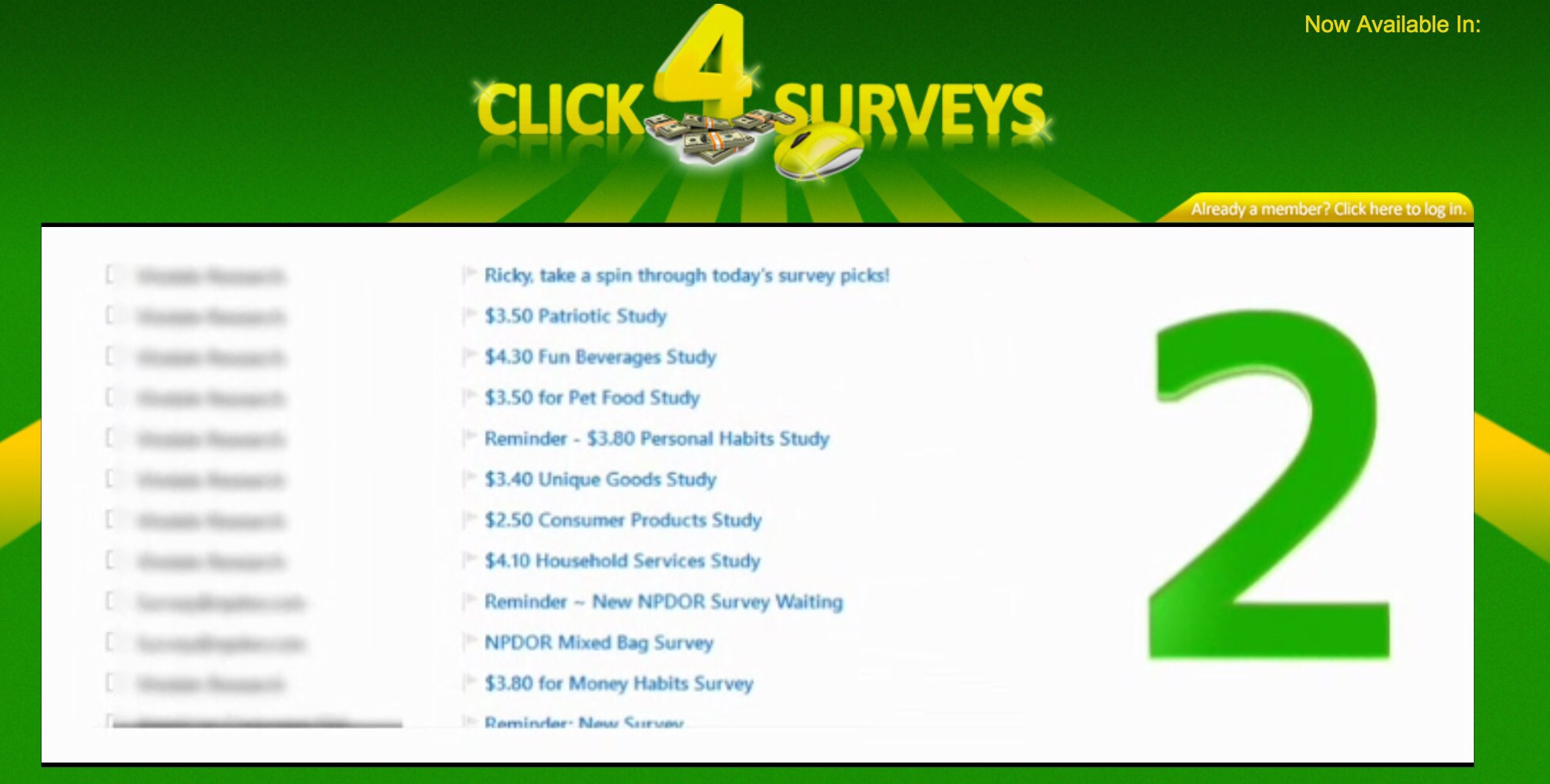 Here you are dealing with a page that has gathered some of the survey sites you can meet in Google.
It is not a survey page but help page that help get you started as Affiliate for the page itself.
It is also designed to help you organize the pages you need to do survey on.
So the page is not intended a survey page, It's rather a kind of database. Who contains links to companies that pay you to give your evaluation of a given product.
However, you must find out where and how you want to participate in the study.
So you're going to stand with your mail very many places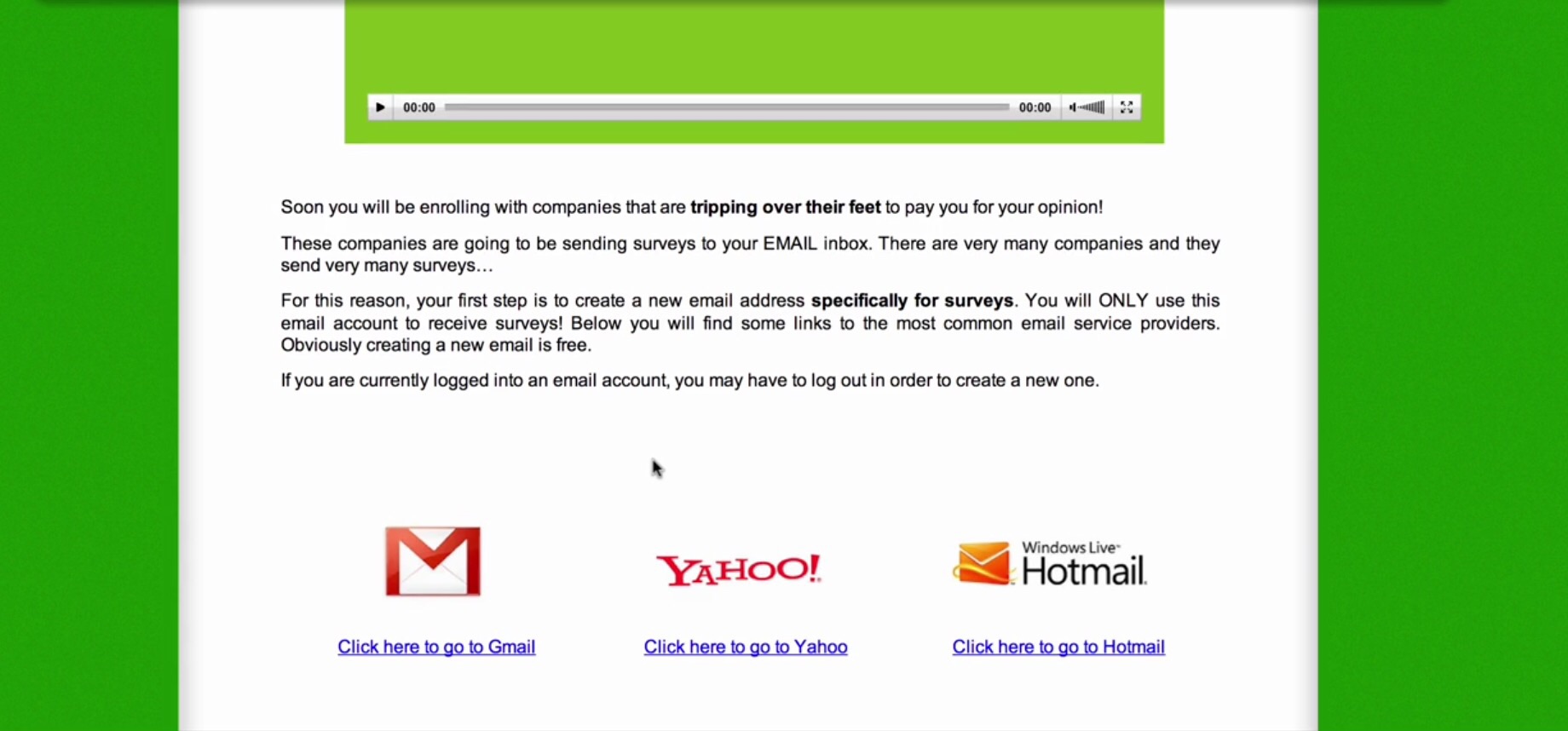 Yes it is only a simple workout where you basically can only learn to organize your mail.
It's fairly important that you learn it, because you're going to get unlimited number of emails where most of them is spam.
Now do not believe that the product is a survey page, it is not.
It's more like a data base where the different types of studies organized. So you can organize your time.
Remember some of them you must of course take part in on a particular tailors.
It's not all you can join you may be wrong gender or age group.
In contrast, a part of the training more calculated on that you sell the product to others.
Here are some different website templates that you can buy.
As can help you sell it here training.
But in my opinion they are both too expensive and not very good for the price.
So I would much rather find a place where I learn to make real websites
See here how I do
.
The Good & the Bad
The Good:
You learn something fundamental about your mailbox.
You can earn money to participate in surveys
The Bad:
You will not see where you need to click through to find the study that you can make money
There is very little training, and it deals almost only Whit your mailbox.
You spend too much time on nothing
It feels more like a job rather than a business that you own, you are simply paid for your time here rather than building a real business.
Who is click4survey For?
If you as I have said much spare time and you are prepared to spend a long time on both find the different surveys you can participate.
But also very much involved in.
But otherwise it is an Affiliate program where the goal is to sell the product. And earn extra of everything upselling indside The program.
But as a user of the program.
You are going to wait long time, for just a little real income for the time you spend on it
click4survey Tools & Training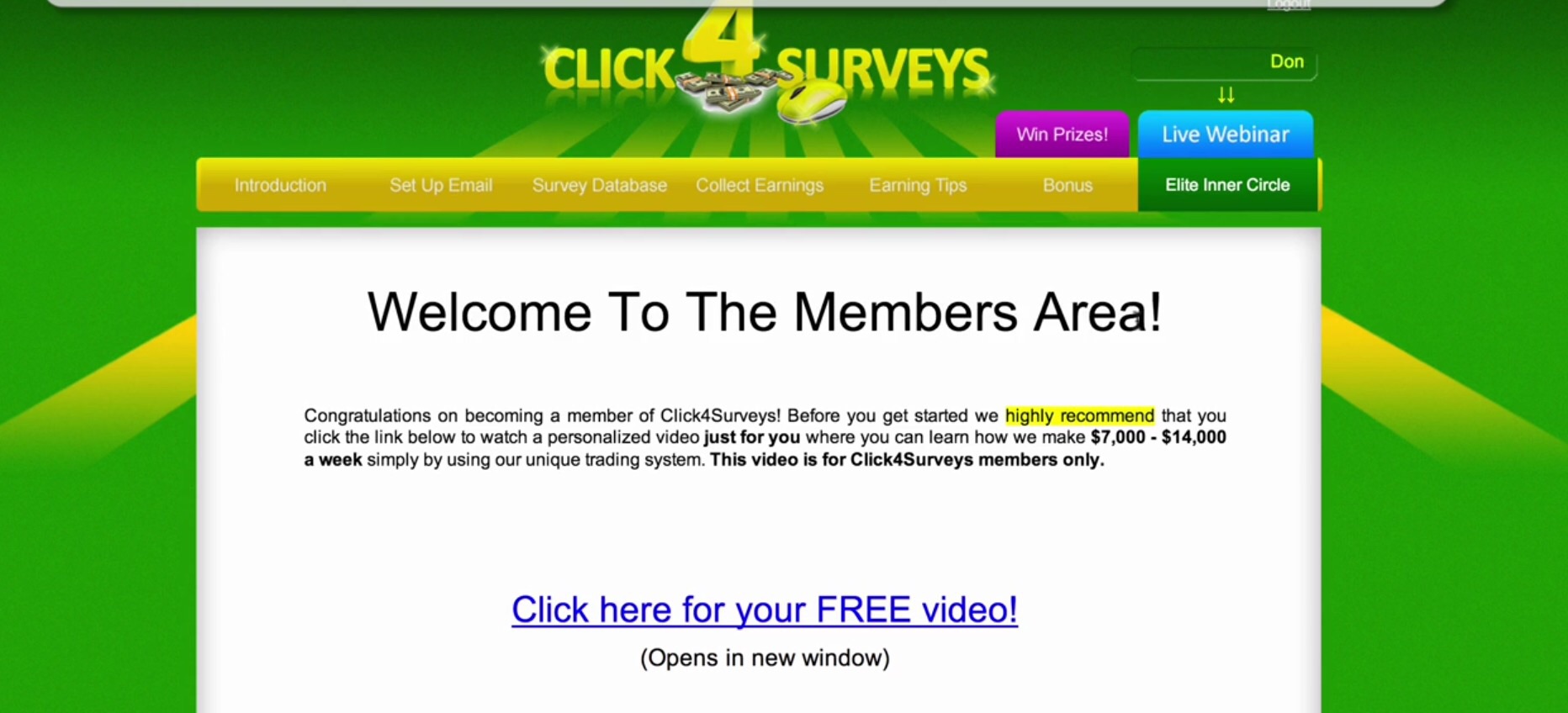 There is very little training since you via the link you get.
Even should learn how to fill the various studies which you participate.
You must remember that they can be made both on chat, email or telephone.
You must remember that you are in touch with a lot of different companies, all of which run their campaigns differently.
Of course you have your back office. Here you learn How to organize your business. There are also a page where you can see your affiliate commission.
And then of course your mail, that What the whole program is about
click4survey Support
Unfortunately there are not any places to get help.
I have not been able to find either Google + or Facebook groups where we can discuss the various studies. As you can usefully participate in
click4survey Price
Firstly, the information here is not at all worth some money, but it's probably why you get great discount on all additional sales, you are greeted with each click further into the actual page.
So even the $ 34 you pay when you have used your discount coupon I found is too much for a product that is not there
My Final Opinion of click4survey
Already at my first look at the website I got a clear sense that that this is another one of the shine buttons, which I do not think is worth wasting time on.
It's all built with money and happy people.
I've seen it before and it works a little searched to me.
If it really had been a serious side.
It should have spent more time showing how to get started to make a survey.
You only see money and a short intro to the idea itself.
From the moment I clicked on the page, I could clearly sense that it is more an affiliate program where you earn money from additional sales of more useless information.
It is why they give discounts on all the extra upgrades they sell you.
But when you start to make inquiries you're going to be on-set that it's going to take much of your time.
You will mostly not going to get anything else Then a few dollars an hour.
You have to spend a lot of time on everything other than making money.
If however you want to learn how to make money online.
Then you have to think in an entirely new direction.
You simply have to even build you up and build a website that you can generate traffic to.
But here is how I do it and where I learned building my website big and strong.
Read how it is done and it is quite free to explore.
click4survey at a Glance …
Name: click4survey
Overall Scam Rank: 80 out of 100
VERDICT: LEGIT / NOT LEGIT

As I have said, you can not earn very much to participate in surveys.
Many times you do not have the money for it, but in return you get a prize or get into a draw.
You build nor yourself up and become part of the market.
The only thing you are going to, as I said to earn a few dollars once in a while.
I simply not I will be familiar to you to recommend it here.
The other hand, I would recommend is.
That you start to build yourself up about your interest so you in the long run get much more out of the time you are online.
So start today to make your first website that is ready to be filled out.
Read how, and find out how easy it is to get started.
Joining you in surveys or have done so I could mighty like to hear what you think so throw me a comment below so we can get a little time in debate