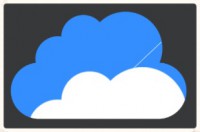 I've looked around in some groups in the social media; I found Cloud MLM Software. I've looked a little on this today here is my opinion.
Cloud MLM Software Review
Name: Cloud MLM Software
Website: http://cloudmlmsoftware.com/
Price: from free to completely overpriced for some simple services
Owners: Did I not found out yet
Overall Google Rank: 0 out of 10
Cloud MLM Software Product Overview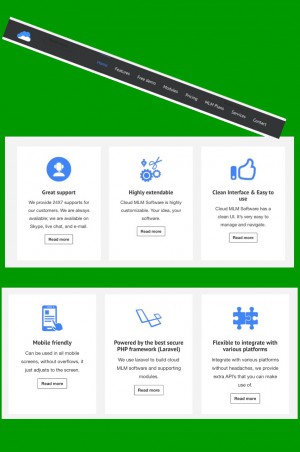 As you can see itself is an online software that promises that you can organize and expand your already MLM business.
Here is the website built with multiple systems. You can select both Drupal and WordPress both CMS systems (context management system)
I have personally never made anything in Drupal, but it does not make it a bad system, what I have learned it is a little more technical to start with than WordPress.
But I will not write about Drupal here when I do not have any basis to describe the platform.
But let's dig a little further with what I met on the site. So here's an autoresponder that you need to make email series. "I even started to build such a series.
But it's so not that they will help you, no, they will help you to send quotes to your readers.
Then, of course, there is a binary system which helps you to set up. So you can organize your MLM business in a right and a left leg.
Yes, it can also arrange a Matrix for you.
A matrix is roughly the same as a binary system; it builds just your lines in a slightly different way.
So shall it also for the waste that will either come down to those who have just signed up for your business so that they feel that there are rapid results.
Smart does not, of course, you get here and online software that can manage that part of your business.
When yes they also have some different payment methods that you can use in your system.
You have to receive even money from somewhere, and you have to be able to pay for those who end up in your business
The Good & The Bad
The Good:
I have a little trouble finding something positive in this system. You can download all of the tools that are being offered here at a much lower price, so most of them are some you can download from Google.
So the only positive I can find on this online software is that it seems so far-fetched that I would be hard pressed to see who can benefit from it.
One thing that I see as an advantage is that you can store a lot of data in the same place without you having to think about what the free systems does to your data
The Bad:
I have how I see this tool. But there is probably also a reason that it for MLM people.
Have I not have any idea about this software remains online as long you need to build your business up
Who is Cloud MLM Software For?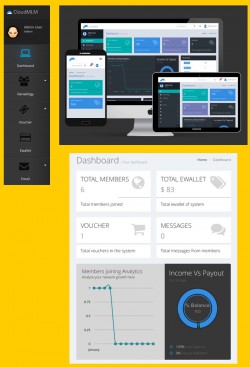 As I have described it to you who want to start a business pyramid.
Many of the tools are good enough as I said you can get into for free.
To quote one which I have not written about before then there is tracking and analyzing your traffic, it gets you by Google for free, remember the search engines would like to have all kinds of context the more, the better.
Then there are the various CMS systems.
If you are a data geek, so you may want to use maybe more than one system, but for most of us, so we choose a simple system to build our context.
I have chosen WordPress because it is what most people use and there is a huge team behind which are always working to improve it.
The other systems are certainly also some qualities, but I have not worked with them.
But whatever you are working with online then I see that it is important to create a base for your business.
For this purpose, I think you give the strongest with a website that you can refer to both social media but also about the search engines.
I have one you can get here "and I will personally help you build it, but I do not work with MLM with the side of the case you may even stand.
But ok to have its business organized in a cloud, I use even Google doc to work with and save files. So the very idea certainly no stranger.
Cloud MLM Software Tools & Training
I have now been logged into my office, and have not found any training; I do not like those who have created this software have thought of their users. I know that no matter what kind of business you want to create, you need to learn the techniques required to build a proper business. If they do not come forward with some pdf or videos, so you will have to try out for many years that you get the tool to work.
It is not enough with society if we can network and if we in the use of instruments.
Cloud MLM Software Support
I certainly can not complain about this lack of support from the home page, here is both a chat feature an R & Q. You also get a direct mail support, so you can send a message from Skype to support the line.
Cloud MLM Software Price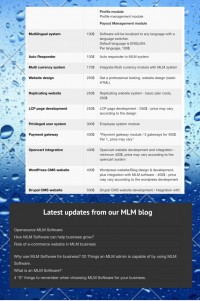 Some of the tools you need to build an online business you can download for free. For example payment, you can get for free, I use even PayPal, and here I can pick up a shopping cart completely free down to my website if that is what I need. There are several other systems which provide the same.
Analysis and tracking your link Google also completely free.
A host for your websites does not cost $ 100 to start with, but over the years, you will, of course, pay significantly more.
The same applies to an autoresponder service.
, prices hang unfortunately not with reality.
It seems like they just are set up to have a pricing.
My Final Opinion of Cloud MLM Software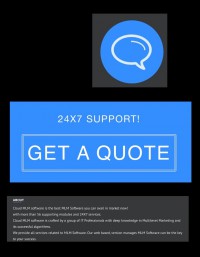 I use Google doc to store my texts, and I use Dropbox to auto save my website backup.
Both of the two tools are completely free, and they give me all I need. But using all kinds of online tools require that you practice in using them just as it requires you to learn how to work things out in ordinary life.
Ok shown no one in doubt about what I think about MLM business shape at all. I can not understand that you as new in MLM just think of building a pyramid which ultimately just money as it comes.
Only the old companies like ACN, Herbalife and now skin which consists of long periods of time and many years to come.
Most matrices expire at some point shut authorities, or they disappear cash flow when they are saturated.
Of course, here are some old companies that continue to open new when their old expires.
I can certainly understand that you want to work online. But there are several legal forms in which you well enough going to work just as hard for it as you come to it with this cloud.
Since there is no actual training yet so do you good sufficiently to fight some detours with this.
I can help you get started without having to pay to test it. Yes, you must have a website which is prepared to talk with the search engines.
You get ovenikøbet ten lessons and one week with full access to probably one of the best marketing training community at all.
Read more here.
Cloud MLM Software at a Glance …
Overall Scam Rank: 90 out of 100
VERDICT: LEGIT / NOT LEGIT

I am not impressed by this tool. So far, no one will put my name to it. There are some very odd pricing. Here is nothing to organize, it seems more like that just set a Member page up haphazardly without thought it entirely.
So, unfortunately, I have thumbs down.
I do not see how this can help anyone to build an MLM business up. You are only left too much to yourself here.
As I said, I got a very skewed view of MLM model at all.
Why create a network that you long term plan to bond catch into a network where it is not a real need for cover with their clients.
No, you are going to build on a team when it comes to recruiting others into a money pyramid that at some time expires.
Yes, where is your website which you will not even build within.
Yes ok an online business requires a website.
If we do not only have swapped the money so it also requires that you have a product that you can promote, I see here that it is also something you need to make sure.
What do you think ? is this side thought or is it just another attempt to get MLM to seem like a real possibility that you can promote online?
Throw me your opinion below I will gladly take the debate with you.
Please Remember to Share and Like