Email Campaigns is one area I have not moved me very much around.
I have done some research on how to create a list and how to get people to open your mail.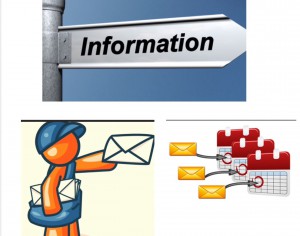 I have tried to be written up on a lot of lists, here I also found out that many Marketer tried to promote the same Scam new products.
Many of these products also have a series of mail, you can forward via their affiliate programs.
You should know that it is never your own story.
People have become a little wiser with time and has seen through the mail is not original.
The story is Simply not your.
I have been cleaned out now my mailbox does not get the same number of spam mail more.
This is still about creating trust between you and your readers.
You have to be precise and personalized to deliver your mail.
I would like to have useful information without I get anything to download or will be offered a product with discounts and bonuses.
So my immediate plan is to make a video series in combination with articles containing only information.
My readers must have some idea of ​​what's coming and when I send an update out.
They need to know what they can expect. When they have giving me their email address.
So first of all, I thought it is important to be personal in my campaigns that I have a signature that my readers recognize.
There are several strategies you can choose, Depending on what kind of website you operate.
If you have for example a shop can be a good idea to use your newsletter to proclaim new initiatives or offers.
Mail Marketing Services Free And Paid I Am Shure You Find Out What To Chose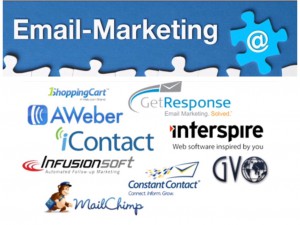 There are many research service in the market you must make up your mind what you need to use the service to.
Mailchimp as many are talking about is a free service up to 2000 on your list.
It's a good number of followers.
As I understood. MailChimp really good to use if you want to send your articles out to your list.
It is almost as good to use if you want to sell to your list.
Mailchimp do not want you to use it for internet marketing.
There are some paid services but you must find them yourself.
I've heard both good and bad about Aweber which is one of the largest autoresponder on the market.
But I have not work with it jet.
You may even find out how it works.
I will of course mighty like to have your feedback on the service you use and why you use it.
Do you use an autoresponder service can this be done automatically, so you do not need to send the same mail more than once.
If you want to make a list of followers, it is important that you have a plan before you start your campaign.
If your blog updates and your good context you want to share then I would suggest that you build a series of 10-mails.
Where you send articles out to those who write up on your list about 2 times a week.
So you have planned the first 5 weeks of the course.
In addition to it, you can very well broadcast when you have made something new.
But you still need to remember not to overdo.
As there is not any who care to read your mail.
So my suggestion is the series of 10 mail then only update onse a week max.
Links to the articles that you feel belong together.
Here it is important that you keep the topic tight.
So your list has an idea of ​​what to expect in the next mail.
You do not always need to send new.
You can just say hello and ask how it goes, and then wish good weekend
What You Need To Give Your Suscribers?
You have to build trust from your followers, you can do that by calling them by name.
You can also present you with a small video in the first mail you send out.
I think it is important they Can See you are a human and not just a machine that sends automated mail.
It is important that you respond if someone sends an email back to you.
It is here you have the opportunity to create real confidence in your readers.
Remember that no matter how big or small your list is. It is not everyone who opens your emails especially if you send blog updates.
There can be many reasons for it.
We get many mail every day.
It may be that not all your readers are interested in the topic you are writing about
Email Marketing Tactician There Are Several Options

.

It can be your blog updates as people write up to.
It can be a form of training where you might have made a video series.
This can of course do whatever niche you are dealing with.
It can also be small podcast that you send out.
Here I see great potential with a great future.
Since people often drive car and really only have the opportunity to listen to some instruction.

As I see it, there are endless possibilities on how you can add value to your list.

One way to start a list of is also by providing a pdf book.
It may be one you have written yourself.
Or you can find one with the right to pass on.
Then, to send regular updates from your website or what other tactics you use
Email Marketing Webinar

I Was Researching Some Straight

I have been to some research straight sessions online about email marketing.
I must say that there are big differences in how they investigate just presentations have been.

I spent over an hour with a webinar before I found really out I had wasted my time, in company with a person who was only trying to sell me an expensive course in creating email.

His tactic was to use a lot of pop on your website.
That way you are almost forcing your readers to sign up to your list.
I am not even in favor of using popup.

For all his pop and most of his promotion he used the word free.
It is a widely used tactic when you want to entice your readers to your list.

I think it's very disturbing and destroying some of my experience about the website
But he claimed that it was measured and gave a much more substantial rate of people who write up on your list.

I thought even that is a bit shoddy tactics.
When he ultimately tries to sell you a course of approximately $ 500

I do not like upselling and I do not want to spend time in a seance where it ends up in sales.

I saw an equivalent in the online community of which I am a part of.

I must admit that I now have a very more substantial understanding of what it takes to create a good campaign.

There must simply prepare for, you get readers to your newsletters.
Or customers to the business.
Email Marketing vs Social Media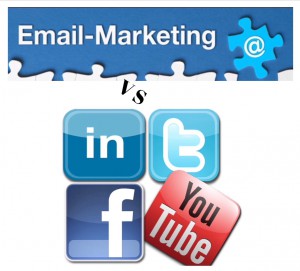 You can use an email series to lead your readers to your social media.
For example, a group in which you engage with members.
Where they have a good opportunity to ask you questions.
You can also do the opposite invite friends from your social profiles and so then give them a bonus.
Possibly in the form of a book, podcast, video or software.
To then use the list to your updates.
I know that it can be difficult to keep up with a flood of social media.
Here I think in return an e-mail can make a difference
Here you may want to send your list directly to your social profile and establish contact and trust the way.
Email marketing is my world a little overrated.
But it can help your firm followers that they know when you have made something new or have some news you want to share.
The top priority is your website.
Without a website you do not have an online base.
But you know what?
I have a website you can get as a bonus, you also get 10 lessons where you learn the basics of setting it up.
The only thing it costs is your time, and your willingness to learn.
If you work with it, I will be here to answer your questions.
I have not even started with Email marketing yet.
I do not know yet what will work for me, I have a plan which is coming out on the net either works or it does not.
But I would love to hear what you think, or help you find an answer to your questions about the topic.
Drop me a comment below, and I will answer immediately
Remember to give me a Like and share with your social network