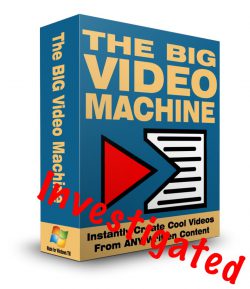 Then we are back to one of the slightly better lists that I follow. Should not we just look at The Big Video Machine?
I want to show you what I see behind this software.
The Big Video Machine Review
Name: The Big Video Machine
Website: https://bigvideomachine.com/
Price: 27 $
Owners: Val Wilson and Barry Rodgers
Overall Google Rank: 0 out of 10
The Big Video Machine, Product Overview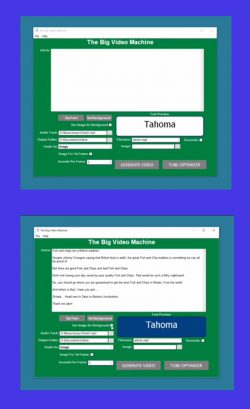 I feel like I'm already bored by writing this review, but let's jump into this video tool.
We are talking about software that can make a video of texts.
But even the idea is that you can take any content and make a content video.
In one of the videos, they suggest that you use some sales copies from an affiliate program that you would like to promote.
I can see that it's a shortcut for making quick videos. But using it to be a copy is a little too easy to buy.
In fact, you can also create them by creating a powerpoint, and you can get animations at the transitions, between the texts.
Good enough, you also get an audio library with the one you can use.
It's a straightforward tool that you can use to make text videos very quickly.
The Good & the Bad
The Good:
Finally, a software that does not promise you to get fast delicious.
You can very quickly make a text video.
The videos look nice on mobile devices.
The sales side is very informative, so you know what you get when you buy it.
The Bad:
Personally, I think that text videos are boring. Most people read faster than the text appears.
If you adjust it to perform a little faster, then the video becomes cluttered, and the viewer can not read the text now.
They say you can just download a product and download the affiliate program.
Then make a video with the lyrics you get here.
But believe me, Google when it's a copy, and you will not get a video seen in the search.
Who is The Big Video Machine For?
I honestly do not quite know which target group I want to promote this.
But you have not reached the point where you dare to hear your voice on the video, so this could be an easy option.
Yes, you can produce a significant amount of video in a short time.
So, of course, the PRL people can use it to sell on as an affiliate program.
Yes, simply sell it and get one if commission for a sale.
The Big Video Machine Tools & Training
On the actual sales page, you get an introduction to how the software works and what you can use it.
Here is the top of the page, a demo video added so you can see the final result.
But it's a straightforward tool that only requires you to practice it.
The Big Video Machine Support
They make a lot of you when you buy one of their products, get support and help if something is wrong with the software.
You just have to buy it and write to the owner inside the member area.
It's like with other PLR products, here's almost always a member area where you can get help
The Big Video Machine Price
27 $ is not a fortune, but there are some extra accessories that you can buy once you have access to the software.
They are talking about an audio library that helps you find a soundtrack that fits the length of your videos.
My Final Opinion of The Big Video Machine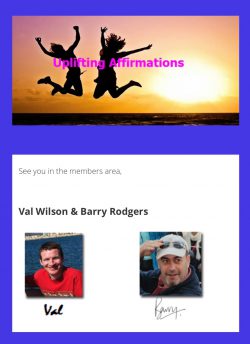 As I wrote just before, this tool bores me a bit.
Obviously, some elements could make it significantly more attractive.
For example, you ca n't do any animation with it. If you do the same with a powerpoint presentation, you can make transitions and put pictures between the texts.
Yes, youtube editing program itself has this kind of changes.
Is not because I will compare with the way you can create text and music video on youtube.
I think it's tough to work online with youtube editing program.
It Is much more straightforward, and you can quickly produce your MP4 files (video format files) so no doubt it's easy to work.
But when it is said, you can not just pick up a text that others have written and used it as your own.
Do you go in and download a copy from some product.
Then there is another person who has published it.
It punishes Youtube which is owned by Google, by the way.
You will not arrive in the search by doing so.
I try to do something similar, and it cost me my channel at that time.
So do not worry.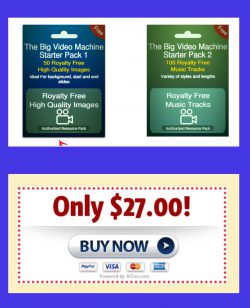 However, if you have created the texts yourself, it is an entirely different matter.
Here you will not be penalized, and you have a real opportunity to see your videos.
There are so many audio libraries that you do not have to buy one.
Here I also talk about youtube that has one you can use.
I have experimented a bit with it, and you can mute the music if you have recorded some speech for your video.
As you have understood, this is not something I feel I need in my collection.
The bargained fines that you learn on the page are unfortunately not worth anything.
If you want to create a robust and stable profile online, then this is not the place and start.
You only do not create value for your viewers by using it here.
Ok, Steen, what?
Yes, how about learning to build yourself online.
Find out how to Make Money with Affiliate Marketing.
Yes, I have an offer for you.
I would personally help you create videos.
Yes, I will show you how to build a website from which you can view your videos.
It's about learning to create context and having a solid base from which you can show your followers your experiences and results. It takes time and requires you to be able to prove what you promote is valuable.
PRODUCT_NAME at a Glance …
Overall Scam Rank: 75 out of 100
VERDICT: LEGIT / NOT LEGIT
I really can not be particularly angry with this software; it's simply too harmless that I want to declare it to be Scam.
But when it has to be said, your options are insufficient with this.
I do not want to invest in it because with a powerpoint and my monitor camera; I can create both animations and lives.
Something that will make a text video much more alive.
But even if you choose to make your movies in this way, it is still strictly forbidden to borrow a context from others.
Yes but youtube shows movies and audio, not text.
And that's right, but if you want to be an entrepreneur, it's also important to behave like one.
Your viewers may fall for a copy.
But then there is no good reason to follow you and buy from you if you are not original.
Even though the online world is vast, we follow and buy from people we feel we trust.
That confidence should also if you mean it seriously.
Everything has a beginning also a new beginning.
Learn how to get to behave like a real online entrepreneur.
No, it has nothing to do with video to start.
But it will be a topic that you can work on later in the process.
If you like to make video or use this software then give me a hint in the comment box
Just remember to press one of the social buttons below.