Is it a groundbreaking new software?
Or is RunAWebinar just a competitor to gotowebinar
My RunAWebinar Review
Name: RunAWebinar
Website: http://runawebinar.net
Price: 29 $ '39 $ per month or $ 47 once an offer which is probably gone when I put this article in the air
Owners: Sam Bakker
Overall Google Rank: 0 out of 10
RunAWebinar, Product Overview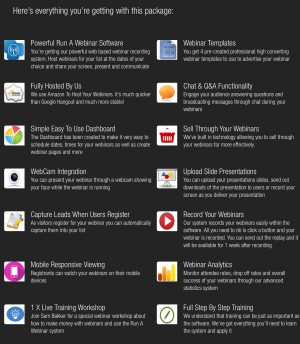 Then there came a new webinar software which definitely can compete with
Gotowebinar, which is arguably the greatest player in the market.
Some of it are new is that you can build a webinar with all the tools here.
Here is an opportunity to create the landing pages that you can lead your viewers to the webinar at the right time.
I am a user of Google Hangout "which is probably the best place to learn how to build webinar.
But you need to create a series and, of course, there may be errors with both speed and to record it.
But to develop a webinar requires a little more than just announce that you start a webinar.
The creating webinar course requires that you prepare, this tool is not an exception
The Good & the Bad
The Good:
You get an entirely complete package that you do not get anywhere else online.
Yes, you only need this tool to create all the frames around your online lectures.
You can set all of your reminders, and you can do it when you announce it immediately so once you've put it all started so run it automatically forward to your webinar.
It automatically records so you need not be concerned about whether you get your replay.
The Bad:
I see the software.
We still have not consummated mobile solution although you can see it on mobile devices so you can still not creating them.
Who is RunAWebinar For?
Did you follow that you also will teach via a webinar so it is important to have a plan of what it should be about, so create webinar is not the priority you need online.
I would certainly say that it is important to learn to write, charge pictures and to make a video.
A webinar's a life recording, and I feel that it requires a script first.
I build me around a powerpoint so I can stick to the topic which I will give talks.
Are you ready for this step it is also important that you have a system that can make it easy for you. What I seemed to hangout is a common tool to do it.
I have a definite feeling that this is a matter of outranking gotowebinar. So hold the webinar with gotowebinar then you have an apparently cheaper model with this tool. Whereas you just use the hangout, so it is a definite upgrade.
With hangout, you are responsible for notifying your followers, maintained you can do it easily in social media.
But with this software you can very easily make the entire process automatically, by simply doing it when you create your webinar.
Here I see a unique opportunity to concentrate on creating the session.
But you still have a control panel to be set right.
Now do not forget that it is an affiliate program that can give you a recurring income if you get sold the product through your website.
The website I can show you how to get built, you can read more here about what affiliate marketing is.
It just requires you to be approved by Sam and the rest of his team
RunAWebinar Tools & Training
I've already seen several videos on how to use the software. On their website, there are several places which indicate that you will get some additional instructions on how to use the tool.
Unfortunately, the intro video that there are still some deficiencies in the software itself, but it is start up errors as they get directed to the long term
RunAWebinar Support
I am quite sure that once you have bought one month package that you get the technical support, you need if any problems arise with your software. But the only thing you get out of it is a lot of training on how to keep webinar.
The holding an online session requires first and foremost that you are not afraid to go in front of a camera or are afraid to prepare yourself. It lies entirely within yourself. Here are namely also no shortcuts to quick success
RunAWebinar Price
$ 29 a month is not very much money if you compare it with gotowebinar, which cost nearly a hundred dollar a month.
I still gotowebinar receivable as I have so far only created some hangout which is free.
But webinar is an excellent tool for creating lessons to your followers. If however you choose to take the offer to $ 47 then you have a fantastic tool. I just can not figure out why they are trying to sell the whole package so cheap. It's almost too good to be true
My Final Opinion of RunAWebinar
I will always say that you must learn to crawl before you can walk.
The creating webinar is as I also said a form of context.
You must both be mentally ready to go live; you must also be prepared to create a webinar. Here I think that you should be able to create a script.
I will follow what is happening with this tool on the term I've had some good experiences with creating the hangout.
But you as a new online can start making money on creating webinar is perhaps even skipping a few part of without you being ready to the point in your development online.
The funny thing is many of this kind of tools is that they focus much on that you can earn money to both promote and use the tool. It can be perhaps.
But creating webinar without the knowledge and without having a real website behind you is in my view a little utopia.
If you do not have a base with context, how will you be able to build a webinar as people want to see. So I will learn how to make background before I start to broadcast my webinar. I build my sessions about having a website and building on a website.
I have also decided that I will not try to use mine to sell.
I will teach and create value; I think it's the only way I can get real followers also follow me in the long term.
Another thing that Sam is trying to show is that you must make your sessions into a sale.
My problem is that it is a stupid way to end a good webinar.
Several times I have even seen it as a real anti-climax when sales speech comes in the end.
But I certainly will not cheat you for your website look at "how and how quickly you can build it. You have said that needed a little more than just a webinar platform.
So what do you think to start out in a genuine way to create you a real base for your online behavior. Get a global network that is there to help you 24/7.
Yes, look at "how to get started.
Did I remember to say that I did not bother to check your credit card. No hold it in your pocket you have decided whether you are serious about your online behavior. When you once saw is ready to create live sessions online, so I'm looking forward to participating
RunAWebinar at a Glance …
Overall Scam Rank: 40 out of 100
VERDICT: LEGIT / NOT LEGIT

I have not given it the highest score since I do not believe that that is what you should prioritize as the first when you want to create an online business.
Working with yourself and your context is, in my terminology more important than starting to build webinar.
You must remember that you can quickly build an online business without having to go in front of a camera. The webinar is somehow a form of traffic that you can choose to build while you build a list.
Preserved over time, it is also what I bet on.
But buying a webinar tool without being ready for it is a little bit steep.
But I will as I said to get past again and see if Sam and his partners really get it to work.
So I wait a bit and see how it will look like in the future.
Keeping the webinar or planning a write to me below so we can discuss what is needed.
Please Remember to Share and Like