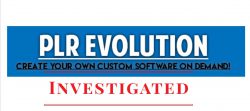 I got this in my mail a few days ago. Get my rating of PLR Evolution here. Maybe that's what you stand and are missing to build your list.
My PLR Evolution Review
Name: PLR Evolution
Website: http://plrevolution.com/
Price: 37 $
Owners: Clifton Wade
Overall Google Rank: 0 out of 10
PLR Evolution, Product Overview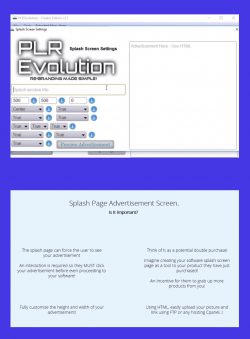 It appears to be software that can generate software.
But in reality, it's just a tool to build your option shapes.
You can create colors and fonts with it yourself.
You can also easily insert a youtube video.
One that you have, for example, created yourself.
If you work with PLR products, it's an easy way to create a form.
As you can either encode your domain with an FTP file that you can download to your website if you have a host that allows it.
It's a very easy way to create splash pages.
You can then give a pdf, exe or a zip file away or sell it.
Let me explain what the three elements are.
A pdf file is a textile such as an online book.
An exe can be both software, video or a book.
But the correct term is probably a computer program. According to Wikipedia, there is Windows that uses that file name.
A ZIP file is a compressed file that often contains a combination of the three others.
An example might be a software that you download to your computer with a pdf file that contains instructions on how to use it
The Good & the Bad
The Good:
You can build your form yourself and split test how it looks.
You do not have to work with an HTML editor.
The Bad:
The actual sales page is not suitable for mobile. Yes, there is a border on mobile
Therefore, I fear that the design that I choose will go and look different on different devices.
Who is PLR Evolution For?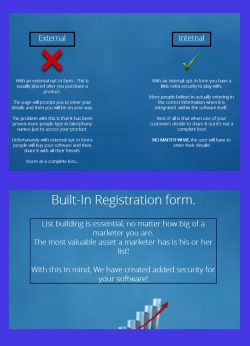 If your niche is PLR, then you have at least one tool you can work.
But I have to admit that it seems a bit old-fashioned.
However, you are well-behaved and knowing that you are working with FTP files (it's a way to add the database to your website an item. It can be a text file or software that you either give away or sell.
I have even added it to a WordPress domain. There is some procedure to follow, and it requires some extra knowledge from you.
But basically, it's a way to put some files into your domain that do not belong to the CMS system)
PLR Evolution Tools & Training
Clifton Wade has a member area. So once you have bought one of his products, then you have a page from which you can see all his products.
If you have questions, then he is present in the member area.
I can say that with high certainty as it is very regular practice with PLR products.
PLR Evolution Support
Together with training and other products, help is available in the member area.
They are usually built up with a simple structure and look very similar.
But you get help, and you also get your affiliate link here.
PLR Evolution Price
$ 37 is not a fortune and usually, comes with some bonuses.
I'm sure there's also some sale that you'll have to leave if you do not want to pay more than what's the price of this.
My Final Opinion of PLR Evolution
It's a simple tool, and maybe a few years ago it would have been an excellent marketing tool.
But now that the internet has become more mobile, there's a high chance that the design you create will go and the page you create will look skewed.
In the worst case, it will be just like the sales side where there is a border. I think it's quite ok to share small software and books that others have created.
But unfortunately, it's just that much of it is far beyond the expiration date.
Yes, many are the small tools are pretty nice to play with, but they are just not updated.
Users today want more action than just a splash page where there is an opt form in connection with a video.
There are many other ways to do that.
For example, you can use a Pro wp theme where you have the same options to create a unique, simple page.
Good enough, you will also learn how the theme works.
But you will be much more sure that it does not go different and looks different on different devices.
I have had great pleasure building these pages and using the FTP filter diligently, but the times have changed, so you have to think about your users and what they are experiencing.
If you want faithful followers who will trust you within the niche, you have chosen to work.
Then you need to create a large platform, or a solid foundation online.
It can easily with PLR products, but you still have to show your readers that you have a useful product.
I know that there are many accelerated productive programs online.
Not that I'm saying this is an expression of it.
But there is no structure left here.
You will spend some time on something that is not the first skill you have to acquire.
Instead of making simple small individual pages.
Why not get yourself a real website.
One builds up which in the long term gives you real readers.
Yes, you can easily learn to create value online, but you have to create the right mindset and have an education that teaches you to build yourself up with your online business.
Yes, I'm talking about building a foundation online.
Just as you build a house, if the foundation is not okay, it can not stand by itself.
And these small landing pages that you can do with this software are unfortunately not enough for you to see unless you pay for the traffic to the site.
Therefore, your site must be active, so it naturally drives visitors.
Yes, you're right it takes a lot of work and time.
It also requires you to focus on creating a base.
But I will guarantee you that you build it big and strong, so you will also naturally become an authority within the niche you choose to work.
Then read where and how.
Your real online travel starts there.
It's not about software and other things you can sell and give away.
No, you are the product.
So start today and find out if you want to do what it takes to make a success online.
PLR Evolution at a Glance …
Overall Scam Rank: 70 out of 100
VERDICT: LEGIT / NOT LEGIT
To put it straight, this is a software that you can use to sell or give other software away.
It's not something that makes you unique online, and it will not be.
Nice I like to have a finger in the game when we talk about designing pages.
But that's not my priority.
What is my priority is to get information so I can help you to make yourself an attitude to what I have described?
It's a fun toy, but it's all too.
I'm of the simple conviction that I met this in my spam folder.
And all you do with this also comes in spam folders.
And generally, I'm convinced people to delete what they get into that folder.
If not, it will be.
It's beautiful and useful to build landing pages and opt forms. If only they land the right place.
If work on all types of devices.
Here is the race here, an old product that can only b as a toy.
Yes, I'm a little sad that I feel so because Clifton thinks it's good.
We speak the future where the internet is in rapid development.
You only need a system that lasts several years in the future.
Therefore, I recommend that you create a real foundation that is also future-proof.
If you have an interest in PLR products such as books or other types of member sites then write to me in the comments box below
PS just remember to press one of the social buttons under the article.