I  hit by last week's big hit in my inbox. So I've looked a little on what My Funnel Empire contains. Is Scam or legit
My Funnel Empire Review
Name: My Funnel Empire
Website: http://www.myfunnelempire.com/
Price: From $ 97 to $ 397 for the full package. Besides, I am pretty sure that you will meet some additional sales inside the members area
Owners: Bryan Winter
Overall Google Rank: 0 out of 10
My Funnel Empire, Product Overview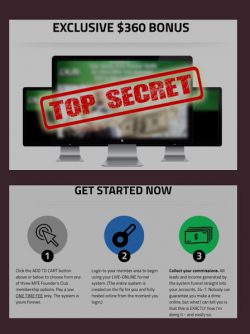 We need to start with email marketing here. You get a product in 3 categories. Depending on how much you dare to invest in it.
Briefly, the Bryan Bryan itself.
So he has some pages where there is an option form so that you can pull your customers through some different phases of your campaign.
First, of course, something you give away.  Try to market a. More expensive product. Here you can select which product you want to promote.
Should it be a dig themselves created or an affiliate product that you download in an affiliate network? The smart is so that when you get sold the system to another so, you also allowed to promote to their email list.
In principle, you can only receive very few people to buy the system from you and then be part of their funnel too.
Your affiliate link will then-then somehow be attached to those who purchase the program for you.
I do not know if you can call it a kind of funnel where you get all the contacts that run through the tube.
That sort of business makes it a little hard to grasp how many Leads you really can get and how much they are interested in buying from you.
As I see it, it becomes built up a bit, like so many other MLM without having to build one or more lines.
Once you have purchased one of the three different packages so, you get off course access to the online community who belong to this product.
Bryan says that it's easy to work there, and I think little of him. I've seen this kind of programs before where you just have to put your job into the template
The Good & the Bad
The Good:
You know that it is an attempt to pull money out of your pockets.
But you can like a dream of quick profit then you may well have fun with it.
Here is a bright promise that you can do the same.
The Bad:
I do not have much good to say about it; I feel lit that I once again wasting my time on to describe a product that is so obviously Scam.
Who is My Funnel Empire For?
Have not you wasted enough money on other shiny objects so you can buy even a dream here? I will now, for my part say sufficient to give almost $ 200 for the expensive package here is a pricey little hope.
As with many of the other similar programs, there is attached to an affiliate page for which you, of course, can promote.
Here are both good commission and a lot of prizes that you can win. Are you in control of how you market yourself.
Do you already have a list ready as you are a little care what you send for it? Then you have the latest software which can give you real money in the box.
Personally, I use this kind of deal to write. Some of these programs give me both traffic but also a little backlash as I love getting into my side here.
Unfortunately, there are some who believe that I am the seller, and I am certainly not.
Do you have an internet business and learn how to put yourself in front of an audience, no less then you should first of all get to know them.
Here is the mail a good way to get in touch with them but if you have thought that you can just pull them through a sales funnel that is not created by yourself. Do you say so real that they blindly will follow you and buy from you when they are Ready?
My Funnel Empire Tools & Training
Once you have purchased the program so, you get of course a base from which you can build your pages. I also know that here is a place where there is some forum.
Besides you, of course, get some training via video and pdf, so you also get the tool to build your pages and create your Funnel.
This hand I'm quite sure that you have enough at the beginning will be relatively happy. Here used to be an excellent communication with users. How it looks in a few months is a different question
My Funnel Empire Support
When I look at the support line, then you have a standard support for all of all the products that belong to Bryan and his partners.
I'm sure you probably have to get help for the most common questions about the technical.
But what I do is more in doubt is whether you can get support for your context and to the most social aspects of this deal.
My Funnel Empire Price
When you read this review, the price has risen $ 400 for the most expensive package. If you think it's okay to pay for the business, that you do not even check so here you go.
My Final Opinion of My Funnel Empire
I've been looking a little on Bryan's other projects, and the more they resemble a certain extent also about this. To be honest, I am not impressed with what I've met here.
It does not make me want to buy a program which via a 3rd party email list. For me it is a little on the border of spam, yes I preserved written up on a few lists.
But I do not recognize the sender of the mail that Introduced me to this program.
I have a definite feeling that it sent via the program.
Let's take a look at what met me on the other side when I checked out what this is real. I'm talking of course about the intro video.
Bryan or his name comes with the classic account of how poor he was and how much he lived in a treadmill.
How difficult it is to lose your job when you have a family. Yes blah blah and so on.
The next few minutes, I see how much money and how many Leads he does every day. Yes, now I know how easy it is to manipulate the numbers online.
Have you installed an HTML editor so you can just find the source code in your browser and then copy it and correct figures to make it look as if you earn a fortune on your affiliate link?
It's easy to do.
I'm going to make a video where I show you. Yes anyone can do it.
Let's go back to email marketing, which is probably one of the forms of the longest on the web.
But when your emails are that this has come so you truly need a good and stable list to start with it will surely cost you some of your followers if you just send a mail to this one, which receives head do not know the sender.
Yes, you can start an internet business in 3 minutes free of charge, see here how to get a website.
You can start this business in a moment.
But whether it is a website you need to have visitors or if you want to lead it to a mailing list so, you still need people to sign up on your list.
It is here where I can see that it lags for why do people sign up for your list and then even create a list where your affiliate link is connected.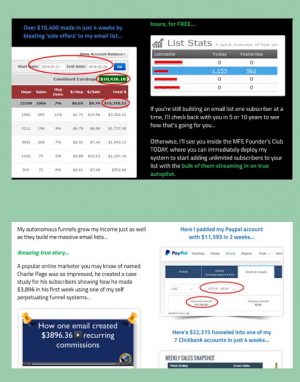 Why not just create their list when they do not need you in tow.
Internet Business built as you build any other business. The difference is that it can take much longer and require much more work than, say, a local service business.
The problem as I see it is that we can very quickly get caught by a picture that we can very easily make us a fortune online, with this kind introductions.
There are unfortunately not very long before you realize that it is very hard and get clients online. Preserved email marketing is another way to drive traffic to your articles and pages, and it is d Roth taking if you want to create authority and be like your readers listen. But to think it's just a simple Funnel your readers to go through to be happy buyers of any product you're offering them.
Now it's not that I'm saying that it can not do, for it can be, but one of the first things you need to learn it is not to spend money and time this kind of programs.
No, you simply have to learn your audience to know. Here I think that your context is critical if your readers or recipients just need a little bit of confidence in you.
It all starts with yourself and your knowledge.
From here you can start building your niche site up. You need readers the best place to find them in the organic search. Then you can then begin to think about creating landing pages and giveaway and all the other initiatives that belong to email marketing.
If you want to start building an income from home, then I immensely happy to be there for you.
You can read about where and how I build myself up online.
See here where.
I do not want your credit card information.
But I will return you to go yourself and your business seriously.
Meet me on the other side.
I would love to see you build it up.
My Funnel Empire at a Glance …
Overall Scam Rank: 85 out of 100
VERDICT: LEGIT / NOT LEGIT

Email is still a very powerful way to get your message across to your readers. I will not call into question at all.
But when I once again meet the new super cool program that accidentally dumped into my inbox.
When it into the bargain almost only shows me a lot of money, so I must admit that I am very skeptical.
My experience tells me that there is nothing you can do automatically not online. Should you work online so, it's more important that you create your context and that you do it in your way.
Many of them that I know monetizing videos and articles they have written earlier. Some sites sell much every day.
But to think you know just to get started can create an entourage of faithful followers are some naive. Good enough, here is a product but when we talk about online marketing and specifically in this money making a niche, convert your mail and your articles slight.
In many cases, one to several thousand. I've had a signup form where I tracked it there were over a thousand who saw it and who signed up for the free book I gave away.
That is also why I do not have one on this blog.
It is simply not designed for it.
I would much rather have to navigate around in my lyrics and spend time on it instead of just giving you a book and then give me the chance to market a cheap product for you.
Now it is not the $ 400 I would caution you against using.
It's just money down the drain.
The first and foremost I would warn against is to use your valuable time on something like this. My clear position is that it is more important to move in an environment where you can develop your skills rather than just being a copy of someone else's work.
It takes time and persistence to build a business. Yes, my, position is that it applies in all aspects of life.
The work plan fails in itself nothing. But you will be original in your job or, you will just be a copy of Bryan.
Yes, it is true that a business must have visitors.
It just does not your business stronger to get the others who come after you from your affiliate links Lead into your Funnel.
How are you going to stand in front of your followers and be the expert they expect little to you is when you meet them from another person's list.
What I definitely would recommend is that you start to build you up in front of your audience.
The only way you can do that is by having a place they can visit and return.
A place where you show what you stand. Yes, you are right I'm talking about a website.
Build a website which deals with what you are good. Create your authority that way.
Once you've got readers so, you can begin to implement email in your campaigns.
There are many places online where you can learn it.
I have my favorite place. You can read more here about what and how I build my authority online.
If you have questions or experience in this business, so give me them downstairs, I'm there to have discussions with you
Remember to Share and Like with your social networks.