When working with a website are systems that work both frontend and backend, This system works frontend. So we should not just find out what I mean Igloo is. As I said, we're talking about a system where you do look instantly.
My Igloo Review
Name: Igloo
Website: http://getiglooapp.com/
Price: $ 67 for a single license and $ 87 for 20 pages with license
Owners: Mark Thomson
Overall Google Rank: 0 out of 10
igloo, Product Overview
In short, it is a website building program, where you can build your sales pages very easy, all the tools you use are in front of you, and
build directly on the front, also what you might call the work front than with your context.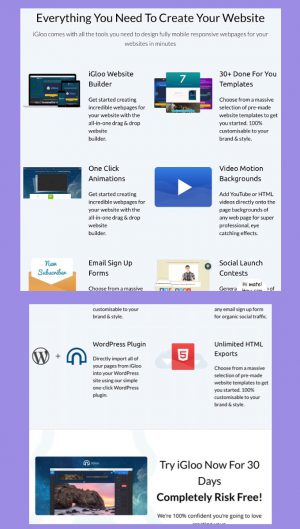 That is charging you an image, video or text so you can customize it directly on so that you create that is what your readers see.
If you buy one of the two more expensive packages so, you can use it with WordPress also.
I see this as a huge advantage that I can create sales pages here with my WordPress page.
I can, for example, build some sales and landing pages here on this blog.
In the old days, you should enter directly into an HTML editor to edit your pages. I've done it several times.
But the problem has been that when you make a raw side, so there is, unfortunately, no guarantee that it also looks as you build it.
Here you get in return some different templates that you can use for various things.
Here they talk about option pages, landing pages, sales pages. Additional sales pages, video pages, and many other types of templates.
As with all other forms of front end work so you can not quite be sure that your hand, recharges quickly in a browser.
I have felt that the times I've tested it, it worked well when I have worked with it.
The Good & the Bad
The Good:
I am personally delighted that we will be able to work on the front page of your website.
It will give my readers a quick actuation time.
You can use many different autoresponders to this plugin.
I also like that it is only once that you pay for your package, just like when you buy any other WordPress theme.
The Bad:
I still can not make it a general purpose tool.
I think that the package of design is somewhat limited. But on the other hand, the price fits very well if you buy a single professional theme
Who is Igloo For?
I do not know whether this is the ultimate way to work online on, but it's a step closer working front end on a website.
It's something that I miss a little when I work with WordPress.
Here you need into your panel each time you want to add something or right itself.
I think for example to add images on your side can be a bit of a challenge.
I often have trouble getting the text to enclose the picture in the article.
Igloo Tools & Training
There are already many videos on youtube that show you how easy you can use the system. I am personally euphoric for the idea that you can work on the very front above that you must continually back and forth to work in your back office in WordPress.
As with all other tools in WordPress, there are many who have both tested it and described how to use the tool.
Igloo Support
On the sales side, you meet a small section of the most asked questions; you need to contact the developer.
But the page itself does not give you any indication that there is someone behind you if you need help setting it up.
Yes here is come a live chat box so you can grab a team fairly quickly, even if you have not purchased the software.
Igloo Price
$ 87 for the large package is roughly equivalent to what a paid theme also vile cost. So in that way it is not that expensive to install.
Of course, you still need to buy an autoresponder and even acquire the other tools you need to build your campaigns
My Final Opinion of Igloo
I personally absolutely love the idea that you have the opportunity to work directly on the front page of your website.
If it keeps giving you a quick time by charging your side here too so, it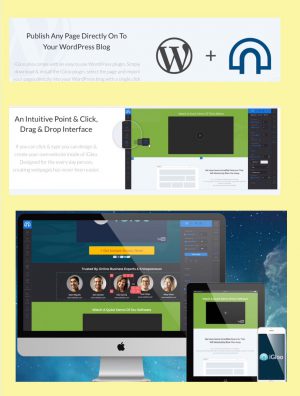 is a step forward compared to other systems where you can work directly on the front page of the website.
But I see that your selection of templates is a bit limited, and the dark colors shining through a lot of the templates that you can choose. I do not even about that one has shown an earnings side on the sales side.
For if the tool is as good as they say we can be users even detect it.
I would say that we are talking about an instrument that may be on your online journey. But starting this would be like to blow up the school to then start in high school as the first.
It is not so many of us who can, we all have to learn the basics about how to build context, photographs and in general builds a website up.
It may well be that you are allowed to work directly on the front here. But it's still a layout which is the developer of this software.
Maintained you will save time if you want to use these templates.
But it's still context is the most important.
Once you have learned to build it so, you may want to save a lot of time with it here.
You will probably meet some selling this product, which will also offer you some templates, so you do not have to write anything yourself.
Unfortunately, it is just not a particularly good solution as it usually has been published more than once.
Remember we must learn to crawl before we can walk.
Then you are serious and want to get to build it up from the start, so look at where I learn and work daily with my online travel.
Igloo at a Glance …
Overall Scam Rank: 40 out of 100
VERDICT: LEGIT / NOT LEGIT
When you are ready to go to the next step and are going to build a list, then you have quite sure some good design to work with here.
But I deem it's still your behavior towards your readers which is the most important thing.
I feel sorry little that it on that you can make quick money online. Unfortunately, the illusion only to waste your time and your money.
Do not think you believe that you can just make money because you can put a sales page up quickly and easily.
We live in a world where most of us are very skeptical about this kind of sales page and messages pages.
Your readers must have a good reason before just thinking about giving you their email address.


You only need to learn how to get traffic to your texts before you at all throws you into having to buy traffic.
As you will often have to with this kind of pages, you can build here.
It is a long process that you can continue or start on today.
No, I do not want to have your credit card information so that you can test what I will show you.
But what I do want it is that you are serious and want to work hair and over an extended period.
It can only be read about here "is not a get rich quick business.
No, it is a school that you need to start.
But you know what, no matter what I am ready to help you further either here or inside on the other side.
Do you have experience working front and have either good or bad and say about the final result? So let me hear your thoughts below.
Remember to share and like