I thought I had deleted myself from this list.
But I got a new fantastic offer to buy the Fan Page Money Method 2.0 course. I have looked a little around to find out what it contains.
My Fan page money method 2.0 Review
Name: Fan page money method 2.0
Website:  http://fanpagemoneymethod.com/
Price: 97 $ I do not guarantee that you will not have to upsell once you have purchased it
Owners: Michael Cheney
Overall Google Rank: 0 out of 10
Fan page money method 2.0, Product Overview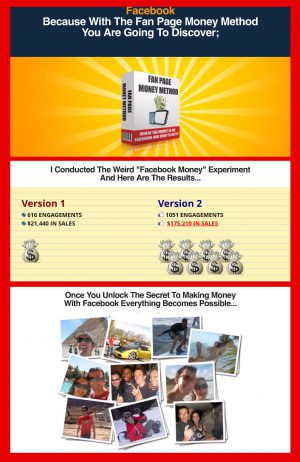 You must learn to create a fan page on Facebook or close a series of fan pages. We are back here with an old celebrity who has created another course.
Here he will show you how to earn money with Facebook on Facebook.
Yes, it's a course in how to market affiliate products efficiently by creating a fan page.
According to Michael himself, do not spend more than 10 minutes a day shoveling all the many foreign money.
But ok let's have a look at what's inside after you buy the product.
Here are two intro videos and a pdf file that is about 37 pages that would like to explain everything.
There is no doubt that fan sites are an excellent way to find an audience but also make people follow your business.
The Good & the Bad
The Good:
He has happily lowered the price, so he does not take more thousand for the course.
It is the most apparent robbery story I have heard for a long time
The Bad:
No more fun.  A waste of your time and money.
There is no information about the course on the sales page.
I can see some complaints that people do not get any contact once they have purchased the course.
You need to buy some extra tools to make it work.
Who is Fan page money method 2.0 For?
Yes, who can take advantage of this course?
First and foremost, those who want to sell it for a quick profit. Yes, affiliate websites that promote this.
And of course, Michael, who is right at the new online.
Even the course is about fan pages and how to put them together so they can get followers and potential customers to your affiliate link.
Fan page money method 2.0 Tools & Training
I see a very scratched member area.
In fact, only those things that you have bought.
The product itself is training.
But it's based on getting you to buy more.
I have only met a few videos about the training itself.
They are very inadequate and do not give a particular insight into what you get here.
I'm afraid you're going to stand alone with this.
But do not fear Facebook helps you find a target audience when you're ready to promote your context there
Fan page money method 2.0 Support
Just like training, you will not be able to communicate much with either founder or help.
It is an information product, and once you have purchased the package, you must be satisfied with what you have.
I do not think there is any help to download unless you buy something extra.
But still, if you spend extra money, they will probably try to make you buy more.
Fan page money method 2.0 Price
97 $ is probably a good slate money for this.
Also, there are upsell that make it even more expensive to work with it.
Does not stop because you also need to use a mail system so you can pick up clients.
You may also need a host and domain if you want to drag your followers to a website that you own.
In addition to that, you also have to pay to create ads on Facebook.
All in all, this can easily run into hundreds of dollars a month.
My Final Opinion of Fan Page Money Method 2.0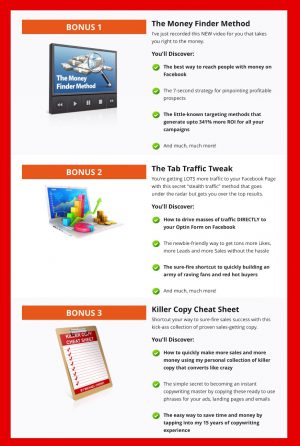 When it started  just over half a year ago, the price was $ 7
I consider it a much more reasonable price for this product.
When I meet an offer in my spam mail, I'm already in doubt here if it's something I can use to build my knowledge around.
Ok, I have investigated it and found out that we are talking about an old issue which, in fact, does not add any value on the sales side.
There is a lot of energy spent telling you how much money you can earn without touching a finger almost.
This time he has even had some of the people I've been following for a long time to give it a positive comment.
But I still can not quite see how his Facebook Formula is better than the strategy that so many others are successful.
To put it straight, it's very similar to what Facebook also shows you should do. Internet marketing is many things.
But if you want to conquer the market online, Facebook may well be one of your traffic sources.
But to buy a course for almost $ 100 is both a waste of money and your time too.
Yes, you get some information that you will get elsewhere easily and efficiently. Read about my social strategies here ".
It does not cost anything, and although it's not a 27-page long pdf, it can give you an idea of how to use social media.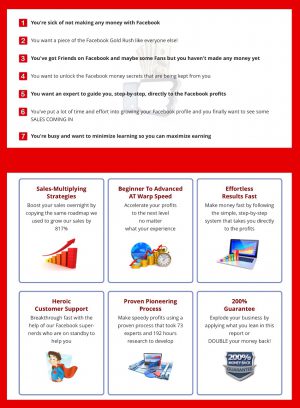 Internet marketing is a bit more complicated than what you learn here.
But when the calculation, you can build one for the price you pay here.
Yes, I'm talking about someone you own.
One where you choose which traffic strategy you want to use.
Yes, if you are dedicated enough, you get a lot of traffic from the search.
And it's more targeted to the audience you're looking for than what you can create in social media.
Yes, it's right that people exchange and buy in social media, but first and foremost they are there to share their social doings.
I'm not looking for products on Facebook.
I return in exchange for information.
What do you do?
Stop believing there is easy money to download online.
It is not there.
If you mean it seriously, read here how to create my pages.
Learn to build a genuinely sustainable foundation online.
One that you own.
I forgot to tell you that I do not want your account information.
No, I want you to be motivated and willing to work hard to achieve your goals.
If so, I'll be waiting for you and ready to provide you with all the information you need to build yourself and become a long-term authority.
Forget this with fan pages.
Do it right and start it now and here.
Fan page money method 2.0 at a glance …
Overall Scam Rank: 92 out of 100
VERDICT: LEGIT / NOT LEGIT
Is it a real and legitimate course?
If you ask me, then the answer is no.
What I see here are some simple techniques that you also learn from Facebook.
You can not just get out of nothing then become a star that people choose and buy.
These programs are designed to empty your pockets and waste your time. Many think the price is high enough, so you also get the value that entitles it to it.
But my answer is clear that this is not the case.
The price you have to pay is not earnest money.
You can not buy yourself for success by just building fan pages.
You have to build yourself up before anyone wants to hear what you say.
Therefore, this does not work.
You will spend too much money on a stupid dream.
Yes, that's what you pay expensive money for with this course.
Forget it and roll your sleeves up and start building yourself so you can become an authority.
For example, you can read how.
I may be wrong.
If you have another experience or just want to know more, let's take the debate down in the comments field.
PS just remember to press one of the social buttons before leaving the page here.