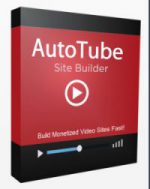 I have once again been out looking for products in different forums. I have met Auto Tube. It seems like a good and easy solution to create affiliate websites that have an automatic addition of a youtube video. 60 seconds is going to build pages and articles
Auto Tube Review
Name: Auto Tube
Website: http://www.wpmarketertools.com/autotube/
Price: For a single license costs $ 17 and for multi it costs about $ 19
Owners: Curt Chrisler
Overall Google Rank: 0 out of 10
Auto Tube, Product Overview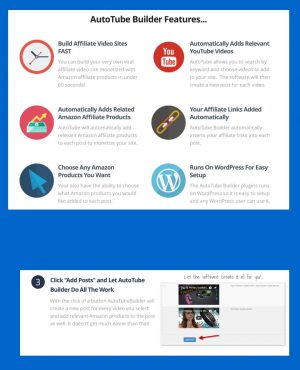 We are talking once again about a new WordPress software from an old favorite, namely Curt Chrisler.
He has here built a plugin that you can create video websites and add an affiliate link, in under a minute. Yes, you heard right in a very short time you can build websites that have a video, text and affiliate programs connected.
In the example that he gives in the presentation, it is Amazon that he uses, he retrieves an API code from Amazon and puts it into the actual plugin.
Then you put just a keyword that matches the niche you have chosen to. The software will then allow you to choose from a selection of affiliate products that you can promote on your side.
It also happens at the same time it finds a relevant video on youtube as it puts on your website along with the products you choose to promote.
Hey, presto you have a website that looks great and is easy to put together.
Reminds a lot about AutoZON Builder 2.0 as I have described in a previous article, I would almost say that the two plugin is very similar in function. Chris has just made the video part a little easier here
The Good & the Bad
The Good:
He does not make more out of it than it is
The video is a good description of what to expect
You have a website with context very quickly
The Bad:
It is not going to generate organic traffic, although there is an article spinner so it will be considered duplicated background.
Who is Auto Tube For?
If you are brand new online so you can still have a successful experience, now that you have built texts and pages so quickly. Here you can also get a small template for how an affiliate website can be
What, however, you can not do.
Is creating natural organic traffic.
If it is so easy, then I will most likely say that we would all make our pages on the way to then be able to earn money as an affiliate from Amazon or somewhere else where you can get your link.
But the reality is unfortunately quite different so that you can use to play with the design of your page
Auto Tube Tools & Training
It is a very simple WordPress software, and you get the instruction you have
needed in the introductory video. You also have a member area, and I have good enough not collected as much information about it. But the memories of a small part of the WordPress community.
Auto Tube Support
You have neither chat support or a significant R & Q either software works for your wp page or it does not. But I am sure that you can get the help needed to by sending an email or ask your questions there.
Auto Tube Price
I think you can say $ 20 is expensive. But you actually can not use it for anything other than creating a page.
My Final Opinion of Auto Tube
So far I have not written about what I believe and this software. But it is probably more because of that it is just one of many software coming from WpMarketertool.
As I said, I have already described as similar to a lot, yes I am inclined to say it ends the same software just with a new sales page.
To be clear even if you spin context, it is a copy. You do not get organic traffic for a copy. Google will automatically throw your pages and articles back of the queue.
They do not like to give you permission to buy ads on your pages when you are on each side comes to link to affiliate products.
You might be able to buy some Facebook ads, but how much profit you get is probably another discussion.
Now please do not misunderstand me, it's entirely feasible to build affiliate websites that can both get authority and a great location in the search. But an automated website will very quickly be labeled as spam.
Yes, remember that I found this in my spam folder.
Yes, it has something to find a niche, find keywords, create context and build a website. For this purpose is a WordPress side a great tool. Here hear similarities up.
You have to create it yourself, learn and show that you are an authority in your niche. It will take time.
But it is not impossible as long as you have the desire to build it. So if you want to learn how to create an Internet business.
See here when I have built this side.
Auto Tube at a Glance …
Overall Scam Rank: 80 out of 100
VERDICT: LEGIT / NOT LEGIT
As you can understand, I have not so great scam to shortcuts. And this is where you in a very short time will be able to build a large side.
But you will never find yourself with a hand that gets very few visitors.
It will unfortunately not make your mark and your attitudes. I see as a must if you want people to follow you.
Here I think it is more optimal to identify your target audience first.
You must be able to provide your personal experience with your readers
The return I like is that you can navigate between a lot of different themes and inspiration.
But nothing more than the videos and context is something you must build if you want a chance to stand as a person as you will buy.
Build it step by step get your website and ten lessons. Yes, see here how to get started today.
I'm waiting for you on the other side so let's have built a site for you.
Start today the sooner you get started the closer you are to your goal.
Have you tried to take a shortcut like this and have found out that it does not work then just write to me here or below.
Remember to share and like