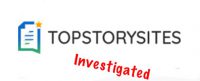 I've encountered these guys before. I will look a little more on TopStorySites, which is the latest from them.
I have been a little in seven minds. the design itself is excellent
t the way it is a bit more questionable.
TopStorySites Review
Name: TopStorySites
Website: https://www.topstorysites.com/
Price: 17 $ to 39 $ depending on how many pages you want to build
Owners: Dr. Amit Paveek and Er. Ashu Kumar
Overall Google Rank: 0 out of 10
TopStorySites, Product Overview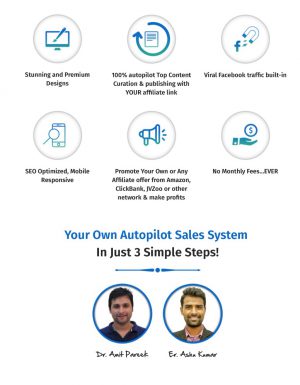 We are dealing with an online tool that is capable of creating context-rich affiliate pages.
They under a wide variety of themes that should fit almost any niche.
Once again, it is a tool that requires few clicks to set up.
On the sales page, they relay to some finished pages.
Immediately they look delicious.
If you created the kind of blog yourself, they would like to be very high.
If it's true what they say that there are a lot of authors and make the lyrics, then you will also have a successful experience with the product.
If that's right then, it's very SEO friendly.
You will be able to get the right traffic from the search.
If it is true that the software can find relevant groups on Facebook and post the articles, then you will have a great chance of creating sales almost daily.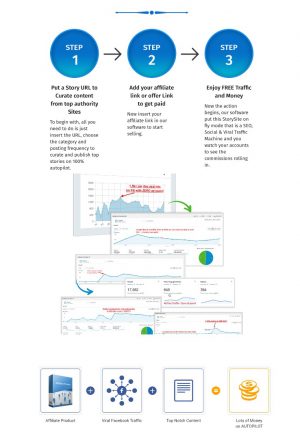 Yes on the surface it looks excellent.
Ok, how does that work?
First, you make an URL, yes you decide what the page should.
Then enter a category.
Then select one of the templates and enter a broad keyword.
Then the software creates all the context.
You will find a product at an affiliate network, which you then add a relevant product. Very simple not.
The website templates that you get an insight into work on the surface like some real good authority blog.
If you get such a creation automatically, you will feel like an authority.
Yes, your page looks like with lots of authority and you'll appear as the authority.
The Good & the Bad
The Good:
It's all online, no apps or software on your computer.
I like both the sale of the film and the design of the different pages.
I like the idea behind story pages.
The Bad:
It's entirely unrealistic that you can make money with it.
It's many years since Google could find and verbal copied texts.
Ergo no SEO value.
It looks great, but if it has a social value is very hard to say.
No one gives you a formula for fast money online. You must do the work yourself.
Who are TopStorySites For?
I have to admit that I have suffered from the temptation here.
But I know that, unfortunately, is something else behind.
But to buy the dream that everything can work for a few minutes of daily work. Unfortunately, I know from experience that the world does not collapse that way.
I have met the two gentlemen who name these pages.
I have to admit that there is an individual style over what they create here.
Believe me when the dream is over, and you wake up to reality again, you will find that there is not a massive team of authors to create just your specific website.
Nor does the software make the original.
Ok, I will get a little closer to my attitude.
The target group, are types that will buy it here.
First and foremost, the new online, who buys a dream.
Then there is the web developer who wants to have fingers in the design from the different templates.
The latter is probably not the potential customer.
It's a blogger who thinks about his profit just by picking up his unique URL and then promoting it to new online marketers who do not know about the online games rules.
Exactly the method is hugely profitable because people come and join the dream of the significant profit online.
It's only a fraction of all those online that have become smarter.
TopStorySites Tools & Training
What I like about this and some of the other products that the two lords are behind is that they want you to understand what you are doing.
So, therefore, there is quite a thorough instruction in how to use the tool. Likewise, have made a training program for the instrument.
TopStorySites Support
From the end when I tested their social tools it turned out they were willing to answer questions from me.
I tested it and got my money back after I had bought it. It worked fine, but I do not use auto software for social media.
I have to admit that they were quite reasonable although I was a little demanding about their support line.
TopStorySites Price
you get the key to a unique treasure chest.
That's not the case with the real selling price.
But do you buy it from website templates?
So the price might be quite reasonable.
After all, it's about getting you to buy more once you've bought it.
My Final Opinion of TopStorySites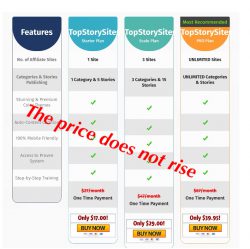 I have to say that this eye catcher is one of the better.
I like the designs shown here.
When I look at the demo pages they link to; I'm impressed they seem very thoughtful.
There are no pages that like the one you are reading from right now.
Once, you must create your authority online.
Unfortunately, you do not change the context of others and rewrite it to fit your website.
Such a page here will never have a chance against the sheets that created the texts.
It's been many years since Google found a way to punish the pages that make it.
I have tried using the tools where you can only write some existing text.
The result was not very good.
The pages never appeared in the search.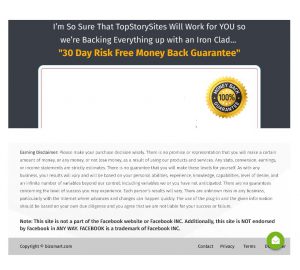 The social value, even with the then algorithm that, for example, Facebook had.
Even when I create the text, it may be hard to remember what I have written. Should I reply to comment then, I have to reread the post.
On the other hand, you are original and create the context.
So you have some outstanding and robust design here.
But then we also talk about a different amount of work than the one described here on the sales side.
There is a reason why their disclaimer is at the bottom of the page.
That it's not something, you need to link.
The providers are well aware that they are here online game rules.
I do not say that it is necessary to cost a fortune to build up online.
Probably not, but you have to acquire some skills and habits to make a success.
I've used a lot of time with these tools.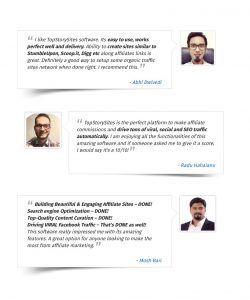 The difference is that at that time I had to tear them down on the computer and fill it with all the necessary data.
You will not have to do it anymore as it all happens online.
Unfortunately, the principle is the same here, and the result will ultimately be the same.
I'm not saying that here I can give you a magic formula on how to create success online.
I can show you where you can learn it.
You must do the work yourself.
One thing is for sure, and it's that you should not let go of the temptation of building pages of tools like this.
You want to be original.
Yes, write your texts yourself.
You should also have removed the idea of quick profit online.
It exists only for the fewest.
It's very logical.
Because when you build some business, you have to invest.
I think you can agree with me on it.
It cost money to make money.
You have also heard this before.
But to build an online business with all the tools available.
Makes it very little money if you have the right idea of what to do.
Instead, it requires you to spend time on it.
If you are new, then keep your job.
It may take months before you only see the first dollar.
There are some things that you have to exchange with concentrated time online.
You should also learn a lot.
But do you know what?
What do you say to get insights for free?
No credit card.
No shortcuts.
Yes, full insight.
A website is yours.
What about the ten lessons.
How about accessing my support.
You read correctly I want to help you get started.
Not free and free.
I want you to detect yourself to your success.
It's a long process.
No hocus-pocus.
The only shortcut is you and the amount of work you are performing.
TopStorySites at a Glance …
Overall Scam Rank: 85 out of 100
VERDICT: LEGIT / NOT LEGIT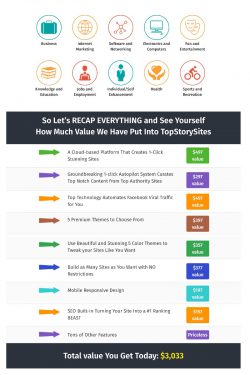 As you can see, I've met the provider before.
There is nothing new in the product itself.
It's a lot of the tools I tried with years ago.
Yes, the design is new.
Unfortunately, it's only something you can work with as long as it's online.
What I have learned with this kind of software is that they are well run for a period.
Then, they will not be updated.
They are put out as a bonus package on a website as a PRL product. There is a technical team behind the tool.
But at some point shortly, they will start focusing on the next new software.
Comes with the pile of bonus when buying the next new tool.
No matter how you turn and turn it, mass production that automatically drives a form of copy.
If the texts, they are still a copy that has before. Once it is online once, it will also be the highest.
Do you write a text and publish it. Then everyone else is copying your writing and rewriting it.
A copy of you will break your copyright.
Google is well aware that they will immediately penalize the copy.
So, it may be that some old articles to your history page.
But it's still a copy.
Then we are back to the keywords section.
Google lists keywords reasonably often. They do so because they help their users of paid campaigns as well as possible.
A tool like this cannot regularly update.
It's a tremendous job that you can not possibly do optimally for months to come.
Do not delete at that price.
I am convinced that this provider can develop and eventually become a factor online.
But it requires that they get a different attitude to what good style and so are.
Then their prices will be a bit more matched.
Realistically, I think that they will do as most others do.
It is to keep selling dreams.
Because it's an easy way to make money online.
I hope you can look great in their design, and it's ugly in the very idea.
Have you purchased the product so let us know?
In a comment below.
If you want to learn more, then you can just ask the same place.
Remember to share with your networks, press one of the social buttons below the post.