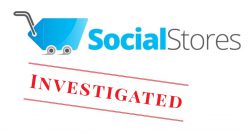 I have received some mail from this list without actually taking note of what they contain. But I like watching something about social media.
My Social Stores Review
Name: Social Stores
Website: http://socialstores.co/
Price: 30 $
Owners: Emma Anderson and Gee Sanghera
Overall Google Rank: 0 out of 10
Social Stores, Product Overview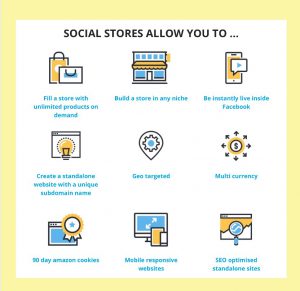 Can you connect Facebook with Amazon?
This website says that it is easy to do.
You can build it from your mobile device.
When yes, we talk about an online software that can quickly make an affiliate page that you can easily use Facebook to promote.
There are of course some steps you should take to set it up. However, according to the provider, it is relatively easy, and you can quickly create a fan page with Amazon products.
Yes, you can very quickly put it up in any niche since Amazon contains infinite many things that can be bought or sold from their partner program.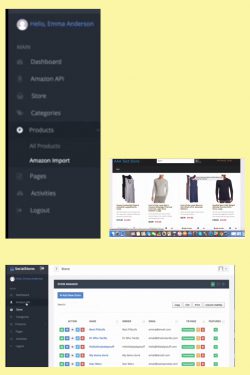 The procedure itself together.
You download nothing but an app.
It's all put together, so it's online.
But very simple you choose a product and insert your affiliate link.
The software then creates a context for the next step, and it is building a fan page on Facebook. It also happens automatically.
All you have to add is some titles and categories.
Then you can choose a theme from about 25 of the kind.
It will be the base for your website that you can promote from your fansite.
The Good & the Bad
The Good:
It's easy to put together, and everything goes online.
Fan pages are a great way to share their context and get readers and followers to a website.
The Bad:
Amazon stores are about to end. So the way to put a page up can be date now from now on.
The domain you refer to is a subdomain. In my world, it will seem that you do not care about your followers.
You may want to cheat Facebook with auto-set pages. But Google will punish them.
Who is Social Stores For?
I could have written this article a bit different and put my affiliate link in several places here in the article.
That's what I've seen others do in the browser.
But I do not want to do this. For the simple reason, I can not quite stand for the finished product.
But it is most suitable to sell to the next fool online, who believes that you can make real money by just a few clicks of the mouse.
Social Stores Tools & Training
The sales page itself has little training in how to put it up.
But otherwise, it should be straightforward to work.
Inside you also have some videos and a few pdf files that give you a more accurate instruction on how to use the software.
But since it's online and it belongs to an app, the only thing that should be difficult to get to work is your Facebook pages.
But it is the provider who is in charge of that responsibility.
Social Stores Support
Once you have purchased it, I'm sure you will get help in the original member area.
But what's surprising me is that there's no information at all on the sales page about what to expect.
There is no privacy policy or disclaimer on the site. Also, here's not an email so you can contact the owner in case you are in doubt about your purchase.
Here you just have to take the chance.
Social Stores Price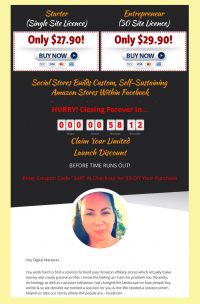 $ 30 is not a fortune to grab an automatic tool that can build pages online. But because there is not one I like to have in my collection.
It's a little hard to see how much resale the provider will try to make you invest in, but I'm sure you'll meet some updates fairly quickly. Which of course will cost you extra money.
The product itself is designed to earn money so why not make it on you?
My Final Opinion of Social Stores
This form of the exhibition has also enabled you to create your Amazon Partner profile in the past.
I know more who have used it on their niche websites. Yes, first they have done product reviews, and at the bottom, they have had a banner from Amazon with the product and some similar products.
But Amazon has closed this form of exhibition.
I can guess that it came to look like spam and extra stuff.
I know that Facebook is still crazy about all forms of advertising, and it takes some time before they begin to put restrictions on this kind of advertisements that to a fan page.
I do not know about you, but I'm getting tired of all the ads I've met on Facebook here in the last couple of years.
Is there one you know that has just come to hit Like on a product that you may have mentioned a long time ago.
Then you will be on all devices bombarded with the product.
Ok fine enough with the Amazon stores.
If they on fan pages, then it's ok, so we're not always hit by them unless you're in the target audience for one of them.
Something else I noticed that in one of the videos you learned a bit about SEO work. If you ask me, it's wholly inadequate to give your big one a title and a small description.
What would you like to say to be affected by a potentially relevant advertising where the only original is a description.
If I have to be honest, I think Amazon they close your account down relatively quickly if you just make these stores in one go.
When I see it, it reminds me too much of spam and fast money.
It is not about real business.
You must not misunderstand Amazon has a great partner program, and if you use it originally and solidly, you can certainly make money on it.
Yes, they also put a Cocie in the browser, so you earn on all the purchases your reader makes within 48 hours as far as I know.
But it's not a lifetime of the kind you' with this software.
Here I see it as a contradiction.
How can Amazon only plant a Cocie for 48 hours when you can get a lifetime of this kind of life.
As you have understood, I do not see it as particularly acute.
You can not just put it together in 10 minutes for than having a business. It requires much more of you and fortunately for it.
Imagine if we could all make a success by just writing a few headlines and then online making a business on Facebook that creates profit.
There may be a huge need for all possible products.
But why should people buy from you when you do not even get it presented correctly.
I have found how important it is to be original and especially if you want to make a plan that is also in the long run.
Why build a subdomain through an online app when you can build a real website that you own.
A website that you decide.
Yes, it must be if you mean making money online seriously.
Yes, it takes a lot of work.
But even better it also requires you to acquire knowledge of how to get the right traffic to your affiliate link.
But you're more than welcome to read here how and where to create a real and actual affiliate business.
One that will not be there when the times change.
Social Stores at a Glance …
Overall Scam Rank: 85 out of 100
VERDICT: LEGIT / NOT LEGIT

Once again I have to give up.
If you choose to believe in this product then, please.
Test it, and you'll be able to come back when you've come across other thoughts.
Remember, Amazon closes its options for making decided stores.
Why should you start it?
There are many other ways to target a target audience.
Remember, people would also like to get to know you before they think about buying from you.
They do not do that because you just put a quick fan page together.
Personally, I like the idea that the tool is online.
But in this case, it just is not enough.
I have seen many who over time have just thrown their affiliate link across the social networks.
Every time I've asked for the results by doing so, I've got the answer that it almost never works.
It will also not work if that's what you start with online.
As said, if it did and it's so easy, everyone could do it with great success.
If you have a slightly more realistic approach to working online, you can read about where I learn to work.
In the long term, it's an investment, but at first, it's only your time as it is.
You choose whether you want to try a shortcut or if you mean it and will create a solid foundation.
I do not expect you to agree with me entirely.
So let me hear your opinion in the box below.
Before you disappear, press one of the social buttons below the article.