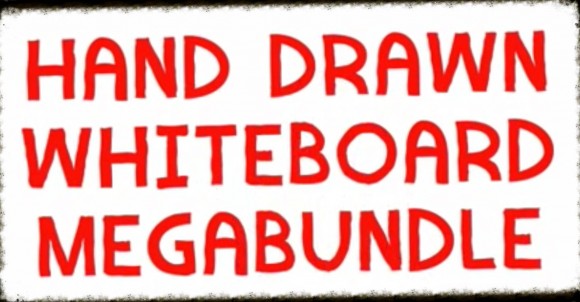 Now it's almost time to expand your videos with a new large selection of animations. If you like to make videos use just five minutes to look at this the way.
Name: Hand Drawn Whiteboard Mega Bundle
Website: http://powergeek.com/
Price: $ 17
Owners: Joel Comm
Overall Google Rank: O out of 10
Hand Drawn Whiteboard Mega Bundle Product Overview
Here you have some extra animations that you can use if you want to create PowerPoint videos. It works directly with Videomaker FX, and a number of other screencast video software.
The Good & the Bad
The Good:
It has become much easier to make a fun PowerPoint video.
It's fun and I feel that I have a tool that is great fun to use.
I am going to use this technique as a way to get my contest about.
It is much easier to adapt its images
The Bad:
It soon becomes something we all have, I do not think it takes a long time before it goes out of fashion.
It works not only to use it as an accessory to other software.
Who is Hand Drawn Whiteboard Mega Bundle For?
Like to make screencast videos, or would like to get on that this is where a great extra tool if you acquire Videomaker FX.
It fits directly into the tool and gives you many more options to expand your collection of options that you already have with Videomaker FX.
Have you worked with Animated video before, so I think you will find it very easy to shoot good video in a very short time.
Hand Drawn Whiteboard Mega Bundle Tools & Training
As with Videomaker FX, there is a training module for each sequence that you can production presses.
You will simply take in hand all the way through each part of the software.
But as with all tools, you must follow the practice to get the most out of it
Hand Drawn Whiteboad Mega Bundle Support
There is so much instruction at every single little move you can make that I do not feel that I need to test the support at all works
Hand Drawn Whiteboad Mega Bundle Price
$ 17 is not particularly much for all the extra animations that you get.
But of course, there will always be extra packages along the way that can have any price.
I think you get a lot of money and I look very much forward to better use the tool.
My Final Opinion of Hand Drawn Whiteboad Mega Bundle
As long as this is new, these animations both fun and exciting to play with.
But I am afraid that the figure, the music, the way and go as you get in your videos becomes commonplace again.
The only one here at the beginning that your audience will think that it is interesting to look at.
But right now it's really fun to play with and I look forward every day to get to my computer and create video.
Hand Drawn Whiteboad Mega Bundle at a Glance …
Name: Hand Drawn Whiteboad Mega Bundle
Website: http://powergeek.com/
Owners: Joel Comm
Price: $ 17
Overall Scam Rank: 20 out of 100
VERDICT: LEGIT / NOT LEGIT
It is a fun software toy, I do not know if it will ultimately give me more viewers of my videos but I must admit that I have a lot of fun with this. It is a good extension of the options you have with Videomaker FX.

I think it's really great that this technology has been released.
One need not be a professional to make good PowerPoint screencast videos.
Of course it's a toy, I just know that this technology was very difficult to use before this software was created.
I use and make video alongside this blog.
If you want to know how I put it together.
Will I mighty like to show you how.
Write to me here or on any of my social profiles, so let's get running. You have a long journey in front of you.