Are you fond of sports just as I am?
I think that many of us have a favorite team or a sports athlete.
So why not make a website about your favorite game.
Yes, you can do it profitable if that's what you want.
How would you like to ask?
If you're just a short second, think about how much accessories are with each sport.
Do not you think you will be able to find a single product that would help make the game a little more fun for both fan and practitioners.
You may also consider being a webmaster for a smaller association such as the football team that you are playing or holding if it is a local team.
Here it would be fun if there was one who published the team position for each match described the course of the event.
And for example, had a small note about the players on the team.
Here you will have an excellent opportunity to help create a unique kind atmosphere up to the match day.
You can also make a small note about the opponent.
I know many small teams do not have such a page attached to the team.
The team I've been playing is just a hygiene team where we train a little and participate in a final tournament in the immediate vicinity with other teams.
Yes, we have met them sometimes soon, so I have a good knowledge of the other teams as well.
I know we could get a lot of fun out of a news page that just gets updated shortly once a week.
Well, I do not know all the players in the team, but I know the course of the last game against them.
Or what about writing about a big team.
You may be the fan and possibly want to sell fan accessories to the same team.
You can also do that from a website that you own.
For example, I have one of our children in the stadium when it is a match day.
Now I'm not just talking to myself because most parents are jubilant to give fan clothes to their children.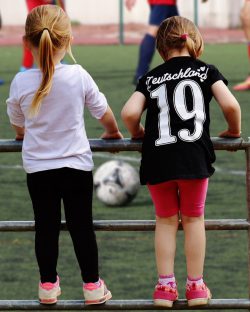 I have even had a colleague who was such a dedicated fan that his baby girl had all the baby clothes in his team's colors.
Yes, it is nice to have children with sporting events. I'm not the only one who has it that way, I can say for sure.
Yes, they have an official page that acts as the official page with news and other info about the team.
You will always be able to link it from your side. So you show that you follow what happens here.
Ok, you think, but it's the club itself selling that kind of thing. Yes, it is, but there are also online shops that have all fan equipment from all clubs.
I will guarantee that you can find a partner program here where you can get your part of the Commission.
Can you see the idea here?
Now you're wondering what's up with a website to do.
Well, if you get into the sports arena that's needed.
If you see that there is a place where you can help with your knowledge, you have a real motivation to create a website
about the subject.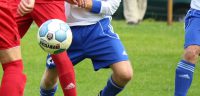 Let's move back to football which is one of my great passions.
In my team we often discuss equipment.
Like boots and rails.
Yes, balls are also something we bring each time.
We always have a discussion about which ball we will play when we train
Even if you are just a happy amateur, the equipment must be in order. Here, for example, you could write about footwear.
There is nothing worse than hurting the feet after and during the game.
Ok, let's dig a little deeper.
The experiences that my fellow players and I have can certainly help others who also play ball on the board.
The idea is not to create another sales page where you can only order and buy online. No, it's about creating a debate about different accessories.
Do some instruction on how to maintain your equipment.
Yes, it's about helping to find the right equipment to suit your readers.
You probably think so, I usually go down and look at the local sports shop.
But people are becoming more and more willing to buy online, saving us time and, in some cases, money too.
If you can help others, find the right equipment. For example, boots and rails.
Then you also have a good chance of finding a partner program that would like to give you a piece of commission if you direct the reader to their web shop.
In some cases, they would like you to have a certain amount of traffic to your site before you get a link to them.
Okay enough, how do these partner programs work?
When a product is put on sale online or offline for that matter, the manufacturer would like the product to be.
The only way it can be done is to spread the message about the product. You can only watch TV commercials imagine what huge budget there is on them.
How expensive it is to promote its product on television.
They can also do a little cheaper by paying to get their advertisements seen online. Just see youtube there's almost advertising before each video.
All the advertisements are professionally, and they are very expensive for the producer to create.
Therefore, there is an alternative, and it is called affiliate marketing.
Here the manufacturer reports to a network, possibly with a web shop with their product frame.
The systems help them find authors or video instructors who will describe their products against getting a share of the sale.
There is more or less free traffic by the manufacturer.
They must pay for traffic when sales. They get you to do the work for them.
That work is worth money for them and, in some cases, you can earn somewhere between 5-10% of sales for a physical product. With info products, your commission can be up to 50%, but that is n't really what I want to point here.
Yes, the high advertising blocks where the budget can be completely wild to a minimum by getting people to promote it online.
Now you think so, where do I get the picture with my personal website?
Well, you do that by finding products to work.
Right here I talk about the interest in sports.
If you create a football page where you have found a partner program, can write about the products that you would recommend. Or do not recommend.
I go online to look for information, and you're sure to do that too.
Then you can help your readers make a decision if they take it through your side. Then you earn money on a sale through the partner program.
Now you might think why not just get your Affiliate link and then find places where I can share it.
Yes, you can do that to some extent, but the search engines give you no credit to share a hard link.
You also do not create value for your followers by just sharing a product with them. If, on the other hand, you have a base where you provide useful information for you.
If you hit your target audience, you have, in turn, some who might come back to see what news you've described.
When we google something, it's for information. If you create and have value, then you also have readers.
Ok how do I put it up and what does it cost?

Relevant what can I learn from it?
First of all, it's true how dedicated you are to make it work for you.
You can test yourself before you get started.
It does not cost anything to look through. You get a little education and a website that is yours forever without having to pay for it.
But important is if you find that it suits you and that you have the courage to create an income online, at first it takes a lot of work from your side.
Yes, what I'm talking about is building a real business, and it costs work.
In the long run, it also costs you to invest in a page that you own in full.
But look at this community, use your week wisely, and we meet on the other side where I'm waiting and ready to answer your questions, along with the rest of the community.
You can also just ask me in the comments box below.
If you have read this then why not just press one or more of the social buttons under the article.