As you know, I spend time on social media mostly to connect with my fellow human beings, but also to try to understand what it is people are putting up there.
I have met with this business opportunity from several sources.
So I will try to describe what I thought of Prospring.
Prospring Review
Name: Prospring
Website: http://www.prospringlaunch.com/
Price: $ 33 a month or $ 66 for the expensive package
Owners: Jamie Mather Or Nexus Group
Overall Google Rank: 0 out of 10
Prospring, Product Overview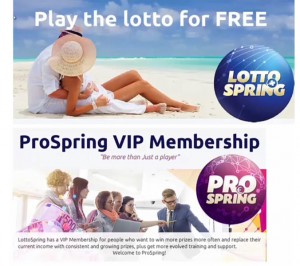 First and foremost it is a matrix that around the big lotto drawing in Europe. It had its relaunch last year.
Yes, so the money is the center of this business model.
As I understand it as you share your share with your team.
With a point system that on how big your team is and how much you invest.
When you invest and get your points, then you're part of the big lotto drawing.
That is, according to Prospring then you just have enough points to get a prize just by one of your team has a single number right.
The more money you invest, the easier you also accumulated. Here are three packages where one is free.
It is the free package that you apparently use to recruit others into the system.
You must quite simply use the free package as a means to build your team.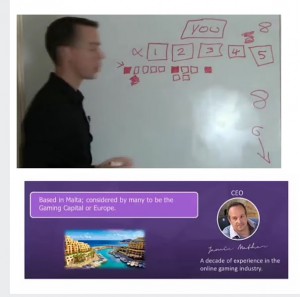 I have searched a little on the Nexus group and have found that it is an important international company that moves in many industries and many countries.
This part of the business have their headquarters in Malta.
Jamie Mathers is as I understand it just their figure behind Prospring.
The Good & the Bad
The Good:
The only real thing is that I got even one less good product that I can.
It gives me something to describe, although I can not support the business.
The Bad:
It's relaunch, who tried to recruit an enormous team before they went live.
I do not see it as a proper business.
I do not quite understand how it is possible to build itself as a major team
Who is Prospring For? How does it work
Let me say first that I have such confidence in this type of online business.
But it is about recruiting your fellow man.
I think for the most that it will take place in the social media, with the website as I have met.
You can as said not drive organic traffic to a website that is identical to the other members
Prospring Tools & Training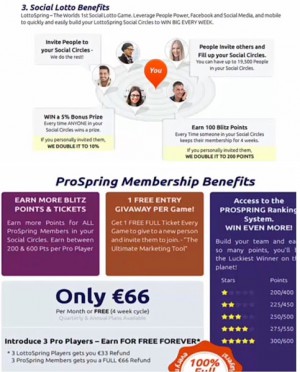 Given that this business model is not for me and the training itself is reserved for those who pay for being a member.
The only thing I've found is some hangout where members show each other how to build it in social media.
So we are a little back to my experience where people are trying to promote it in research groups in social media.
Prospring Support
As with all other pyramids so is your sponsor's income is highly dependent on your results so it will also be very interested in that you follow it you learn at the hangout and webinar in which you participate.
But here is a decidedly support line is a little hard for me to figure out when it is just the same as all members as a tool to promote the same business.
Prospring Price
I guess I can not argue that played against the free model, although I think you will find it very limited what you could effectively use it.
$ 33 a month, it is you have to have your clients to pay for that you have a chance to get part of the profits.
You even have to pay the same minimum.
What you need to pay to receive the training that is necessary for you to learn the most fundamental marketing to business.
My Final Opinion of Prospring
As I have described so, have this kind of programs a certain lifespan. The reason I think it is that the market will quickly become saturated.
The members that I have met seems already a bit desperate to recruit for their team.
I have seen others of this kind of stores run out.
I think that when it's a matrix will contain a certain number of members.
As pay and keeps the form.
At some point, I'm sure there filled up, and the owner must continue and create a new form.
As can be the same just with a new user interface and new name
I think that it is because it is all about building a team that pays you to be a part of your line.
You must also ask yourself that question.
Why is it a new business with the same concept as they have?
What was wrong since they closed the first business?
You must also ask yourself if you can recruit more than 19,500 followers to your team.
It is the magic number that you can make a fortune.
I know how difficult it can be just to generate sales online.
If you finally get a new member to this lotto pyramid so, then I would say that you have to work at least as hard as if you need to generate a sale to any other business.
What if you manage to get many of the business and so then runs out. Do you think so that you get the money you have receivables?
A classic example is Zeek Revard, which gets some years ago, was closed by the authorities. Here it was all the ordinary users who paid the bill.
I do not know about you, but I have a relatively large network and many followers in the social media.
Unfortunately, I do not think I would be able to gather more than a few free members for a period.
But if you can reach nearly 20,000 followers, I would if I were you go a whole different direction with my business.
Although I laid it out in all the groups, I can find. So I know that maybe I could get one.
I would simply give my clients a more robust tool to work with rather than a business opportunity that is a more dubious coaches.
I will also make you clearly that it is possible to build a real income from the Internet.
But it requires that you are willing to learn how to build it up.
I have yet to meet a few who have managed to make a profit online from day one.
It, however, you can do, is to create a profitable business online with a topic that you are interest in an ace.
It takes time, but I want to show you how completely without having to pay for it with nothing but your time and your desire to learn. You can read more about it here.
Overall Scam Rank: 88 out of 100
VERDICT: LEGIT / NOT LEGIT

As you may have read, I certainly do not subscribe to begin working with a matrix.
The major problem is that it runs out, and you are going to be with a team without a real business where you are the guiding force.
Pros spring is not a lottery association, and it is a pyramid where only those who have recruited a large number of members who only have a small chance to generate stable recurring income.
I do not know about you, but I do not want to chase my friends either in social media or offline.
When I see an investment group that Nexus Group, which has saved this part of their assets away in Malta, I must admit that my alarm bell rings very strongly.
As I said it is a sale online reasonably hard to generate, so why would you build a business around a pyramid that most likely will expire at some point?
Why not start by building yourself up so you can add your market something valuable?
You can read more about how you can do your own online business without being part of a pyramid.
It may well be that I am wrong here, but my instinct tells me that I am under no circumstance will have a chance to build something makes sense up here.
I do not understand the Compensation Plan, and the thought of having to recruit several thousand to a pyramid is a little scary
If you know Prospring and have tried to be a part of the business, then I am strong like your attitude to it.
Or have you tried something similar so we can debate it here below.
Please Remember to Share and Like