Once again I received a private message from one of my social networks. So I felt compelled to find out what is MosaicHUB
MosaicHUB Review
Name: MosaicHUB
Website: http://www.mosaichub.com
Price: Free without any sales at all
Owners: Unknown
Overall Google Rank: 4 out of 10
MosaicHUB, Product Overview
I thought at first that I even had been hit by a new excellent product. .
What we have here is simply an online help tool and a network that is completely free to enter.
You get some yes and no questions to start with every question will be shown a series of articles dealing with just the topic where you feel you are a little weak
It seems like a big issue and answer session for everyone with an entrepreneurial dream.
Here is everything for startups to old entrepreneurs.
You start just by going to your social networks.
I chose to create an account from my Facebook profile.
Easy I am now inside, and then I take part in a question and answer session about how far I am with my idea, here I can answer yes or no on some issues.
Every time I answer comes to a quantity of articles up.
Most of these items by people who have some experience with the topic that you may need to obtain.
As I then can use as a tool to get on with my thoughts about the business, I have, or going to work.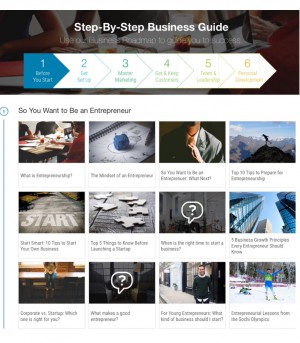 It is also a kind of social network where you can make friends and network in much the same way as LinkedIn.
I do not know what their spam policy is all about.
But it is like the rest of the page, so I think it is quite strict
I have, as I said my website here where I even participate in a vast network of like-minded.
It's free to check out, and it's also a little more precise about the building sites. Here you get good enough a website to work for free.
But here at MosaicHUB, you get in return a network that is also willing to help you, it seems at least as if
The Good & the Bad
The Good:
For once, I ended up in a network full of useful context that can help everyone organize and build their business up.
You can get answers to most questions
You start to answer yes and no to a lot of different questions every time you give a response you on to a new collection of articles.
When you fill out your profile, you are prompted for a short description of your project. Yes, what you say in an elevator conversation.
The Bad:
It feels like a mouthful when you log in the first time
every time you answer a question dolls a new up.
I had a little trouble to tear myself away from all the articles.
The team behind the nameless
Who is MosaicHUB For?
It is for anyone who either have an entrepreneurial dream or have a company in advance. Whether you have employees, or just yourself then it is a good place to look for inspiration to either build or trim your business.
My assessment is that it is for all who dream of or have some business.
It is an online tool which the highest degree can help you to build networks.
Nor is it a business deal so here is no need for you to think of promoting it beyond that you can help other entrepreneurs to get answers to all the questions as we go and mess.
If you need feedback on your idea then this a good option.
You submit your question, and there is an expert who will answer you or else you will to an article.
MosaicHUB Tools & Training
As I have described is a network here is no dedicated utility. But here, in turn, an opportunity to ask an expert in the area you lack knowledge t. One of the things that I did work well is that you meet a standardized checklist
MosaicHUB Support
As I said, so it is about networking and help to build further on your idea. You may pose a question to an expert who can assist you in both your motivation but also technical issues that you may have
MosaicHUB Price
It costs nothing to join. I have not come across any places where there is payment. Finally, I have encountered on a network where it is not money that is in focus.
My Final Opinion of MosaicHUB
Now I have so far mostly met networks and online products which promised a lot of money for no work.
Somewhat the opposite because it is not a business proposal or product.
It is more just a network where you can get help to track your company and plan to go in the right direction.
I think even that I have a good idea of where I want to move my business going. But even here in the first day, I have a point had real how particular my niche is and how much I have to make it more narrow and perhaps begin to think of a less broad audience.
Now I believe not only that it is me who has too large a niche. I can feel the others in my network of bloggers that many of us are trying to hit an audience.
It is also here where I think it will come as a surprise to many how much they need to do to be able to live their idea.
For me, it is excellent that I do not feel that I need to keep an eye on one or other form of additional sales.
Here are not any sales at all only networking and articles.
Some of it are missing here is the actual training in how to reach your goal.
Here are plenty of excellent articles that you can use as a guideline for your further work with your company.
But it is not as accurate as you still have to create a product and get some specific training on how to build a product.
Many of the articles that I have read here is about having a website. As I said, here no instruction on how to make a page and find your particular niche.
But I have the solution for you here read what you can test for free.
Yes, here is a website that you can keep and work with as long as you want.
Yes, Here are the tools which are missing from this page.
What I will show you gives you an all in one package you will not find elsewhere online
Read here what I mean
PRODUCT_NAME at a Glance …
Name: MosaicHUB
Overall Scam Rank: 15 out of 100
VERDICT: LEGIT / NOT LEGIT

Probably the most legitimate website I have encountered in a very long time.
If you go to a business page, then it is here certainly a good place to start. Here's help for anything you may encounter. And it is structured as a questionnaire, so you keep getting an article that relates to what you need.
You can also grab an expert by asking your question.
Unfortunately, I have no idea how long it takes to get answers, but here is life so you will be in most cases to an article.
But to be able to network with experts without having to pay for it is one of the most powerful you can get the opportunity online.
Read how and get started today. Remember life now and your business idea can not wait until you get the money to start up then download your free website here.
Combined on this side then the rest is just up to you.
Check it out I'm sure you will understand that you do not need anything other than the two tools in your collection. There are just a lot of work ahead. No money out of your pocket
Have a question then throw it underneath
If you like, the article so remembers to Share and Like