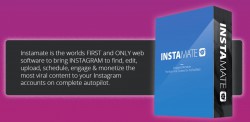 Yes, what is Instamate I looked once more in the emails in my inbox. I found out that several had sent me in the direction of this product.
So I dug a little into it to see if Instagram is something for myself, in fact,
Instamate Review
Name: Instamate
Website: http://www.instamate.com/
Price: $ 27 per year or an upfront payment of $ 47
Owners: Luke Maguire
Overall Google Rank: 0 out of 10
Instamate, Product Overview
Instagram is another social medium you use to share photos. I've been using Facebook for some years by now. I've got some friends there.
So when I created my Instagram profile, I was a little surprised that had so many implications outside that I had started working on my profile.
But it's a different story. Instagram is a mobile app.
I must also admit that here almost hundreds Apps all of which relate to Instagram. You can add all sorts of effects and-and backgrounds for your pictures.
I have chosen it from when I do not even feel like a part of the target group on Instagram. I feel more that I listen to on Pinterest, which I see as a less confusing social media.
Let us look at this brand new software.
But they come as I found out from my facebook profile.
When we look at Instagram so it is more an Apps than it is a website, yes it is suitable for mobile devices and that in itself is, of course, a good picture that we are moving in that direction with the Internet and the use of the social media.
I most on a mobile device so that way it is an advantage to the younger users of social media and me.
As with other social media, so it is important to be active to get followers.
You get none of if you do not work for it and connects you with the people you follow and who will also be your followers.
Ok, it's Instamate we should talk about here.
It is as I said software that you can purchase and download to your computer, here can you manage when you follow others and whether they follow you.
It helps you to isolate those who do not follow you. You will again be able to plan when you post pictures and what you post quite automatically.
The Good & the Bad
The Good:
Instagram is for the slightly younger audience in social media, an audience that may not use Facebook that much.
Since the Internet has become much more based on photographs and video context, then you have a perfect alternative to Pinterest.
This software helps you keep your account up to date and make sure that your behavior there is fierce.
The Bad:
I have seen several similar software that can result in other social media, especially Twitter is soon a lot of them.
Common to them is that they help you keep your account sharp, but they can not make you a millionaire as Luke claims that his software does for you.
I have not been allowed to test it before a purchase
Who is Instamate For?
If you are a heavy user of social media, it is to be able to post automatically to your Instagram account the real shortcut and save yourself a lot of work.
I use similar apps to check my twitter account. But it does not cost anything unless I upgrade it.
But are you a big social media and have a long-term plan then this kind of software well help you on your way.
Now there are also some who have affiliate websites that promote it, some ovenikøbet by putting a lot of PLR (private label right) products as bonuses.
So you have a website that you can promote affiliate products then it is often an excellent idea to have a tool with which can result in social media
Instamate Tools & Training
Now it is a tool in itself, but the sales side has both video and instruction on how to use the tool. Of course, you will also meet a wall of almost theoretical results
As you probably should take a bit of a gram of salt.
Luke himself is very active on Facebook, and I found several groups where he has both charged videos and acted directly with its users.
Youtube is also to be well filled with videos that users of the tool have made, good enough for the purpose of promoting it.
But beyond that as he promises a video series where he shows you the best and most profitable ways to use your Instagram account.
Instamate Support
As I have described is both fan pages and groups on Facebook that are very active around this software.
It seems a little as if it is the first of its kind that you can use directly to Instagram
from your computer.
Instamate Price

$ 47 does not, in reality, a fortune to get this software for life. But I am always a little suspicious when I meet promises of a million revenue from a website.
I am sure that hear a lot of sales that once you have downloaded it.
But as I say I think it will be tough just to get a little bit of your investment back.
My Final Opinion of Instamate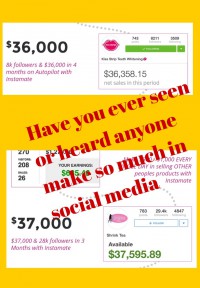 I must say that if Luke regardless of how he uses social media must have some other products on hand to make as much money as he claims he does with his new software.
I see even Instagram as a medium for the very young users.
In my view, then have the audience not so much purchasing power as the slightly older audience.
I can not understand how a tool that you can use to post automatically in social media could make a fortune for you.
Regardless of the audience, you are looking for then you need to establish contact and trust that you have turned your followers to happy buyers.
Preserved Luke seems like a happy young man.
But to believe his Formula is the new online panacea is, I think, a great exaggeration. Especially when I think of how I found this link.
I am well aware that this is the week's hottest deals from JVzoo, but it does not have to it is a program that is durable or for that matter to a real opportunity to make good money online.
Preserved I use even a tool to keep track of my Twitter account, but I use it to post entries with, no I use it to keep track of who is active and who want to read what I'm breaking up.
You can not spend several thousand followers in some social networks if they are not active and if you with them.

It is enough that many people use social media to look for products or details of products, but there are not very many who are willing to buy something they do not need.
Most who works online knows how important it is to have a site as a base for their context.
If you make enough background to a narrow audience, then you also have readers who will follow you. Some of them may come from social media such as from Instagram.
But the majority will hit your hand from the organic search.
Also, where you have a real opportunity to make you a success story online, but it is a lengthy process that you must be prepared to work your way.
All the tools you need for it online you just need to download them down. But if you want to organize it and have a network where you can always get help, a place where you get a step by step instruction so you can read more here about how I learned to build my business up online.
I will not show you millions of fake website pictures.
I would not say it's easy.
What I can say is that it can if you are willing to work for it and be patient it may take many months before you reach your initial objectives.
And you know what? I do not see your credit card, no download your website here and keep it together with the first ten lessons.
Excuse two websites that are made ready to build context and paste your photos.
Yes, start today.
The sooner you get started the closer you get to your objective.
Instamate at a Glance …
Overall Scam Rank: 80 out of 100
VERDICT: LEGIT / NOT LEGIT
Frankly, I think well you know what I mean about Instamate.
You can easily make money on marketing products in social media, but to use another automated tool and think that you can build a business that way is a little bit steep.
What it can help you is to keep your profile sharp without you spend hours on it. As I said, many Apps belong to Instagram, which can help you create unique images.
But the end of the day it's still the value that you manage to bring to the market that can give you earnings.
If you do not have a website, then you do not have a baseline.
Without a base, then there is no one takes you seriously.
Grab your website here and be serious create your base with a topic that you are.
Do you use tools to organize your social networks, let me hear about it below, you will know more about how I work so you can send me a message here.
Remember to share and like