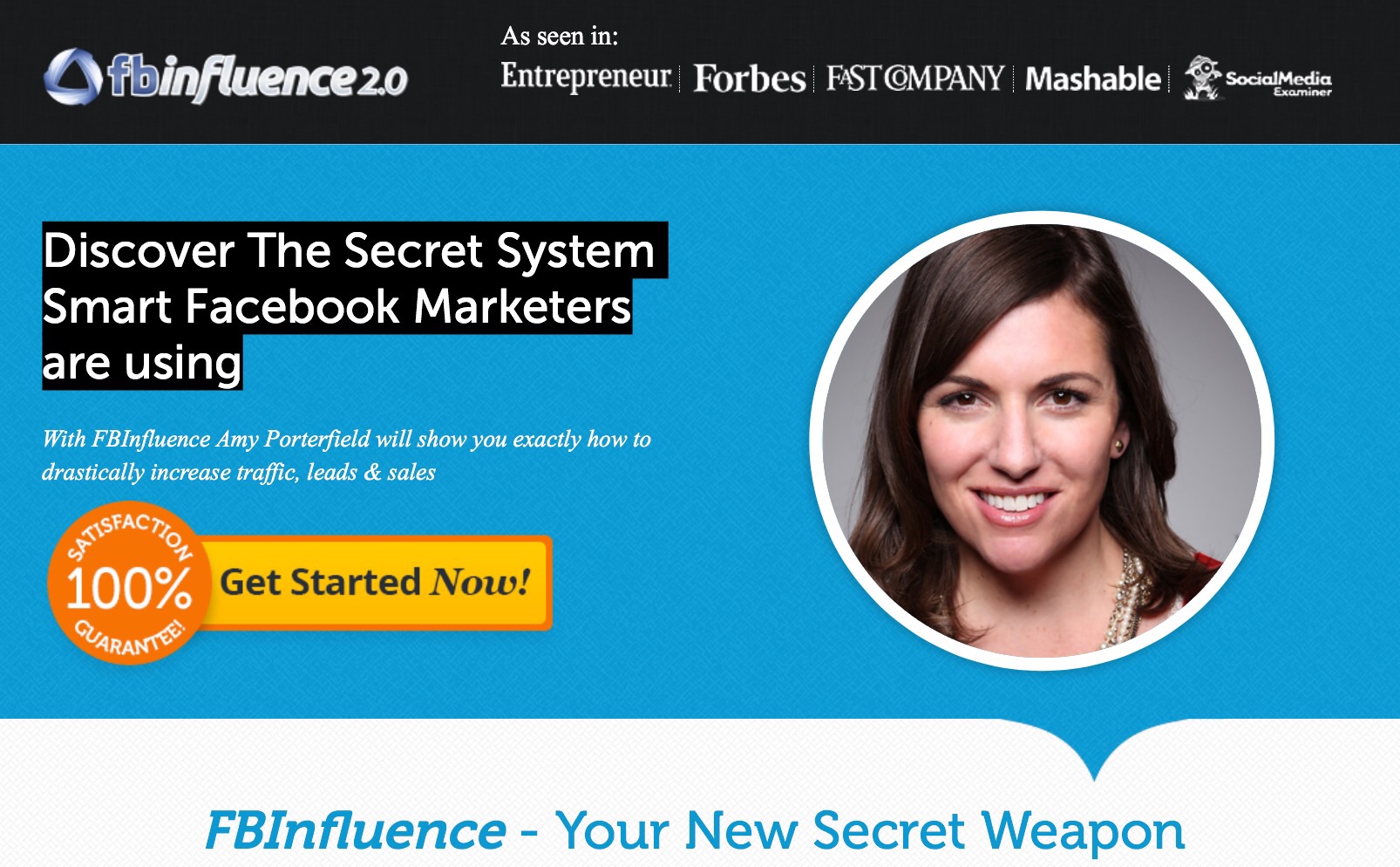 In my online search for good info products. I have  Found Amy Porterfield.
She is The one who helps the celebrity to build their fan pages on Facebook.
She has created a series that should help you to do the same.
My FB Influence 2.0 Review
Name: FB Influence 2.0
Website: http://www.fbinfluence.com
Price: $ 97 and some extra upsell
Owners: Amy Porterfield & Sean Malarkey
Overall Google Rank: 4 out of 10
FB Influence 2.0 Product Overview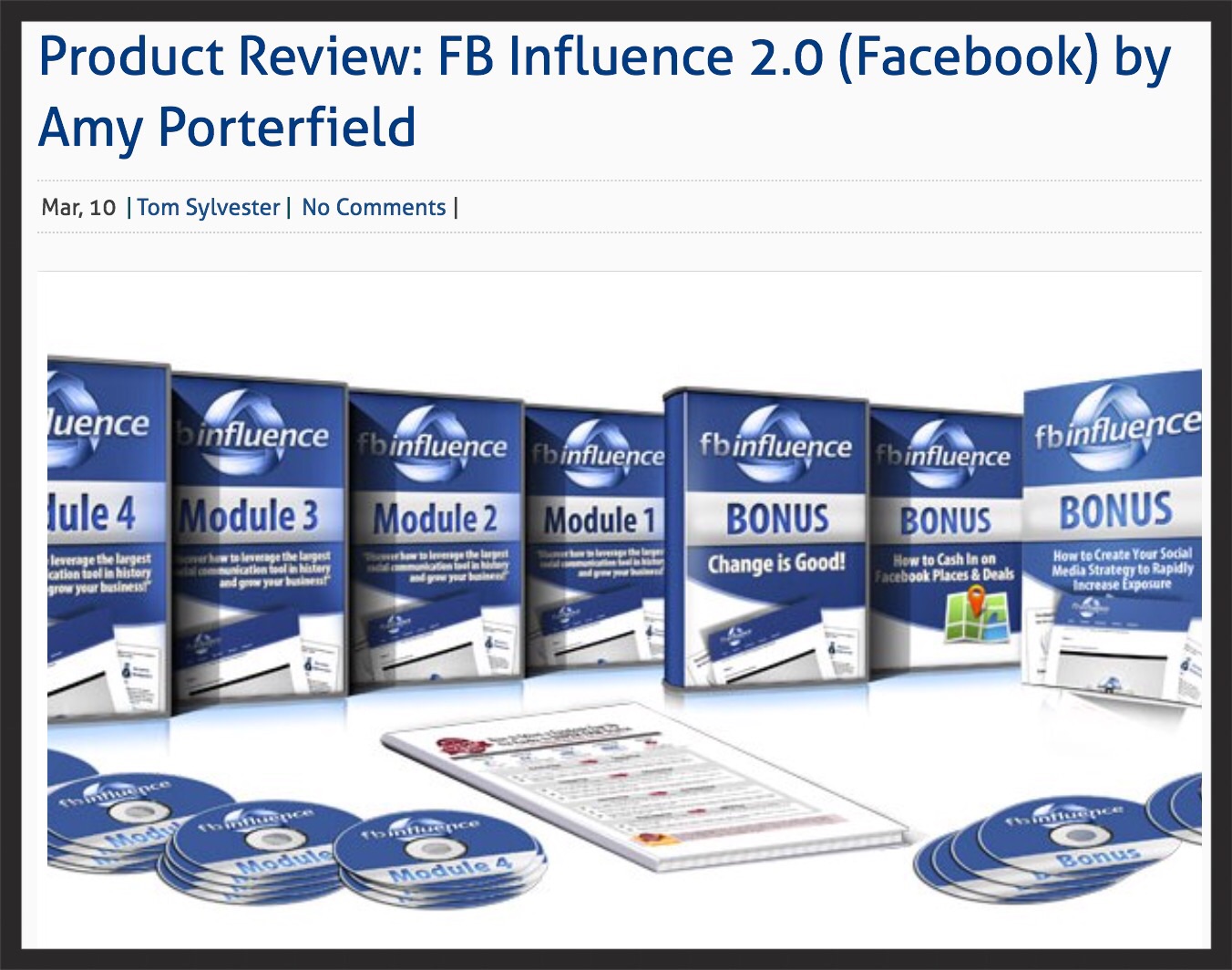 These are some video training modules which are divided into four phases. As articulated with five videos of about 20 minutes for each video.
The first phase will learn how to build up a profile so that it is ready for your business. You also build a fan site which is the base for your business.
Here you can also learn how to build your network, and brand your page.
In the second phase you learn to build your fan base.
Here you learn to find the right people who can be interreseret in your specific niche.
You simply draw a strategy on how you can attract your customers quickly and get a more substantial fan base
The third phase teach you to become an expert in your niche.
Here's a simple formula on how to achieve success and how to keep track of your success
In the final stage you learn to get done your permanent consequences for stable customers.
Here do you use your fan pages to do it.
Here are 3 simple strategies that you also need to learn how to implant in your daily activities on facebook.
In addition to it, there is some bonus material that you can use to build your campaigns up in the daily work.
All in all, there is probably about 8 hours training in how to build you up on facebook.
So you can eventually learn to make money online whit facebook
The Good & the Bad
The Good:
There is a simple step by step guide to help you get started in your pace
I've learned some things I was not aware before I started.
It has changed my view a little of it to make the campaigns on facebook
You have a favorable earnings affiliate and vendor
I like to learn from watching the video.
I also changed my behavior in all social media
The Bad:
That's a lot of money for some information you can find elsewhere on the web for free.
Most of us are not known, and will have more difficulty getting such a large fan base immediately.
It is only facebook this is about
Who is FB Influence 2.0 For?
It is made of small shopkeepers who want to generate more traffic with facebook as the mainly hunting area.
It is definitely for you if you are Tony Robbins and all his lectures, or Maria Folio and her online TV channel.
It is best if you already have a product you'd like to sell on facebook.
So it is clearly also the Affiliate program.
You get quite simply 50% on a sale and that includes all the additional sales are on the page.
So here you can earn really well, by selling the package.

FB Influence 2.0 Tools & Training
The package for the $ 97 I got a thorough review of what it takes to build a good fan sites up on facebook.
Here also a trial membership for even a paid membership and the. I have tried to write, but have not received a reply here the day after.
But here is a support line, I have not tried to email Amy directly.
I'm not sure I get a response from her. In one of the bonuses is an invitation to a webinar.
I have not been yet but I have an idea that they are fun and lively, but also designed to get you to buy more products
FB Influence 2.0 Support
As I said, there is a membership well enough not include the $ 97.
Here you have more money than to become a member.
I have found three facebook groups where there is a pretty good flow.
People communicate with each other here.
But I've only seen the official records from Amy.
It may be not the right group I'm in but seemed to lack a little angagement in the thread itself.
FB Influence 2.0 Price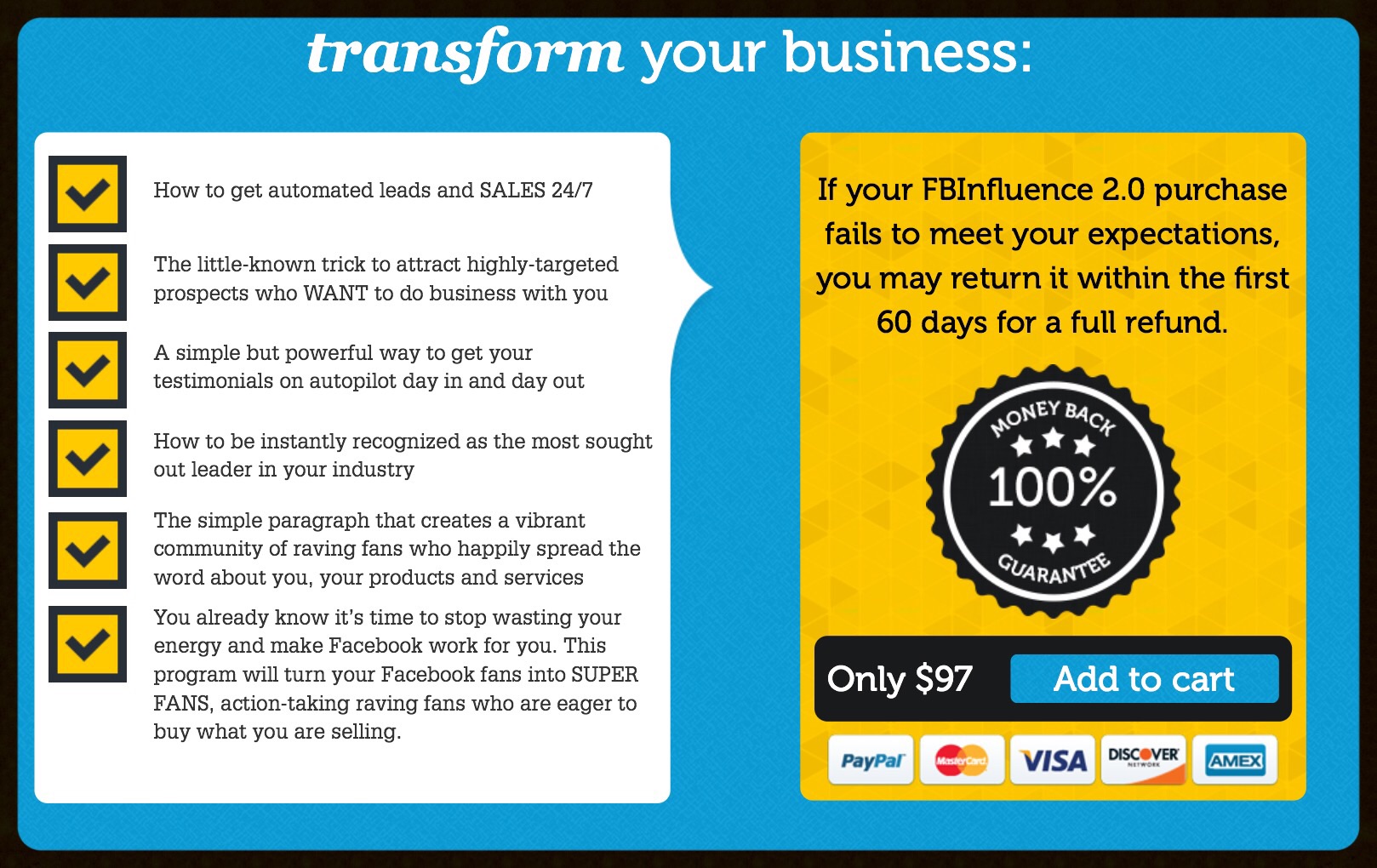 In principle, I thought not that $ 97 is too expensive for a course that lasts longer than 5 hours.
What really bother me is all the more sales you will be bombarded with is already immediately after opening the package.
I can feel I'm getting tired of not only this product but also with swift most of the things which I have written about.
It is unfortunately very few who keep their promises once you have purchased the package.
Good enough you will get some extra bonuses with here but.
The rest of the material should have been part of the package to $ 97. So you do not yet even have to pay to get the next step
My Final Opinion of FB Influence 2.0
For the first time in a long time I have met a sales page that is slightly more moderate than I've seen at some of the other products I've written about on this page.
As I say most things that I have learned by watching the series was really something I showed in advance.
But when you start buying info products from the group of people who work and move about Tony Robbins and Marie Folio, you must also expect a swift a completely different price if you want to have personal contact with the owner.
I think the material is easy to understand and work with but unfortunately there is not anything new era leading to download here.
I see this as a bit far-fetched pop product well enough provide a lot of valuable information for you if you want to generate traffic on facebook.
She uses other known and the effect they have on the product as a sales agent for us as users. The for it to work much easier than it is in reality.
It is giving you a secret strategy to know is more eye-catching, if you ask me.
Because if a lot of others in the social media also use the product so it's not a secret strategy more.
Then it's just a tactic that many other people are also using.
The reason I have the attitude that I myself work and learn in a completely different environment.
Where I have contact with a lot of other people who would build up online every day.
I have more a hundred hours of training,
It is much cheaper to use.
Do I have a question I can get an answer almost immediately.
FB Influence 2.0 at a Glance …
Name: FB Influence 2.0
Website: http://www.fbinfluence.com
Owners: Amy Porterfield & Sean Malarkey
Price: $ 97 there will be some additional sales
Overall Scam Rank: 60 out of 100
VERDICT: LEGIT / NOT LEGIT
As you might have an understanding of.
Unfortunately, I can not vouch for the program in full.
Ok it's a good video series, but you do not have to pay for all the details.
The most you can actually even find a little bit of curiosity.
Should you finally build it up so big is social media a place where you build it up slowly.
It can not be done to build confidence in you in a few days.
It takes time and it takes full that you know what you're doing and get posted at the right time.
You also need to find the right groups to move in and even be part of the group, I mean that you have to engage with people on equal terms.
If you really want to build you up and send the value to the market, you need to do much more than just learning this series.
One thing's for sure you need to have a business before you get started.
I want to show you where you can learn how to build your own website.
Without additional sales without you me overhangs daily in your mailbox with the latest product.
You can actually try it for free.
For a period.
But here is what I have written about my favorite place to learn how to create the social value.
If you have questions, I am here to answer them drop me a comment below and I'll return as soon as possible.