I just met a software that can make your articles into an e-book very quickly.
It's called Designrr
Designrr Review
Name: Designrr
Website: https://go.designrr.io/homepage
Price: Buy it today for $ 47 or $ 29 a month. You can also choose to give $ 119 a year.
According to Paul as the price rises and ends up on the $ 119 per year
Owners: Paul Clifford
Overall Google Rank: 0 out of 10
Designrr, Product Overview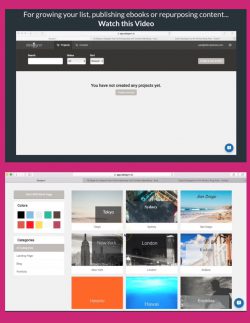 It's very simple, software that can do an article written with any CMS (context management system) system. It looked very simple to do is to make one or more of your articles into a book, entirely automatically.
Means that it removes all the things which in a book. It may be your banners and your social plugin.
So you will then be able to use it to give away for an email address as the then market or just market other of your products. It is a very simple software to use.
It makes simply articles into a book. You can then choose from a variety of text types and design your layout to fit the book you have written.
You can also continue to put your articles in the book is considerably longer. To create a cover, you can just go out and download an image, for example, pixel bay where you have the right to use the picture as you want.
The Good & the Bad
The Good:
It is a very simple system which is put together to create a book if you use one of the standard CMS systems.
Having to start a new form has often scared me to write a book. This a great shortcut.
It gathers everything up, so you have a book with a few adjustments.
Another good thing is that PDF files will also be indexed if they contain real free context
The Bad:
You will be a copy of yourself if you have published the article.
I'm afraid that people think that it is an easy shortcut just to create a book.
Who is Designrr For?
I do not have much to add here.
But I see two kinds of people who can benefit from this software.
Those who want to write a book and those who want to promote it as an affiliate product on their website or their video channel. We are talking, after all, just a slightly different way to publish your context.
I have even a few years ago worked a little on a book by using open office where you can save as pdf. Which is a good format to publish an e-book.
So it is released on JV Zoo which is an affiliate network which mostly distributes new software that you can download an affiliate link from and promote it on for the commission you will get via the network.
When we talk about JVzoo, I have met many great tools that are easy to implement in your daily work online.
But there is also a part which is just a copy of something you can download and use online from Google.
One thing I also like about JV zoo is that you must be approved by the publisher to be allowed to promote their product.
Designrr Tools & Training
As I see it, Paul created a software can very easily create an ebook for you, you need not so much to do other than to write your articles as usual. The only advice it's just that you should not publish them just save them. As then publish them as a book instead of
Designrr Support
Many of this kind of small software usually provides good support in the beginning if you write himself, I am sure that he will help you with your questions. At least the first few months.
I do not like it quite fit this together here but the times where I bought something similar, so there is help available until it has paid for itself.
Then usually developers work on a new project.  Means that they are a little indifferent with their old plans customers.
I do not know if that's the case here.
But what I know is that the network does not like too many complaints, so the chance of you was continuing to get help is certainly present.
Designrr Price
There is no doubt that Paul would like to create software that has a form of member side behind him. But there then came a member forum which combined with the software are also the $ 119 worth a year. It's a little hard to say as it looks right now. So far I have not been able to network with other users of it.
My Final Opinion of Designrr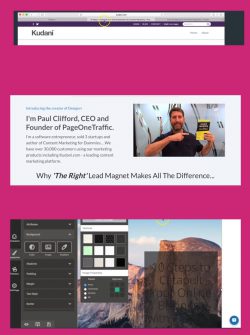 It is a little difficult, I usually always to have found something about the things I describe as a negative, but I see this small as a simple software that does not promise anything it can not keep.
Here, as I said a strong warning against simply use it for anything other than your context. Yes, you can not and must use it for anything other than your texts.
He tries a little to sell it as a Lead Magnet, but if you think about it, then you will even be able to create the same if you are just good enough as a copywriter.
Your readers get well no more trust you just because you're making your articles as a book.
What it will do is create the setup needed for your book very easily.
Are you accustomed to write and have a good overall theme for your texts, then why not publish any of it as a book that can be used to gather email addresses.
But to use it here alone without you being able to turn some good texts together is clearly to shoot far above the target.
You are great always have to have a website as a base. Here you could advantageously have a form on the front page where you give a book as you have created away. You just need to learn how to build the page first.
But you know what I can in turn help see here how.
I will even allow you the free of charge.
Yes, and you also get the first ten lessons which can give you push in the right direction.
A book can on a myriad of topics.
It may also be a website.
So build your foundation here for later be able also to publish a book
Designrr at a Glance …
Overall Scam Rank: 40 out of 100
VERDICT: LEGIT / NOT LEGIT

The main thing to write a book is that you get started to write, it's no software that can do for you. You can, as I said does not allow you to take context from other sites, as it is clearly theft.
It can be a great temptation with this software in your hands. It is also one of my reasons for recommending that you learn how to build context before you even think of found it here.
But you are well underway and lacks a tool for creating online books then you have the tool here. It's still not a shortcut to more readers, but it gives you an easy way to get published your books online.
What you can do with books, for example, to sell them on Amazon or eBay and get a commission on the way.
I know several who have sold books in a variety of online bookstores. A common denominator for them I as publish books online is also, in many cases those who have built a blog before they write the book. Remember that a book is usually considerably more text than an article.
Do you have any questions, please leave them below? I will write back as soon as possible.
Remember to share and like