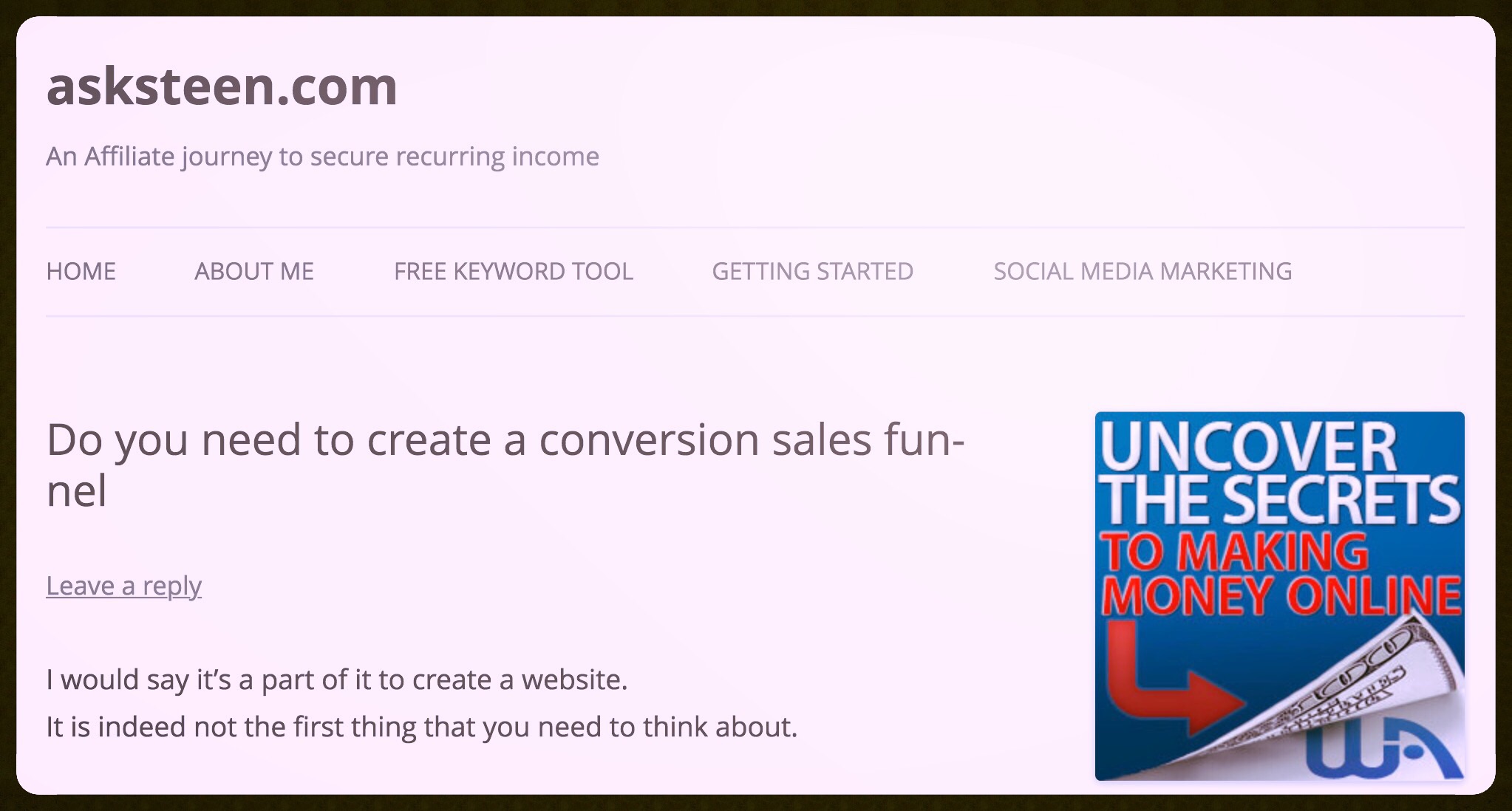 I would say it's a part of it to create a website.
It is indeed not the first thing that you need to think about.
But in short, I have on this here blog created a lot of reviews, not for the purpose of selling products from all of them, many of the products are scams and clear warnings that you are being scammed if you start to work with them.

But what I use these reviews to have to lead you toward some good and healthy information that I have set up as a review too.
I have 3 articles and a page which is where I want you to land.
I did not create them to sell you something but to give you some information that I think is important.
Most likely those that you may have been looking for, when you found my blog in the organic search.
Of course, all three a place where I encourage you to click on my affiliate link.
For it is this that creates revenue for me in the end.
customer experience solutions if you do not like to be on the side, I have to make a completely new strategy
But you as a reader do not want to be dragged around from a whole lot of information and advertising before you get the information that you have come here to Get.
Like if you ask for directions to the street then you probably thought it would be a little strange if I said yes for a moment you should just consider this product first.
I know that there are many websites using this tactic with banner ads Adsense and Amazon advertisements as to pass over the next while we as readers try to get the information we really came for.
What I will forward here that I write a lot of different articles and all without saying a purpose and that is to lead you as a reader in a particular direction.
I would really like you to land on one of the four pages that I have made as my landing page.
Depending on what topic I'm writing about, I can give you a good opportunity to get more information or give you some similar by linking on to some of what I have written earlier.
Therefore, it is an important thing to all of your articles containing these elements
From here I can then give you the information that I think is important, and you will ultimately end up making your own decision.
It is important to maintain you as a reader, I can only ensure that you can retrieve the information you have come Here to Get.
Now it is having not only my landing pages I will direct you towards to start with.
When I see it as much more important that I manage to give you the information you have come to this.
Now I can not even have all the information in an article.
So I chose a blogroll where it is always open to both comments and additional information that hopefully both can help me and you further.
So we both see things from several sides.
Ok I have tried to describe a bit about landing pages, and the importance of you have them and use them.
But it is also important that you know how your readers will land there.
I have not written about Google analytic before now so it may seem a little geeky that I describe this little part of what this tool can do for you.
Perhaps I should just start with a brief description of what Google analytic is and what it can do for you.
In short, Google helps you track your traffic.
To use Google analytic requires that you have a Google account.
To have such an account is a must if you are online.
Here are all the tools you need.
It does not cost anything, as Google sees it as one of their main missions that there is quality in the organic search.
I know it takes some time and patience to organize and put it all up.
But once you've got it made, you get all the information you need to continue to be able to develop your website.
The way they do that, is you give your URL and Google gives you a code to place on your website.
Now I have in this article assume that you already have a website that you are working on.
If not, you can read here how I built mine, and here you can also learn to use analytic.
When but to track your landing pages, you can find the function called objective.
Then it can just enter the URL you want to use as landing pages.
It can also be much more, for example, an image, or a video or contact form.
I use my own website in this example.
First and foremost, you must enter your analytic account that relate to the website you want to target the at.

Then you go into the administator.
And find the button labeled goal.
The pages in the right kolone little down.
In here you will meet a red button as you press on.
Once you've done that, you meet a lot of different options here, select the option that fits what you want to target search.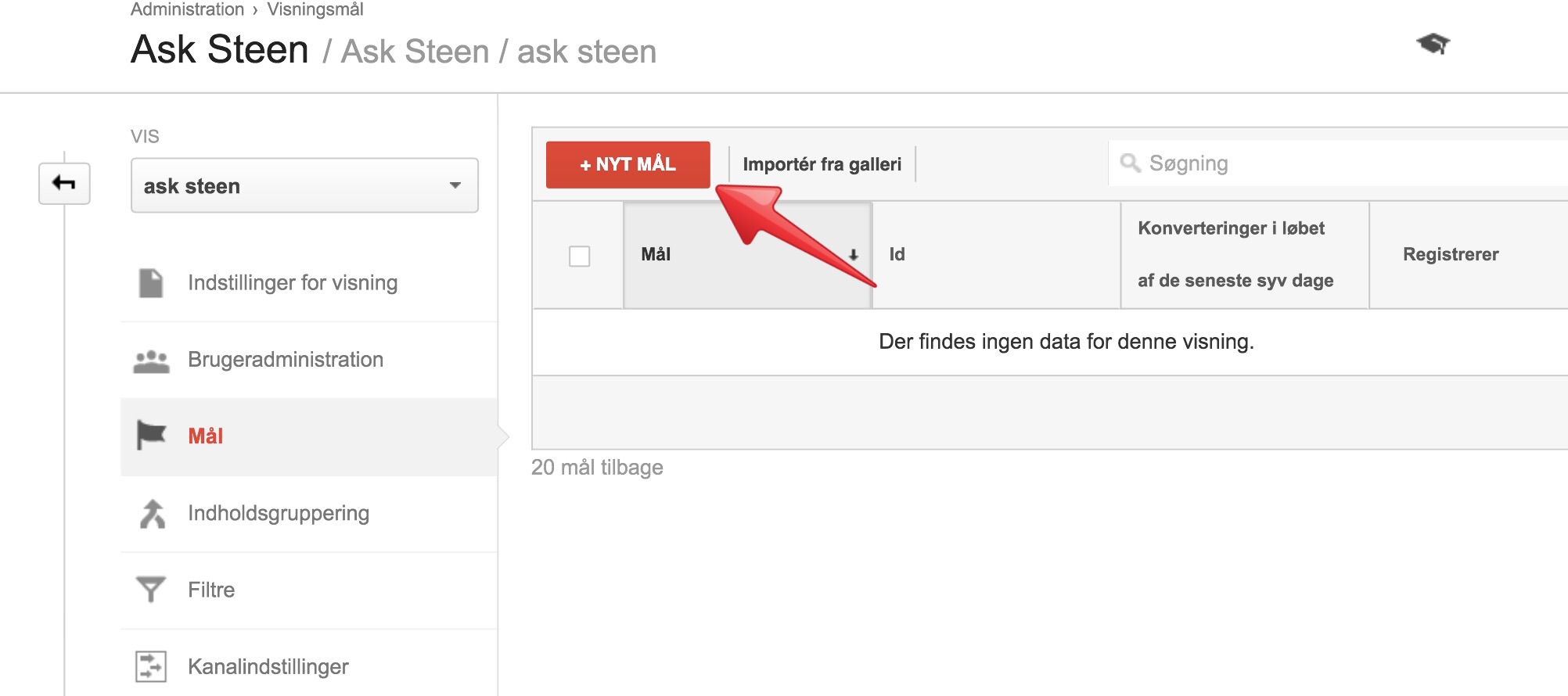 In my case it is an article that I want to set as my goal.
But you can as said target search up to 20 different things.
Then it is just and wait a few days so you can start analyzing from the article or page your traffic is coming.
If you have a website you want to work with.
I can only say that you must have all the tools you get with Google, you do not get them better and they are completely free to use.
If you want to know more about where I've learned to put my website up.
Then you can click here and see how to get started yourself.
The only thing I would warn against it is that you think it is a shortcut to success on the internet.
It is not under any circumstance, but if you plan to work long and hard then the education you get here could also help to make you independent of the labor market.
If you have questions or just a comment,
I would love to know what you think below.