Once again, I met a business in social media. Have looked a little on it and came to this conclusion.
Name: 4 Corners Aliance Group
Website: http://www.fourcornersalliancegroup.com/
Price: $ 18 for the starter pack then $ 29 a month for a newsletter. Then, in order to be part of the matrix $ 10 $ -300
Owners: Unknown
Google Page Rank: 1 out of 10
4 Corners Aliance Group Product Overview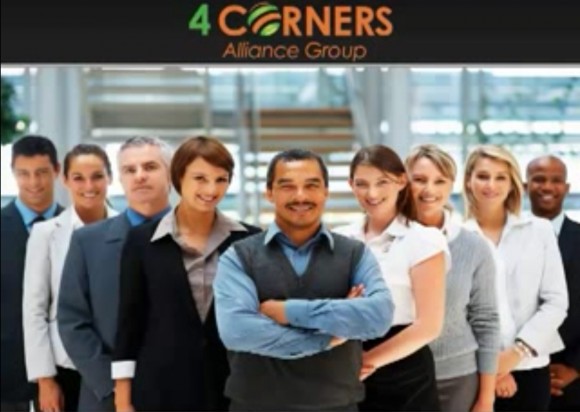 A mindset and business training center. Or you can call it an online library to help you with the mindset but also have financial education.
So it is a matrix. As is divided into 6 levels, which should give you an education in building business both online but also offline.
You get an online book at each Levels.
There is a newsletter that you buy each month, which contains an article that you have rights to be disseminated.
In addition to that, you, as an independent distributor and a website which you can use to resell the products that you have in the package that you have purchased.
But as I see it, is the sales and recruiting new distributors it is the main purpose of the business.
The Good & the Bad
The Good:
It does certainly not hide that it is a pyramid scheme.
You get a website on the starter package.
The Bad:
It is a pyramid scheme where the primary goal is to recruit people to the matrix
The people who are trapped at the bottom will find it difficult to climb up to a properly earnings.
With this kind of business it'll be hard to appear credible.
Distributor website seems very implausible to me
Everyone has the same website, you have to do something extra to get clicks right on your side.
Once a place where they teach their distributors to send the link out to their friends in social networks
Who is 4 Corners Aliance Group For?
You must be deep in the online MLM. I would say that to people who have a great team in their network marketing business in advance.
I would say that you are new and think you can make quick money here, then you are thoroughly mistaken. I am pretty sure that I tanned networks will think twice before they start on this business
4 Corners Aliance Group Tools & Training
You will of course access to a reportedly large library online.
But I have not really customer find out if there is text of some of the really heavy financiers.
I have found a few facebook groups and pages, but there are not any of them works particularly active and with very few likes.
I think then that this is a closed group for members only.
4 Corners Aliance Group Support
Of course you can pull a support ticket, but you must be a member to it has any effect.
Since you can only sell products if you are part of it, I could not check this option out
4 Corners Aliance Group Price
For in the first place to start, you must pay $ 18. In addition there is the monthly newsletter which costs $ 29 a month.
So, you must of course pay to be part of the matrix, and this is where you will experience the worst sales.
For me it is very easy to figure out that you should have built a huge team up with a downline of at least 4 in each line and a whole unbroken line down to the sixth level.
As I see it is it supposed to upgrade to the next price then you build it the same way.
This is where the final plan will cost you $ 300 to work with.
My Final Opinion of 4 Corners Aliance Group
My immediate first impression is that this product is humbug.
I have a little sorry for those who have been caught in the matrix.
Especially when you are in the bottom layer. You you must find four whole under you.
As will build it on in a long unbroken line.
Whether you succeed or not, there will be many who lose their time and money on this scam.
One thing that really indicate that it is not a real business. There is no proud owner who come forward. Of course, anyone who owns this page.
I found out that there are 5 but I can not be absolutely sure, so I will not name them.
Another thing that turns my alarm bells, is that you have to pay to get an affiliate link.
Even with the worst clicksure products (affiliate network), you can pull your link down and serve approximately 50% of a sale. Without that you have to pay for it.
This is not the first pyramid scheme that I have met in social media and it will certainly not be the last.
It makes me a little angry and disappointed is that you teach people to write cards to people, do you get answers you send its sales link off almost immediately, along with a prefabricated sales message.
What then usually happens is that I reject as a whole to participate, then if I ask about the business and what the product is.
It frequently happens that I get a message to even try to figure it out by buying the cheap package.
The rest is of course easy to figure out if you do that, you are entirely open to a massive sales campaign.
4 Corners Aliance Group at a Glance …
Name: 4 Corners Aliance Group
Website: http://www.fourcornersalliancegroup.com/
Owners: Unknown
Price: $ 18 for the starter pack then $ 29 a month for a newsletter. Then, in order to be part of the matrix $ 10 $ -300
Overall Scam Rank: 90 out of 100
VERDICT: LEGIT / NOT LEGIT

I think I have mentioned more or less all I see when I look at this business.
It is, in scam that do not have a good product to bear the business with.
If you start it you should even out and build a team. In order to get everyone on the team to upgrade as you do it.
Then I have another question! Where is the owner along.
I do not think you can have a business without being visibly present.
If you really want to build an online business up and it actually requires less work than if you are going to build this up.
You just have to be willing to build yourself, and your website great.
You have to build it in the same way as you would build a big house.
With a solid foundation before you build high.
I will personally help you get started for free.
With 2 websites that are ready to be built up so that you can generate traffic from search engines.
You can read my description of how to get started.
Now that I'm not even a part of this business. I will mighty like to know what you think.
Or if you have further questions about what I'm working with please email me below and I will return as soon as possible.